Anne L. Barlow Ramsay $25,000 Grant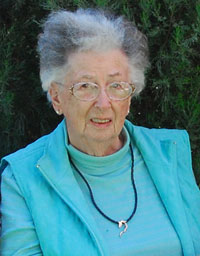 The next Anne L. Barlow Ramsay Grant will be available in 2019 - the five Anne L. Barlow Ramsay Grant recipients from 2009 - 2014 can be seen below.  Please read the following story to learn more about Dr. Ramsay's extremely generous contribution to The Dressage Foundation and how it will help more riders in the future.

Dr. Ramsay's dream to advance equestrian sport took shape in 1998, when she established a Charitable Remainder Unitrust, funded with $254,000 of highly appreciated Abbott Laboratory stock. She wanted to provide financial backing for a designated horse and rider with a ten-year income stream. She worked with John Boomer, then President and CEO of The Dressage Foundation, to create the Unitrust and put her plan into action.

There have been many beneficiaries: 1) Her horse and rider had the support of a ten-year income stream, paid monthly, which ran through 2008; 2) Dr. Ramsay gained solid tax advantages by avoiding the federal and state capital gain taxes on the appreciated value of the stock, and she received a substantial charitable contribution income tax deduction, thereby reducing her income tax payable. 3) The sport of dressage gains by receiving future grants of $25,000, to send American-bred horses to Europe for upper level training and competition. Dr. Ramsay designated The Dressage Foundation as sole, irrevocable charitable remainderman to whom the Unitrust "remainder" was paid in January of 2009.

AND, there's a Part II to Dr. Ramsay's visionary plan: Working with The Dressage Foundation, she created a second ten-year term Charitable Remainder Unitrust, with the same conditions and monetary value, extending the reach of her good training support well out into future years.

The purpose of the Anne L. Barlow Ramsay Grant is to showcase talented American-bred horses ridden by United States citizens, by providing funds to train and compete in Europe. The horse and rider applicants will be competing successfully at Prix St. Georges or higher, and demonstrate an ability to move forward into High Performance competition. The successful applicant will demonstrate an ability to be an ambassador for the American-bred horse in Europe. The Anne L. Barlow Ramsay Grant will be managed and administered by The Dressage Foundation. A Selection Committee comprised of distinguished, experienced dressage leaders will review the applications, and choose the recipient, subject to the approval of The Dressage Foundation's Board of Directors.
---
Anne B. Ramsay Grant Recipients
Emily Wagner (KS) and WakeUp were awarded the 2014 Anne L. Barlow Ramsay Grant. Emily and WakeUp will use the grant to train in Germany with Elmar Schmiehusen.

Lisa Wilcox (FL) and Pikko del Cerro HU were awarded the 2012 Anne L. Barlow Ramsay Grant. Lisa and Cerro will use the $25,000 grant to train with Ernst Hoyos in Germany in 2013.

Elisabeth Austin, Williston, VT, was selected to receive the 2011 Anne L. Barlow Ramsay Grant. She and her homebred Dutch Warmblood, Olivier, will use the funds to train in England with Carl Hester.

Read about Liz's experience with Carl in her report.

Jennifer S. Williams (WA) and her Hungarian Warmblood, H.S. Wistar, were awarded this grant for training in 2010. Read the press release. Jennifer spent the Fall of 2010 training with Catherine Haddad in Germany, and submitted a report that shares her experiences. Click here to read her report.

James Koford (NC) and his Dutch Warmblood, Rhett, were the first recipients of the grant. Read the release about James and Rhett. June 2010 update - Jim has been invited to become a permanent employee of Michael Klimke!
---