Young Rider International Dream Program
2016 International Dream Program Participants:
The following Young Riders have been chosen to make the fourteenth annual Dream Program trip to Europe: Rachel Chowanec (New Mexico), Emily Gill (OH), Rebekah Mingari (KY) and Lillian Simons (CT). The group, plus two chaperons, Charlotte Bredahl and Jen Verharen, will travel to the 2016 World Equestrian Festival. 
To learn more about 2016 Dream Participants, click here for the initial Press Release, and be sure to like the International Dream Program on Facebook for the latest news! 
History and Goals
In 2000, Michael Poulin, Olympian and National Board Member of The Dressage Foundation proposed a new program idea to take four top young American dressage riders to Europe for a two-week introduction to European dressage trainers, riders, facilities, and events. The Dressage Foundation administers and funds this program.
The concept of the program is to allow Young Riders the opportunity to enhance their understanding of dressage theory through this European tour. The Young Riders observe, discuss and absorb the European training system. They watch their peers compete in shows and championships, and they visit top European trainers and riders. The program is open to USDF Young Riders, 16-21 years of age, and 22 year-old graduates of the Advanced Young Rider Program, who are riding at Fourth Level or above. Applicants must be U.S. Citizens. A National Selection Committee comprised of leading dressage persons selects the riders from applicants who have filled out an extensive application form, written an essay, and have secured written recommendations - both personal and professional. Selection is based on merit, riding proficiency, a history of volunteering in the dressage community, and commitment to training in the sport of dressage.
This program is not for every young rider. Those selected must be at a highly advanced level of experience and commitment with their riding. For those who are, this introductory excursion into European dressage means everything, and the riders come home more seriously committed than ever, knowing what they now need to work on to advance and excel in the sport.
The dates for the 2016 trip are tentatively set for July 11 - 18th and the group will attend the Aachen Equestrian Festival. Applications for 2016 are closed, please check in for 2017 details!
---
Chaperones
TDF sends two adult chaperones on the trip to accompany the Young Riders.  The chaperones are not only there to guide the group safely through the trip's itinerary, but also to teach the Young Riders during discussions about theory, training exercises, and dressage in general.  Applicants should have academic expertise and experience as a dressage trainer and/or judge, along with other qualifications listed on the application form. 
2016 applications are now closed. Please check back later for more details on the 2017 trip!
---
2015 International Dream Program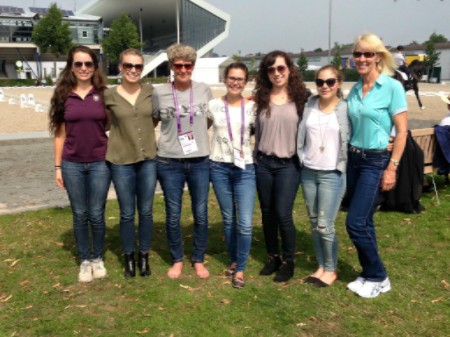 ---
Here are the International Dream Program participants to-date:
| | | |
| --- | --- | --- |
| Kate Fleming (IL) | Jessica Rattner (OR) | Joanne Chmiel (IL) |
| Kelly Irving (WA) | Brandilee Hilbert (NY) | Kristen Wasemiller (OK) |
| Katherine Sunder (IL) | Adrienne Lyle (WA) | Amy Gimbel (NJ) |
| Christina Beal (CA) | Lindsay Whipple (VT) | Elizabeth Barclay (KS) |
| Josslyn Chandler (CA) | Bobbie Lynn McKee (AZ) | Ashley Peterson (NY) |
| Natalie Perry (WA) | Ryan Hites (WA) | Martin Kuhn (IL) |
| Jennifer Roth (OH) | Jena Dick (KS) | Christina Rudman (CO) |
| Claire Darnell (TX) | Amanda Johnson (IA) | Julie McKean (ME) |
| Gwen Poulin (FL) | Eliza Sydnor (NC) | Hannah Shook (NC) |
| Emily Tears (CA) | Jordan Meadows (IL) | Kate Poulin (FL) |
| Vanessa Simon (CO) | Katie Alms (CT) | Brian Hafner (CA) |
| Mimi Stanley (ND) | Christine Stephenson (CA) | Kristen Schwaegerle (NH) |
| Mary Bahniuk Lauritsen (MA) | Jhesika Wells (WA) | Kathryn Butt (SC) |
| Laura DeCesari (AZ) | Catherine Chamberlain (AZ) | Jenna Detandt (FL) |
| Jaclyn Pepper (CA) | Nicole Del Giorno (NJ) | Rosie Julian-Simoes (IL) |
| Jennifer Foulon (MD) | Sarah Cohen (AK) | Sadie Lahey (ID) |
---
The following Adult Chaperones have accompanied the Young Riders to Europe:
| | | |
| --- | --- | --- |
| Michael Poulin | Beth Baumert | Charters Wilson |
| Rachel Saavedra | Katherine Poulin-Neff | Charlotte Bredahl |
| Cindy Sydnor | Sarah Martin | Sharon Poulin |
| Heather Bender | Eliza Sydnor-Romm | Debbie Bowman |
| Ann Guptill | Annie Morris | Simone Ahern |
| Elizabeth Caron | Ashley Perkins | |
---
To view past Young Rider International Dream participant stories, view our Young Rider Archive!
---