Helen Stearns and Just Saber
Team #155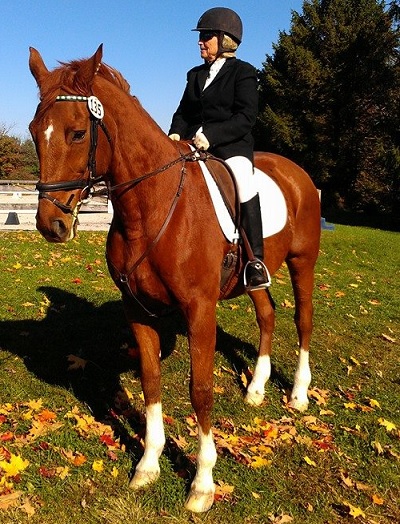 Helen Stearns, known by most as "Mother Stearns," was born in 1926 in Manchester, NH, and raised in Derry, NH. She grew up with horses as a way of life. Her grandfather always wanted his family well mounted. She rode and drove horses from an early age. One of her fondest memories was driving her mother's horse to the blacksmith shop in Derry.
Mrs. Stearns graduated from Abbot Academy and the University of New Hampshire. She married Bernard Stearns in 1949 and had two children: Clifford, of Conowingo, MD, and Caroline, also known as "Gert." She and her daughter have run their horse business at Justaplain Farm together since 1973 in New Hampshire, moving to Pennsylvania in 1976.
Mother Stearns ran a riding school in New Hampshire from 1956-76. She started learning and teaching dressage in 1961. Dr. Van Schaik was her first regular dressage trainer. She was a member of NEDA for many years, taking full advantage of all the learning opportunities they provided. She was also a member of Nashoba Valley Hunt Club. Along the way she competed jumpers, pleasure horses, and competitive trail horses.
Justaplain Farm moved to Coatesville, PA, in 1976. "Mother S." started a small vanning service for the local thoroughbred breeders, and became involved witn NBC research projects. Contributing to research projects in lameness prevention and reproduction was always a great learning experience. The farm moved to Cochranville in 1986 and began specializing in orphan foal care, breeding, and foaling. Research and vanning continued until about 2000.
In 1993, two wonderful horses were born: Just Mindy and Just Saber. Mindy became Mother S.'s personal horse. Mindy was a Shire/Thoroughbred cross. She raised, trained, and showed Mindy through PSG before her untimely death in 2005. In 2006, she started riding Saber after he retired from a very successful dressage career, through Grand Prix, with her daughter. It wasn't a match made in heaven at first, but has grown to be a wonderful team. With some pushing from George Williams, her current trainer, and her daughter, she rode her Century Club class at Blue Goose Stable IV show on October 28th at First Level. The combined ages are 106.