Herman Aguayo and Sa Wasim+ (OR)
Herman Aguayo and Sa Wasim+ (OR)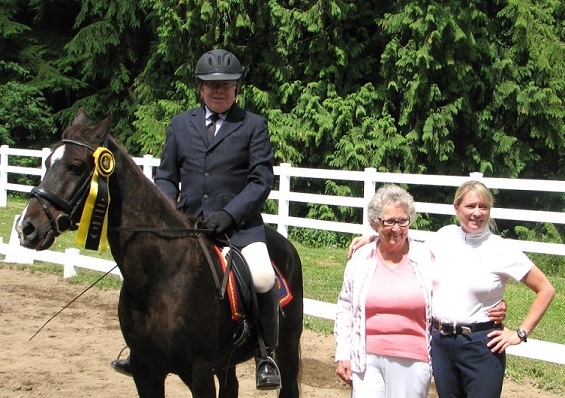 Team #139
Herman Aguayo, age 75, and his 28-year-old Arabian gelding SA Wasim+, joined one of the most exclusive clubs in the world, The Century Club, at his facility, Sawda Equestrian Center in Port Orchard, WA.
"Riding in the Century Club has always been on my bucket list," says Herman. "The late Lt. Col. Eugene Dueber of Portland Orchard, who is one of the original members of the Century Club, encouraged me to try for this honor years ago." Eugene Dueber didn't start riding until he was in his 60's. At age 85, Eugene Dueber won his place in the Century Club in 2001 by riding the 16-year-old Arabian mare VP Medley. Eugene Gave Herman, a fellow Marine, his United States Marine Corps blue saddle pad to remind Herman about his goal to join the Century Club. "My wife, Kathy, also kept encouraging me to get back in the saddle after my knee operations," chuckled Herman.
Herman started riding as a child on "borrowed Indian ponies" that were staked out to graze, by the Santa Cruz river in Tucson, Arizona, where he grew up. As a card carrying PRAC card member, in his younger years he rode broncs, did team roping, and even tried Brahma bulls!
Horses were put on the "back burner" when he enlisted in the United States Marine Corps in 1956 for 6 years. He joined the Navy Reserves in 1964 but went to an "active" status with the construction branch becoming a "SeaBee" heavy equipment operator during Vietnam. He served two tours in Vietnam returning with a Purple Heart and problem knees. This was followed by multiple deployments to Puerto Rico, Guam, Diego Garcia, and three years spent in the Philippines. Herman retired in 1983 and he and his wife, Kathy, relocated to Port Orchard.
The road back to horses began with adoption of three mustangs from BLM in 1980 while still in California. They were followed by a ¾ Arabian mare, and a yearling colt, Prince Sawda, a purebred Arabian. One thing led to another and Herman and his stallion actively showed for 8 years in driving, Western Pleasure, and other disciplines. Herman and his stallion have produced many champions as well as horses for families, trail riding, and endurance.
Despite having both knees replaced in operations in 2011 and 2012 and never having ridden dressage before, Herman was still resolved to try for the Century Club. To prepare, he worked with Shannon Lockwood, a Grand Prix rider who teaches dressage at both Swada and Chalice Farms in Port Orchard. "Herman already had great equitation basics, he just needed to work on learning the dressage pattern," says Shannon. Herman and Wasim rode for 10 to 15 minutes a day. Both horse and rider had fun. As Kathy explains, "Wasim didn't want to just walk and trot. Herman had to remind Wasim that there was no canter in the pattern they were learning."
Herman and Kathy have always had a big heart. Herman was 4-H leader in the equestrian program in Kitsap County for 16 years. Herman says, "You can't ride a horse and then put it away until you want to ride gain. Caring for a horse teaches kids responsibility, empathy for animals, and how to plan for the finances required to take proper care of that animal." Children working with Herman learned to set goals and then worked towards meeting them. Many achieved a sense of self-worth for the first time. Herman's former students now include three equine vets, an Air Force pilot, nurses, lawyers, a human resource manager, a foreign diplomat, two vet techs, and several farriers – to mention only a few of the success stories.
On Sunday, July 7, 2013, several of those former students witnessed Herman and Wasim ride their Century Club test during the Lower Puget Sound Dressage Club show. Herman's facility hosts two ODS schooling shows each year. Herman and Kathy are members and supporters of the Lower Puget Sound Dressage Club. As Kathy explains, "the LPSDC is a great, low key venue for beginning riders to start competing in dressage. All breeds of horses are welcomed – not just those thought of as the traditional dressage horses."
Herman and Wasim, decked out in the blue saddle bad with red and yellow boarded gifted to Herman by Lt. Col. Eugene Dueber, scored an impressive 64.688. This score was high enough to win a blue ribbon in most classes of that day.
To celebrate, attendees enjoyed chocolate cake and sparkling cider while Wasim snacked on his "carrot" cake.
Taking what he has learned from preparing for the Century Club, Herman looks forward to continuing to work with the next generation of young riders. Together, Herman and Wasim certainly exemplify the Century Club motto "to do good, we must do well."