Jo Ann Cooke and Tong Shan
Team #160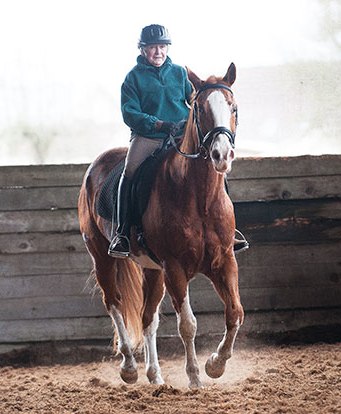 By Kris Brown
Jo Ann Cooke is one of the lucky few who spent the majority of her life in the company of horses. Like any horse-crazy child, she read every book and rode every pony or horse she could get her hands on! Finally, at the age of 17, she was able to ride more regularly as a guide at a rental stable in her hometown of Portland, Oregon. A lifelong love affair with horses was in full bloom.
Before the candles had cooled on her 18th birthday cake and with her own money in hand, Jo Ann bought her first colt, Rocky Joe. They were inseparable for the next 27 years and together they forged a lifetime of experiences. They did everything from driving, jumping and trail riding to logging.
In the mid-1960s with five children in tow, Jo Ann moved to Yamhill, Oregon to a large acreage she named Cinnabar Hill after the first colt she raised there. Those hills were bountiful and Jo Ann's stable grew to hold 27 horses and ponies at one point! In the early 70s, she hosted many Girl Scout horse camps and opened up the lovely and wild Cinnabar Hill to young people everywhere who wished to camp with horses. Jo Ann knew that horses touch hearts and change lives, so feeling blessed in her own life, she was happy to share the love and joy of horses with other people.
As time passed the dust settled somewhat in Jo Ann's barn, and the days of bareback galloping in the hills of Cinnabar and all night trail rides were neatly folded into the pages of her history.
These days Jo Ann spends her time with only one amazing horse, and he is everything to her. His name is Tong Shan, a Chinese phrase meaning "Copper Mountain" - a nod to his beautiful color. Tong is a gentle, 16.2 hand penny-colored gelding who has been her "buddy horse" for the eight years they've been together. "Buddy horse" is a term Jo Ann uses for those very special equine souls whom at first gaze know they are yours and you are theirs. Tong shares a special place in her heart with a few other beloved buddies like Rocky Joe and Hal, a gentle draft cross gelding taken from her too soon. This year on Tong's 18th birthday he closed the gap to the century mark by meeting Jo Ann there who had turned 82 just a day before.
Jo Ann says, "When I ride, I feel peace and my worries go away." She finds that peace nearly daily as she and Tong practice their First Level movements or trek up the trails of Cinnabar for a brisk morning outing. She takes a dressage lesson every other week and competes a couple times a year at local dressage shows.
Surrounded by many friends and family, Jo Ann and Tong rode their Maiden First Level Test-1 to complete their Century Ride on March 1, 2014 at the "Bears Above the Ground" Dressage Show in McMinnville, Oregon. They won their class of three, and left the ring with a standing ovation. Jo Ann has always been an inspiration to all of us and we applaud her life and this wonderful accomplishment.