John Fitzgerald and Jack
Team #161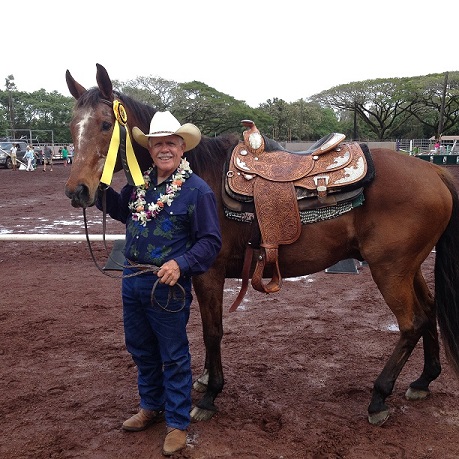 John, the great-great grandson of American Missionaries to Hawaii, grew up on Molokai Ranch, a 57,000 acre cow/calf operation on the Island of Molokai in Hawaii. From a young age, he learned to ride ranch horses doing what ranch horses do. At the age of 15, he moved to California with his family where he had little or no contact with horses. After his first wife passed away in 1973, he met Karen T. Mant in 1974 and they were married on Maui in Hawaii.
Karen, the daughter of Evelyn Wallis, came with horses and many years of experience showing at English and Western flat work, jumping, dressage, as well as enjoying trail riding. Shortly after they were married, Karen's mother sent them Big Enough, a Quarter Horse gelding that Evelyn had trained to do everything; dressage, jumping, Western and English flatwork, trail riding, gymkhana, etc. Karen introduced John and their two sons to the joy of raising, training and showing horses. Big Enough became John's trainer as with the correct cues, John learned what responses he should expect. They became partners at western shows, roping, trail riding and helping neighbors with cattle work.
John started dally team roping as a header in 1982. He competes regularly in the American Cowboy Team Roping Association (ACTRA) events, as well as five local rodeos on Hawaii Island. He has competed at the ACTRA National Finals in Reno, NV as well.
After grooming for and assisting Karen with her dressage shows for many years, John decided to try his hand at Western Dressage in 2012 on his roping horse, Ponita. This led him to follow the example set by his mother-in-law, Evelyn Wallis, who completed her Century Ride in 2003 in Kailua, Oahu. She became team number 28 on Summers Dream, a 24 year-old Thoroughbred gelding in Kailua, Hawaii. Evelyn was the second rider from Hawaii to receive the honor.
John met Erin Ednie Matsui and Jack, a 32 year-old appendix registered Quarter Horse gelding, through his wife's involvement in the Hawaii Island Dressage and Eventing Association, whom he was able to ride in his Century ride. Erin's parents, Dick and Sandy Ednie, own Jack.
Jack is the horse everyone admired, but was a little too much to handle for the average rider. He is a blood bay with strikingly handsome features, strong and powerful along with being refined and classy. He had the energy that just never quit and his stamina lasted past the last chucker of many polo games at the Mauna Kea Polo Club. Erin spent countless hours refining Jack's power into performance with the result of showing in both Western and English at the Hawaii Quarter Horse Association shows as well as Eventing in the Hawaii Island Dressage and Eventing Association and other local venues. Erin showed Jack in First Level dressage and schooled up to Third Level. Jack's highest score was a 78% in Prix Caprilli (jumps in the dressage arena) as well as high point for the year. Jack loved that event. Erin says, "There is nothing like riding Jack, who is so sure footed, galloping up hills, across gullies, and over fences as your heart leaps within you and the wind whistles across your ears. Jack is that horse; he makes you feel as though you could fly." At the end of 2013, Jack was retired from Polo and is regularly ridden by Erin's five year-old daughter, Savannah.