Judy Seeherman and Levi
Team #193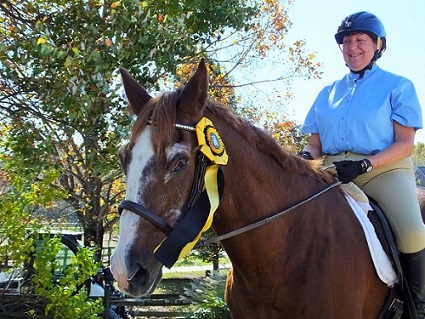 Judy always wanted to try horseback riding, but it wasn't until after college and relocating to Alexandria, VA that she took her first lesson. Along with her best friend from college, Carole, she signed up for a session of Fairfax County sponsored riding lessons. Judy continued with weekly lessons for many years, riding at various stables, until finally ending up at Wheaton Park Stables where she ultimately met her first horse, Levi. While at Wheaton, she started taking private lessons on Levi and soon, riding turned into her passion.
Levi is a 36-year-old registered Quarter Horse and a descendant of the legendary Two Eyed Jack. He was born in Virginia and, after his original owner died, Don Christie bought him to use as a school horse for Wheaton Park Stables in Maryland. He wasn't the best-behaved school horse but Kathy White fell in love with him and bought him eight months later. Kathy owned Levi for ten years and evented him up to Training Level. At age 16, he retired from competition and was leased by Judy. Kathy recognizing a great combination gave Levi to Judy two years later. This was the beginning of a long and wonderful partnership.
Levi lived at Wheaton Park Stables until 2003 when he moved with his best "horse" friend, Rebbe, to Millhaven Farm. He enjoys the big field and great turnout and makes sure he is not forgotten at turn out time. A few years ago, Rebbe died and Levi was a bit lost. He had a bad choke and now eats soupy food—which he loves. This fall, a new black mare caught his fancy. When Levi is not working, he spends his day chasing the younger horses (well, they are all younger than him!) away from her paddock.
Levi has an incredible work ethic and is happiest when working. He enjoys his lessons and is still ridden four to five days a week. In his younger years, he loved to jump and go fast but has since discovered the challenges of dressage. Levi also enjoys drill team and takes it very seriously—stepping out to the music and keeping the beat. He loves being the center of attention and, more importantly, being fed his treats. Since his choke he can only have melt away mints, so if you want to ride him you better have plenty! He hates the vet, being fly-sprayed, and being left in his stall when the other horses are out.
Having never had a desire to show, Judy was inspired to participate in one by Lillian Floyd, who rode Levi in a Century Club Ride in her quest to honor the older horse. So, Judy conjured up some show clothes and performed the Intro A Test with Levi at the Millhaven Horse Show, earning a high score of 79.06%. She was very happy to share the experience with her best friend, Levi, and many of her riding friends who came out to watch.