Kit Carson and Silent Treatment (Miss Hattie)
Team #153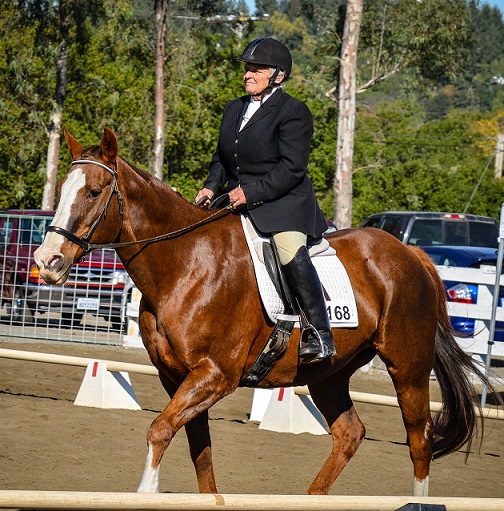 I was introduced to dressage at age 74, after a hiatus from riding for 50 years. I was delighted to learn that the judge would be looking mainly at the horse—her enjoyment, suppleness, adjustability, thoroughness--all the best that dressage training could allow through the rider's ability to present her.
The horse on which I learned is an Appendix mare. Her registered name is Silent Treatment, but she's best known as Miss Hattie. At 25 years old, she is steeped in experience and has a patient and wonderful temperament. She's also losing sight in her right eye. Our lessons were 1x week for five months. Miss Hattie and I rode Introductory Tests A and B in my first show ever, with scores of 67 plus. Approaching the show, Willi, the 85 year old woman who owns the facility where Miss Hattie boards, heard about our upcoming Century Club ride and decided to come out of riding retirement and join in. Miss Hattie made history on that day being the first horse to ride into the Century Club with two riders, in the same day.
I dreamed of a life with horses, at four, when we moved to California in the 40s. When family finances became steady my father bought a Morgan mare and boarded her at Pickwick Stables in Burbank, CA. My parents started a riding club, and we set out each Sunday morning riding for hours the hills of Griffith Park. I was 7 and got to ride Flash, a buckskin pony. It was heaven. Suddenly, my father went into business and all riding ended. Frosty, the Morgan mare, was sold.
In my junior year of college, I was given my pick of any horse at a friend's family ranch in Southern California. I chose a palomino named King, an ex-Long Beach Mounted Police horse, retired. I moved him to a friend's barn near college and tried to ride him after classes but for two weeks he wouldn't budge. One day he took off with me at a full gallop through the orange groves, trying to buck me into the trees. I hung onto his mane, riding bareback with a hackamore, and managed to stay on until the harrowing ride was over. After that he was a wonderful mount who I rode in the hills and groves several days a week for two years, until graduation.
Fast forward to age 68, when, after years of adventure, traveling, and working, a horse came my way in need of a person. A Draft mix/Warmblood named Dakota, I somewhat reluctantly said yes, wondering how at age 68 I would juggle finances. She whinnied and nickered every time I visited. I tried riding her, unsuccessfully, as she bucked me off and then walked over and put her head on my chest in apology. I hadn't known yet of her past abuse and issues about being ridden (the previous owner bought her out of rescue) but she was affectionate and a wonderful pal, so I set out to have a relationship with her on the ground. I never expected to ride again.
The "miles" of riding I put in with Miss Hattie enabled me to learn and love basic dressage, and also brought me increased fitness and confidence to relax and ride my own Dakota. She is my spiritual teacher as well. Our relationship has now expanded to include short weekly rides in the outdoor arena, thanks to Janet (an advanced rider and deaf friend) who is showing me tools to use with this horse – she rides Dakota first while I rider her horse, Andy, next to them and watch closely. Then we switch horses. I see Dakota once or twice a day, every week, every year.
I have so much more joy, pleasure, and adventure because of my dressage experience with Miss Hattie and my ongoing relationship with Dakota. How lucky can a person be at 75? I'm happy and grateful for my life and my association with these wonderful horses, two dogs and good friends. I'm continuing dressage. Life is so good.