Martin Sosnoff and Scirocco
Team #146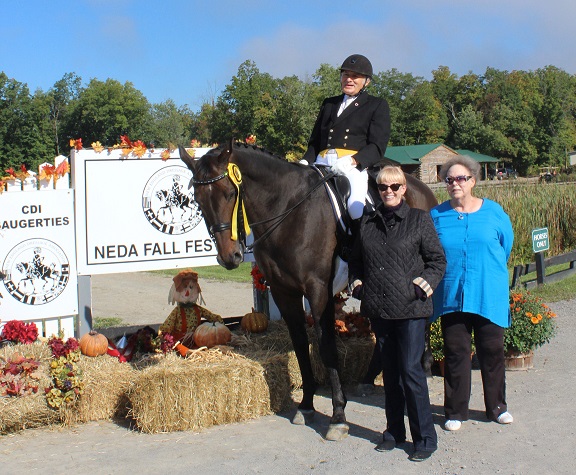 Alas! My parents didn't hoist me on a pony when I was a 4-year-old. There were no ponies in the East Bronx in the 1930's, only Sheffield Farms work horses yoked to rubber-tired milk wagons. But, I'm a confirmed dressage rider for at least half my years which now show an eight in front.
I'm convinced it takes at least three lifetimes to become a great Grand Prix rider. My second lifetime I expect to devote to ballet dancing, but do reserve my third rendition for dressage. Hopefully, I can resume at the Prix St. George level and then work up to 15 ones from 7 twos.
Scirocco, my bay 19-year-old Danish warmblood, is my best friend. We bought him young when he was a first level horse, very forward, but on his fore hand. Took us over a year to package our guy, but he moves like a Ferrari. Scirocco gives me everything he has to give, willingly, so I guess he loves me. Actually, we love each other, but there's no sex involved.
I am looking forward to breaking the mold, expecting to ride well into my nineties at Grand Prix. (The Greeks called this hubris.) But, no horse, not even Trigger, could count into the nineties. We need to see more competitors with white hair. I've been accused of dying mine, but it's a dirty lie.
Unfortunately, competitors in the ring must be measured solely in decimal points. I'm resigned to the system. As a money manager, I've been measured in numbers for over 50 years. Hopefully, you go through life with good numbers.
When I enter the ring at A my thoughts have nothing to do with numbers. All I desire is to give my buddy a great ride, that we're in harmony and enjoying the unfolding experience in the ring. Never the same. There is no perfection in what we do, but the thought of same keeps us riding intensively and contentedly.