Mary Jane Scott and H.A. Bold Flyer
Team #158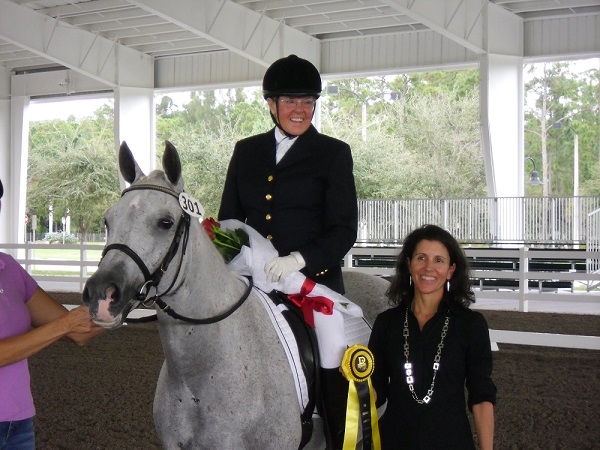 My riding career started when I was one year old, on the saddle in front of my father on his Tennessee Walking Horse, Buddy. Official lessons began at six on Patsy, a 17 year old Quarter Horse decked out with a Western bridle and an English saddle. I showed Saddle Seat Equitation all through high school on grade horses.
I bought my first Arabian, a two year old colt, after college. I broke and trained him myself and showed him very successfully on the Arabian circuit in New Jersey and Pennsylvania. I then had a twenty year horse hiatus due to work and personal circumstances.
In 1986, as a realtor who specialized in small farms, I sold a farm to customers who had Arabians and that was all I needed. I bought a 12 year old chestnut gelding who I showed in local Arabian shows.
I moved to Florida in 2000. I brought Val with me to a dressage barn in Wellington where a friend of mine boarded. Unfortunately, he became afflicted with colic on his 24th birthday and had to be put down.
My next Arabian was an 8 year old chestnut mare who had only been trail ridden. She was a very, very green, but she was sweet and relatively sensible. At this time, a trainer, Bruce Patti, came with several horses to our barn. He offered us dressage lessons in return for feeding his horses at night. I was a little skeptical, but dressage was the only thing at Centerline Farm, so Hannah and I began our lessons. I felt as if I had never ridden before. Hannah did want to take her right lead, so I went to Bruce. He told me there were four things you had to do to ask a horse to canter. All of my Arabs picked up the correct lead with a touch of the outside heel. Four things? Who was he kidding? I was then in my sixties and my body rebelled. It took several years before Hannah's right lead was confirmed, but I was hooked. I started her in Intro to avoid the dreaded right lead. Most Arabians don't like water, and Hannah was typical. After our free walk, the judge told me that it was the most wavering free walk she had ever seen. Hannah was merely avoiding puddles.
Hannah was training first level when she tore an anular ligament. I retired her to motherhood with the woman who had bred her. Then came the search for my Arabian dressage horse. After Hannah there was Jo, a half Arab mare with wonderful gaits, 15.3, and built. I thought maybe the seemingly prejudiced judges would not realize she was an Arab. She let me know early on that she did not want to be a dressage horse; she wanted to be a jumper. Next was Mick, 15.2, and absolutely gorgeous. He was built elegantly and not too downhill. He had been successful in Arabian shows with some of the best trainers, both in hand and Hunter Pleasure. Here, surely, was my Arabian dressage horse. But Mick was used to being schooled in the morning in sheltered areas. He spooked at everything. On windy days, he was almost unrideable. So I found him a good home and went online again. I searched for Arabians 15 hands or over, no grays. My good friend and I drove all over Florida looking at horses who did not know their leads and had to be run into a canter. I was not going to deal with that again.
So I started looking at grays with no height restrictions. By now, Mick had turned me into a timid rider, so a quiet older horse was my priority. I found Flyer, (HA Bold Flyer), a 14.3, seventeen year old flea bitten grey (ugh!) gelding. Flyer came from a small breeding farm in South Florida. He is a 78% Crabbett breeding, which means that he has more bone than the Egyptian Arabians. He is bred and built for the versatility of the sport horse. I have never had a horse who wants to please as he does. With my own limited knowledge, I brought him from a trail horse that had never had any contact, to the perfect training level horse he is today. We would school new things one day, and the next day he remembered what I had taught him!
A recent judge said he needs to be more supple. Has anyone ever known a supple 20 year old Arabian? I am not supple either! We can be stiff together, but we are out there. I have my Arabian dressage horse! If I had had him when we were both younger, the sky would have been the limit!