Peter Rosow and Hammer
Team #157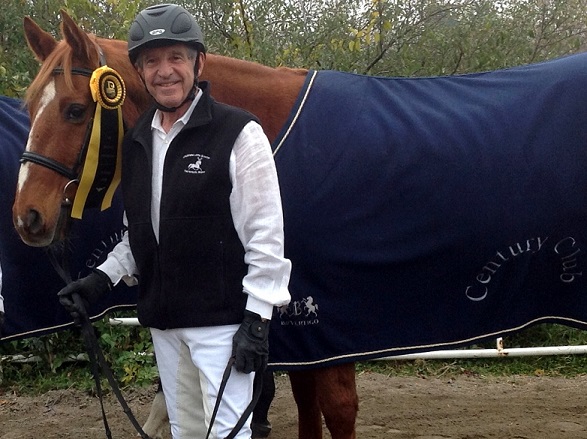 I was born and brought up in New York City. When I was 8, my father, who had been a rider, instructed my mother, who was terrified of horses, to arrange for me to learn how to ride. She took me every week to Claremont Riding Academy on the upper west side which was then, and remained until about ten years ago, Manhattan's only facility where one could rent horses and receive instruction. Lessons were held in a tiny indoor ring and after one gained skill and confidence, on the bridal path in Central Park. I did this until I was about 16 when I discovered girls and lost, at least temporarily, my enthusiasm for horses.
After college, my first job took me to Germany for three years, and after becoming a father, I resumed my equestrian career in my late twenties at Secor Farms Riding Club, a facility in White Plains, New York, where I further refined my abilities and learned to jump. But my job, which required a great deal of travel, once again interrupted my riding activities except for occasional periods that included trips to a friend's ranch in Arizona where we rode Western among picturesque landscapes. I also indulged my passion for horses in the Sierra Mountains in California where a group of us drove cattle and mules for days on end (think Billy Crystal's "City Slickers").
It wasn't until I retired at 65 and moved to Connecticut that I became fully engaged in the sport I love. I bought my first horse, Liam, an Irish Sport Horse, signed up with an instructor, regained my riding and jumping confidence and entered lots of local show jumping and eventing competitions. As I turned 70, Liam developed arthritis in his shoulder and entered retirement and I had my right hip replaced. The women in my family-- wife Rebecca and daughter Anne—saw these as signs from God that I should stop jumping and focus on something less dangerous like dressage.
I bought a Fourth Level dressage horse, Noah, a Dutch Warmblood, and began what has been an excruciatingly difficult but truly exhilarating attempt to master "the highest expression of horse training." I was lucky enough to find Sharon Curran, a talented, patient and exacting trainer here in Connecticut and "The Bills" (Warren and McMullin), two high level trainers and riders with whom I work in Florida in the winters. I am currently an avid, if not totally competent, First Level rider.
I had hoped to do the Century Club test with Max, a Thoroughbred Warmblood cross I bought when he was eighteen and owned for over a decade but unfortunately, he passed away before we could schedule our Century Ride. Bill and Liz Lasley kindly offered me their Quarter Horse, Hammer (27), as a replacement and after a few, brief get-acquainted rides we did just fine together. It was a wonderful and memorable day.