Sharon Curran and Slick
#156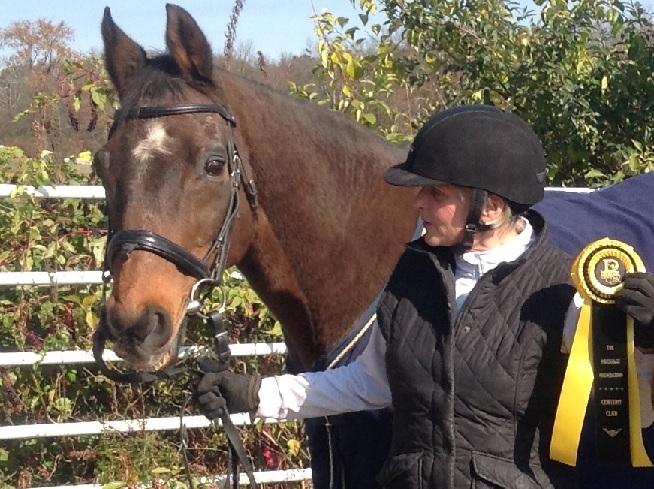 I've always been crazy about horses! When I was three, a traveling photographer took my picture on his pony and when he left I unsuccessfully tried to follow the pony down the road! As soon as I was old enough, I rode my bike to a local stable, Green Briar, in Arbor, New Jersey. The trainer, Jean Janner, let me work for lessons. Soon I was exercising the lesson horses and sometimes a project horse.
When I was fourteen, I was given a spirited, Western broke, palomino gelding (Mr. Sandman) I retrained him to English and he was a courageous, speedy jumper that won ribbons in open jumper classes. During my teens I had the opportunity to work at Clarence Nagros' Hilltop Stable in New Vernon, New Jersey. Riding and showing the sale "greenies" was a real equestrian education. I fox hunted on weekends and received my colors with the Spring Valley Hounds.
After two years of going to art school in NYC during the week and riding on the weekends, I got married and moved to the Naval base at China Lake, CA. While there I bought and broke a three year old filly and gave lessons to children and adults. Most riders in the area rode Western so my English lessons were a bit of a novelty. Five years and one more horse later we moved back to New Jersey. There we renovated a small farmhouse, built a barn and had a child. Job relocation for my husband meant a move to Bethlehem, CT. Here we renovated a large dairy barn into a house and stables and added another child to the family. After twenty five years of marriage, we got divorced, which necessitated making my small horse business a career. I currently have a boarding/training barn full of great people that are more friends than clients! We get through the New England winters with a small indoor that is attached to the main barn and house. It is very nice when I can go down and ride without even going outdoors.
My Century Club partner, Slick, is an off the track Thoroughbred that I've owned for thirty wonderful years. He could switch from trail mode to show ring presence easily. Financial and family obligations prevented me from developing his full show potential but we thoroughly enjoyed our many years together. Slick's main job for the last three years has been babysitting an elderly Arabian, Pappy, age 39. Pappy would have been very upset if Slick left the property, so I arranged to have Corinna Scheller Fleming come to judge a schooling show at my place, R Barn Stables.
On Oct. 27th with an audience of friends in attendance, Slick went down centerline one last time. This time it wasn't the test or the score that mattered, it was just the privilege of going down centerline on my longtime friend. As I rode, many happy memories flooded through my mind. With my final salute, I bowed my head and said "Thank You." We had a double Century Ride that day. My student, Peter Rosow (76), also rode a senior horse to qualify for his Century Cub award. Both horses knew they were very special dressed in their ribbons and embroidered coolers form Horze Equestrian. After the show we all gathered at the house to celebrate with a champagne party!
My current ride, R Frodo, is a grey 18-hand Warmblood that Peter and I bought as an unbroken youngster. He has done well at the lower levels and we hope to tackle 3rd and above with instruction help from Alix Szepesi and clinics with Bill Warren.
I'm appreciative that The Dressage Foundation has created the Century Club to give recognition to the senior riders and horses still participating in the wonderful sport of dressage. How lucky we all are!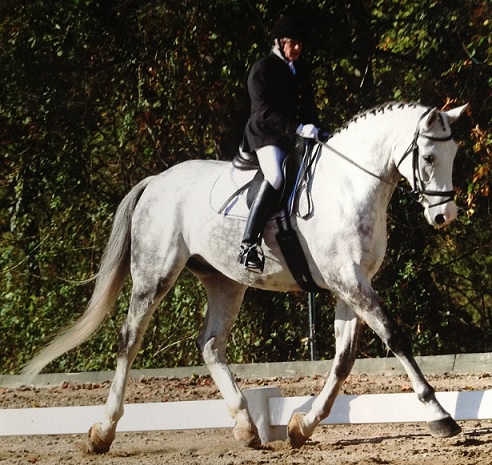 Sharon Curran and R Frodo. Photo Credit Brenda V Cataldo