Vita Pariente and Cupcake
Team #151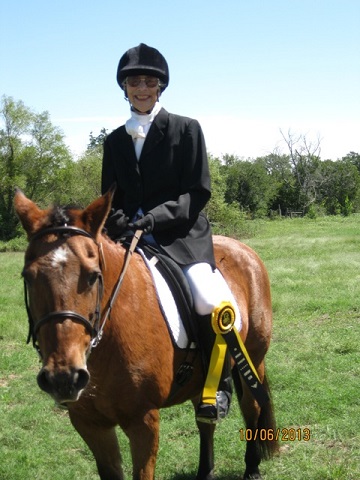 Horses were a big part of my life at three different times with horseless decades between. There was the horse-crazy kid phase in Pennsylvania. The parent of a son in 4-H phase with riding as stress reliever in northern Virginia. Then life in Texas, which was nothing like what I might have imagined had I ever thought I'd live in Texas.
I grew up in Harrisburg, PA, during and after WWII. Opportunities to ride horses were few and far between but the Saturday movie matinees, with all the famous western horses and riders, were there for a dime. Bigger than the movies was the Pennsylvania National Horse show. My dad treated me (age 11) and my little sister (age 8) to an evening show in 1948, the first post WWII year of international jumping. We got in trouble with our mom because we stayed up so late to watch the jumping. Two years later we saw the Lippizaners and Colonel Podhoretz on their first U.S. tour after the war. Over the years I had a few riding lessons and rode when there was a stable within bicycling distance.
Then came college, marriage, work, and child-rearing. A horseless decade went by. We lived in northern Virginia. When our son was about 7 and we had two incomes, I decided it was time for horses again. I took my son with me to riding lessons. One thing led to another. We moved closer to places to ride as our son's after-school care involved ponies, and pretty soon he had his own small pony, then a larger pony that I could also ride. When he lost interest and the instructor moved away, I finally bought a horse of my own. He was a small gray gelding, "a nice horse," said the dealer. And he was. His only fault was a desire to never stop eating. He could simultaneously canter and graze. We rode trails alone or in the company of others. Although slow of gait and response time, he was always willing and would go anywhere. He was my stress reliever. When my husband's deteriorating health and the coming of subdivisions made it too difficult to keep him, he became the perfect horse for the timid older woman who bought him from us.
My son went to college and his father lived long enough to see him graduate and be accepted to graduate school. Then I was on my own. After a 3-year sojourn in California I ended up in Texas, another horseless decade behind me.
Texas meant horses and I thought I would board a horse and trail ride as I had done in Virginia. When I started looking for a horse, I met the carriage driving ladies. It was a whole different world of which I knew nothing. In 1994, on the verge of becoming a grandparent, I bought Polly, a small mostly white driving pony. Thoughts of "Over the river and through the woods to grandmother's house" filled my mind. Polly had two gaits, fast and whoa – both instantaneous. I couldn't say the W word unless I really meant it. Otherwise: whiplash. We needed driving lessons, which is how Polly became my introduction to driven dressage. Driven dressage takes place in a larger arena but the patterns are similar to ridden dressage with circles, changes of reins, and loose rein walk on the diagonals. I started volunteering at combined driving events. Then I tried driving in shows and schooling events. I even went to some clinics for driven dressage. I did arena driving trials with Polly, but also enjoyed many trail rides with her too. She went where no pony had gone before and sometimes where none would follow. We had 18 wonderful years together.
Meanwhile I still wanted to ride again. Cupcake was owned by a woman in the driving club and had been trained to drive, but her main role was being ridden by children until she was outgrown. About 10 years ago she was for sale and offered to my neighbor, a riding instructor, who also had two daughters who rode. At the time, Cupcake was either too fast for beginners or too small (13.1 h) for more advanced riders. I gave her a try and liked her. She was responsive to leg and seat, sure-footed and had good feet. Not only that, she was a bay, my favorite color. So I bought her, primarily for trail riding. She too would go anywhere. However, trail riding was limited by time, distance to trails, and weather. I needed something else.
By accident I was introduced to a dressage instructor, actually the instructor's mother, at the supermarket. We got to talking; I took a phone number, and later called Amanda Garrett. She was very young, but very observant and very calm. She had a covered arena, which allowed riding in a wider range of weather. She already knew Cupcake (everyone knows Cupcake). I wanted to improve my riding and had no other goal in mind. I kept taking dressage lessons with Amanda over the years, off and on, as weather and travel permitted. Even with a covered arena and a breeze, our summers of 100-plus degrees are out of my range. Progress was slow, but time marches on. Realizing that Cupcake and I were up in years, Amanda suggested the Century Club. My driving and trail riding friends also urged me on.
As a dry run, I did Intro Test A at a BACH/Topsider Farm schooling show in 2012. I did the same test for the Century Club ride at the October 2013 schooling show. My friends Nancy Hancock and Anne Carter made it possible. They braided Cupcake, provided a bridle and approved bit for Cupcake, outfitted me from neck to knee in proper attire, and got me to the arena on time. It seemed like a lot of work for just one test, so I also rode Intro Test B. That's how I came to join the Dressage Foundation Century Club. I also joined the local dressage group, Brazos Association for Classical Horsemanship (BACH). I was so encouraged by everyone that I rode training level test 1 in the November show. I look forward to continuing my dressage lessons and maybe even doing some more showing.