Willi Hillard and Silent Treatment (Miss Hattie)
Team #154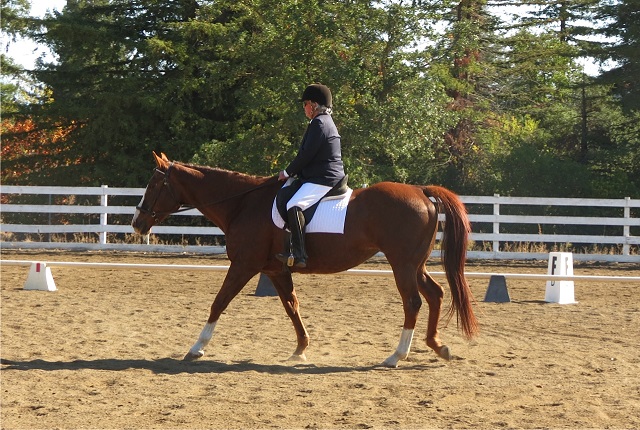 Willi started riding at an early age, riding anything available from a big black mule to a small cranky mustang. She gave up horses to raise a family and got back to riding in her 30s on a gaited horse. She went on to show 5-gaited Saddlebreds at the Cow Palace in San Francisco. Willi then switched to hunters, showing in the amateur owner divisions and joining the Los Altos Hounds. She met and married a man that had polo ponies. She remembers playing polo in Palm Beach, describing it as a disaster. "I was black and blue from head to toe from playing with those 'mean girls'."
They moved to the country in Healdsburg, California, and purchased a beautiful horse facility that provided a wonderful home for the polo ponies and hunters. Chalk Hill Ranch (CHR) continues to be a boarding facility to this day, some 30 odd years later. As Willi says, "And lived happily ever after."
Willi heard about Kit Carson, a student at CHR who was preparing to ride Silent Treatment (Miss Hattie) for a Century Club ride. She thought how fun, and wanted to participate herself. Judy McHerron, who has taught lessons at CHR for 17 years, and her lesson horse Miss Hattie gave Willi a few lessons and pointers on riding a dressage test. Mind you, Willi, who is now 85, had not been on a horse in years! She looked as good as ever with her leg position and raising trot. Then came the challenge of learning the test. Willi cannot really see the letters, let alone understand the dressage language. She was frustrated having someone read the test to her, till she asked, "Can I just ride it like a jump course?" How perfect. Trot straight down the middle to the end, turn right, ride to the other end and make a circle, go across to the other side and make another circle. She rode her Century Club Ride like a pro.
After the festivities of presenting the ribbons, being it was the Halloween Schooling dressage show, there was the costume class. We got Willi down off of Hattie (bad hip and all) so she could change into her 'clown costume,' complete with red nose, and get back on Hattie for the costume class. The October day was beautiful, and so many people were inspired by Kit and Willi's Century Club rides.
Miss Hattie, a registered Appendix Quarter horse that is now 25 years old, is the first horse to do two Century Club rides in one day. Judy purchased her as a 2-year-old in Texas 23 years ago, started her under saddle, and sold her to a student who was a member of the United States Pony Club. This rider went on to successfully pass her C3 certification on Hattie, and then passed her on to another student, who took Hattie to the USPC National Eventing Championships at the Kentucky Horse Park in Lexington in 1998. That student went on to pass the B certification in Pony Club, the equivalent of riding at the Preliminary Level with the United States Eventing Association.
As students were heading off to college, Hattie was up for sale. While on a trip home to visit her mother, Judy was asked "What would you like for your birthday?" Jokingly, Judy replied, "A horse because you never bought me one as a kid." So with that, Judy's mom helped purchase Hattie back. Hattie has been the best horse to teach with. She seems to know just what her riders need and how to take care of them. She has taught numerous people of all ages to ride, from 4-year-olds to 85-year-olds, happily going on a trail ride around the vineyard, riding a Century Club ride or jumping any fence.
A lot of people were inspired by Willi's Century Club ride, one to try riding for the first time and some older riders who want to participate in the Century Club themselves. Hattie's dance card is filling up.