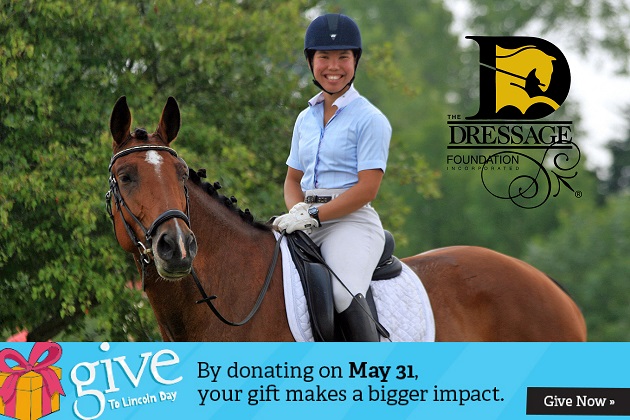 Join The Dressage Foundation on May 31st for an online fundraising challenge for nonprofits located in Lincoln, Nebraska.  TDF is proud to be the only dressage-related nonprofit that is participating!  We are honored to continue building our dressage presence in the hometown of Lowell Boomer, founder of the United States Dressage Federation, The Dressage Foundation, and the Nebraska Dressage Association.
Donations made to TDF through this link, https://www.givetolincoln.com/nonprofits/dressage-foundation, will be eligible to receive a proportionately matched grant from the Lincoln Community Foundation.  Your dollar will do more to support the dressage community!
Your donation will be used to support TDF's grants and programs, helping thousands of riders reach their goals and build the partnerships with their horses.   Every donation is important!
Don't want to wait?  
Make a donation through our link anytime from May 1st – May 31st and it will count toward our participation in Give to Lincoln Day…and will be eligible for a matched grant.
It's easy.
You don't need an account to donate.
You will instantly receive a donation receipt.
Please contact us if you have any questions about The Dressage Foundation or our participation in Give to Lincoln Day. Thank you in advance for your support!