Two-Tempi Challenge

---
What is TDF's Two-Tempi Challenge, Presented by The Horse of Course?
Riders who have horses capable of doing two-tempi changes are invited to participate in a regional and national competition to raise funds for The Dressage Foundation (TDF). Each rider works with an individual, GMO, stable, or any group of dressage friends that is willing to make a pledge to TDF for each two-tempi change. All donations are used to support TDF's programs, grants, and scholarships. A Two-Tempi Challenge could be held at a show, during a clinic, or even at your local barn with your friends. It is a fun way to bring your equestrian friends together to support the dressage community.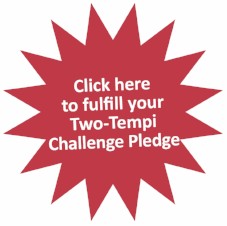 ---
The Winners:
At the end of each calendar year, TDF and The Horse of Course will announce National and Regional Two-Tempi Challenge Champions and Reserve Champions, based on the number of completed consecutive two-tempis.
There will also be awards for the top two groups that raise the most donations for TDF. 
Click here to view the 2015 Two-Tempi Challenge National and Regional Champions, as well as top donor groups.
---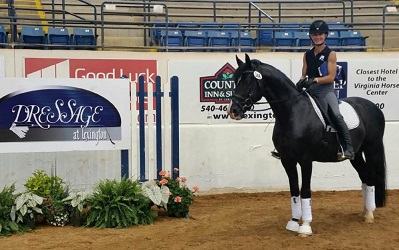 Getting Started:
The Riders: The horse and rider teams may use the best of three efforts. Start the count with "one" on the first flying change and count to the last two-tempi. If a change is not clean, it still counts as a two-tempi. As soon as the horse loses count (by doing a one-tempi, a three-tempi, or no change), the effort is over. A horse and rider combination can participate monthly in the Two-Tempi Challenge.
The Supporters: Any individual or group may pledge to support the horse and rider team. The group or individual may pledge any dollar amount per change that the rider successfully completes (see above).
Submitting Your Video:
Your Two-Tempi Challenge must be videoed and sent via YouTube, email, or DVD to TDF. A file can be uploaded to the form below or emailed to our office. You will receive confirmation that TDF has received the video and pledged donations. TDF's Two-Tempi Challenge will be open to interested riders and donors until December 31, 2016.
---
Questions About TDF's Two-Tempi Challenge?
If you are interested in receiving an Organizer's Guide for a Two-Tempi Challenge, contact us at (402) 434-8585 or info@dressagefoundation.org. We'd be happy to assist if you have any questions about TDF's Two-Tempi Challenge presented by The Horse of Course.
---
Two-Tempi Challenge Downloadable Flyers and Pledge Forms
Click to download a printable flyer to display or pass out at your Two-Tempi Challenge event!

Download this PDF to hand out to contributors at your Two-Tempi Challenge event.
---
Submit Your Two-Tempi Challenge Video: