Catherine Chamberlain (CA)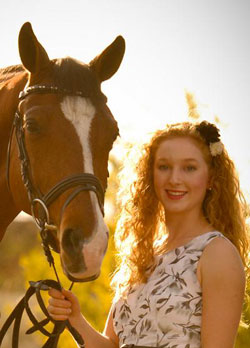 Catherine Chamberlain resides in Murrieta, CA. She volunteered on the Arizona Dressage Association Board of Directors for two years from 2011 to 2013. Catherine received the USDF Youth Convention Scholarship in 2011, as well as the USDF Youth Volunteer of the Year Award in 2012.
Catherine's involvement with TDF began in 2011, when she received a Renee Isler Grant, and has since received two more. In 2012, she was selected for TDF's Young Rider International Dream Program in Europe. To reciprocate, Catherine planned and hosted two benefit fundraisers for TDF, bringing in a total of $4,500, and she is currently in the process of planning a third! Catherine says she has been honored to receive the 2009 Caitlin Ben-Dror Memorial Scholarship, as well as the 2010 Willy Arts Young Rider Grant. Catherine has been a member of the USDF's Youth Programs Advisory Subcommittee from 2011-present and also serves on the board of the Temecula Valley Chapter of California Dressage Society.
As far as her riding and competitive experience goes, she has been training and showing dressage for the past ten years, currently training with David Wightman and Kathleen Raine at Adventure Farms. I have been to four NAJYRCs and earned Junior Individual and Freestyle Silver Medals in 2010, Young Rider Team Gold in 2011, and Young Rider Team, Individual and Freestyle Gold Medals in 2014. Catherine has also received the Fiona Baan "Pursuit of Excellence" Memorial Trophy in 2014. She has earned her USDF Bronze, Silver and Gold Medal awards. In the summer of 2014, Catherine participated in Lendon Gray's 5th Courtney King Dye Emerging Dressage Athletes Program Horsemastership Clinic, and also participated in the US's 2nd Dressage Pipeline Clinic at Epona Farms in October, led by the US national coaches.