Gerhard Politz Instructor Education Fund for Young Adults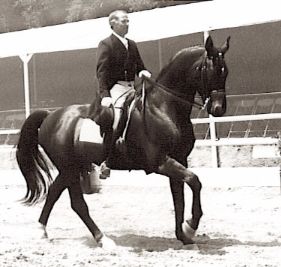 The purpose of the Gerhard Politz Instructor Education Fund for Young Adults is to support young adults who desire to become dressage professionals, by providing grants to attend the USDF Instructor/Trainer Program.  Applicants must be between the ages of 18 and 25.

The amount of the grants can vary depending on the need and request of the applicants, but are at least $1,000.  One or more grants will be available each year to qualified applicants, chosen by an independent selection committee.

The online application form and all required documents, including a riding video, must be submitted on or before the application deadline date of January 1, April 1, July 1, or October 1 --- If grant funding is still available after January 1, the April deadline will open.  If funding is still available after April 1, the July deadline will open, etc, until the total available amount for the year has been awarded.

The grant must be used for a USDF Instructor/Trainer Program that falls after the application due date (Jan 1 or April 1, etc) and within 2 years of that date.

Additional Grant Information:
Applicant must be a U.S. Citizen or Permanent Resident.
Funding must be used for the USDF Instructor/Trainer Program expenses.  Funding cannot be used for competition entries, vet and/or farrier expenses, or the purchase of a horse or equipment. 
An individual can only receive a grant from the Fund one time.  
The committee reserves the right to not award a grant in any given year if they determine that no candidate has met the criteria. Funds would then be held until the following year.  The applications and discussions of the selection committee are confidential and their decisions are final.
If the grant recipient is unable to attend the program specified in his/her application, The Dressage Foundation must be notified as soon as possible. Approval for a change in the use of funds is at the discretion of The Dressage Foundation and the grant selection committee.

About the Fund:
Gerhard Politz immigrated to Southern California from Germany in 1987, bringing with him a solid dressage education learned from the masters and through professional certification programs in Great Britain and Germany.  Gerhard has trained many horses to the FEI Levels, including 18 from lower levels to Grand Prix.  Knowing that formal education is paramount to the success of young instructors, Gerhard took interest in USDF Instructor/Trainer Program and was one of the program's founding members.  He is currently an Instructor/Trainer Program Examiner and also teaches certification workshops. 

Gerhard recognizes that finances may hinder some budding young professionals from attending the Program, so he established the Gerhard Politz Instructor Education Fund for Young Adults at The Dressage Foundation in 2018, in order to provide financial support for young professionals with a strong desire for instructor education and certification.