Maryal and Charlie Barnett Continuing Education Grants for Instructors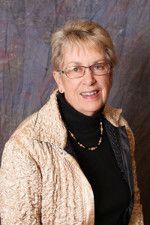 USDF GMOs/Chapters or other non-profit organizations may apply for grants of up to $1,000 to host the USDF Instructor/Trainer Program, to include workshops, pre-certification, and/or testing.
This Fund also offers grants for individuals to participate in the Instructor/Trainer Program (look under "Grants for Dressage Instructors").
General Requirements:
Applications must be received by TDF at least 90 days before the planned event.
 
Grant funds should only be used to support the educational part of the program and should not be used to purchase food, goodie bags, vests/t-shirts, etc.
 
Grants may not be used for the organizing group to make a profit and will only be provided to the break-even point for selected events.  Excess income should be returned to The Dressage Foundation, to be put back into the Fund.
Grant Amount:
The amount of the grants can vary depending on the need and request of the applicants but the maximum amount to be awarded is $1,000 per event.  Groups can receive a grant only one time per calendar year per Grant Fund.
Additional Information:  
If the grant recipient is unable to hold the program specified in the application, TDF must be notified as soon as possible. Approval for a change in the use of funds is at the discretion of TDF and the grant selection committee. 
 
An independent Selection Committee will review the applications and make selections based on published criteria and guidelines. The committee reserves the right to not award a grant in any given year if they determine that no application has met the criteria. The applications and discussions of the selection committee are confidential, and their decisions are final.
 
For educational events that are selected to receive a grant, 75% of the grant will be sent one month prior to the event, with the final 25% sent after an evaluation form and final budget is received by TDF.
 
Not all events that apply for funding are guaranteed to receive a grant.
About the Barnett Fund:

This grant program is being made possible with funding donated by Maryal and Charles Barnett (MI), who conducted some Estate Planning with TDF. Maryal is a long-time premier US Dressage Instructor, and she arranged to "give back" to her beloved sport in this special way. Maryal states, "The future of dressage and the welfare of our horses is dependent on the quality of education that our professionals obtain. There were people in my life such as Violet Hopkins and Lowell Boomer who were instrumental in making education possible for me, and many others through their generosity and foresight. Lowell Boomer, along with many others, saw the importance of education; and they founded USDF to unite and educate dressage enthusiasts. Violet Hopkins gave her farm, time and wisdom each summer to make the Vi Hopkins Seminar for Dressage Instructors possible for those of us hungering for more knowledge. Now, it is my desire to give back to the sport that has given me such a rewarding and happy life. That is why I want to help to make it possible for other present and future dressage instructors/trainers to be able to obtain quality education through the Maryal and Charlie Barnett Continuing Education for Dressage Instructors Grants."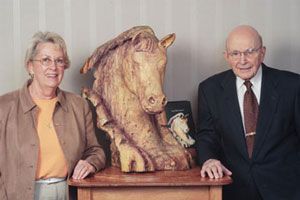 L: Maryal Barnett (MI) and Lowell Boomer (NE) stand beside the carved horse head Maryal has donated to USDF, through The Dressage Foundation. This donation honors the 81 founding organizers who met in Lincoln, NE in 1973 to form and organize USDF. Her gift also permanently remembers Lowell Boomer, who devoted so many years of hard work in transforming the founding group's dream into action.