Maryal and Charlie Barnett Continuing Education Grants for Instructors
USDF GMOs/Chapters or other non-profit organizations may apply for $1,000 grants to conduct continuing education programs for dressage instructors that best fit their needs. Funding is available from TDF to provide five programs up to $1,000 each. Grants will be awarded to the first five groups that apply, and whose applications are approved by TDF's Instructor Education Selection Committee. Funding may be used for the USDF Instructor/Trainer Program workshops and testing in addition to other continuing education programs for instructors. GMOs can receive a grant only once in any given calendar year. It is required that applications reach the Foundation Office at least 90 days in advance of your event.
This grant program is being made possible with funding donated by Maryal and Charles Barnett (MI), who conducted some Estate Planning with TDF. Maryal is a long-time premier US Dressage Instructor, and she arranged to "give back" to her beloved sport in this special way. Maryal states, "The future of dressage and the welfare of our horses is dependent on the quality of education that our professionals obtain. There were people in my life such as Violet Hopkins and Lowell Boomer who were instrumental in making education possible for me, and many others through their generosity and foresight. Lowell Boomer, along with many others, saw the importance of education; and they founded USDF to unite and educate dressage enthusiasts. Violet Hopkins gave her farm, time and wisdom each summer to make the Vi Hopkins Seminar for Dressage Instructors possible for those of us hungering for more knowledge. Now, it is my desire to give back to the sport that has given me such a rewarding and happy life. That is why I want to help to make it possible for other present and future dressage instructors/trainers to be able to obtain quality education through the Maryal and Charlie Barnett Continuing Education for Dressage Instructors Grants."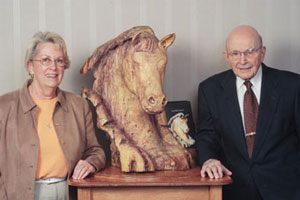 L: Maryal Barnett (MI) and Lowell Boomer (NE) stand beside the carved horse head Maryal has donated to USDF, through The Dressage Foundation. This donation honors the 81 founding organizers who met in Lincoln, NE in 1973 to form and organize USDF. Her gift also permanently remembers Lowell Boomer, who devoted so many years of hard work in transforming the founding group's dream into action.