Debbie McDonald Fund for Pacific Northwest (Region 6) FEI Riders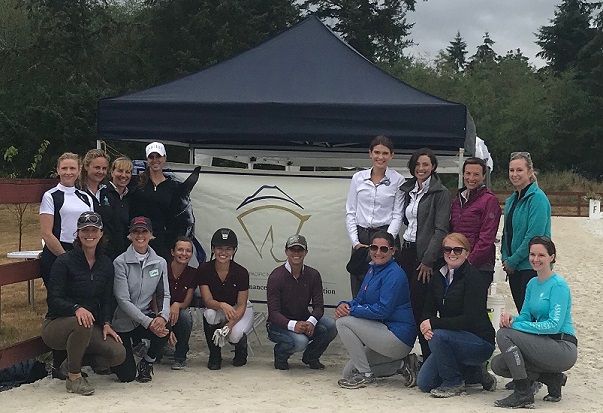 The Debbie McDonald Grant Fund was established by Pacific Northwest dressage enthusiasts to assist riders in the Region to pursue their goals of representing Team USA on the podium.  Debbie McDonald, through her compassionate and effective training methods, has had a significant and positive impact on dressage training in the Pacific Northwest and across the United States.

It is the goal of this grant to recognize Debbie's unique contributions to the sport of dressage while enhancing the skill and effectiveness of the Pacific Northwest dressage community.

Applicant Criteria:
Must be a U.S. Citizen or Permanent Resident. 
Must be a current resident of USDF Region 6 – Washington, Oregon, Idaho, Alaska, or Western Montana.
Must satisfy at least one of the following:

Current member of the USEF Dressage Development Program and/or,
Invitation/plan to the USEF Dressage Festival of Champions and/or,
Invitation/plan to attend NAYC and/or,
Plan to attend a CDI outside of Region 6 within the next year

Must have a plan of how to expand dressage knowledge and skill in their region
Must be a demonstrated team player through volunteer work, donating resources or hosting educational events to help their dressage community, etc.
Preference will be given to riders currently named to the USEF Dressage Development Program list.

Grants should be used to support developmental goals of members of the USEF Dressage Development Program, including European competition; for travel to the USEF National Championships, NAYC, or U.S. CDIs; or for other educational, training, and/or showing opportunities that will further the development of the horse/rider pair.

Grant Amount:
The amount of the grants can vary depending on the need and request of the applicants but will typically range from $5,000 - $10,000.  At this time, one grant will be available each year to a qualified applicant chosen by an independent selection committee. 

Additional Information: 

Funding cannot be used for vet and/or farrier expenses, living expenses, or the purchase of a horse or equipment.  

The committee reserves the right to not award a grant in any given year if they determine that no candidate has met the criteria. Funds would then be held until the following year.  The applications and discussions of the selection committee are confidential and their decisions are final. 

If the grant recipient is unable to attend the program specified in his/her application, The Dressage Foundation must be notified as soon as possible. Approval for a change in the use of funds is at the discretion of The Dressage Foundation and the grant selection committee. 

The online application form and all required documents must be submitted to The Dressage Foundation on or before June 30th of each year.     

The grant must be used for training and events that fall after the application deadline of June 30th and within 2 years of that date.