Team #429: Roslyn Brendzel and Horej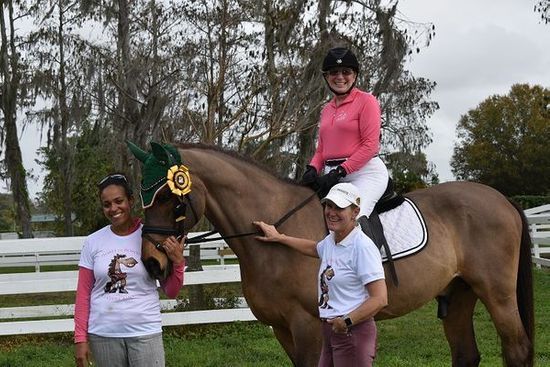 Team #429 – Roslyn Brendzel and Horej
Ages 74 and 26
I first heard about the Century Club when Lazelle Knocke did the inaugural ride in 1996. I never thought that one day I would also be doing a Century Ride.
I have been riding on and off since I was about 6, but didn't ride seriously until I was in my mid-30s.  At that time my husband had been diagnosed with Hodgkin's disease and riding was my release from the stress of his illness, my job and raising two small children.
After my husband died, horses became an important part of our family healing. Both children rode and my daughter Ashley now has her own business teaching riding and is a Certified Therapeutic Riding Instructor.
I bought my first horse in 1986.  He was a hot Thoroughbred who taught me how to stay on a runaway horse.  He also taught me jumping and then dressage. It was while I owned Donny that I met Roy Como who became my trainer, my mentor and my best friend for the next 28 years.
I sold Donny when it became apparent that I needed back surgery and might not ride again.  But two years later I had a new horse, who unfortunately kept injuring his leg.  I retired him and began looking for a new horse in 1999.
Roy suggested Horej, a 5-year-old Russian Trakehner that he had found in Germany.  Horej was a perfect match and we have been together for 20 years.  He was supposed to be a low-level dressage horse, but Roy trained him through Grand Prix.
After my children left for college my life revolved around work and Horej.
When Roy died 5 years ago, I didn't know what to do. Luckily, Horej and I found a wonderful new home with Jessie Steiner. Jessie brought us to new heights.
Unfortunately, my back is once again causing problems, but I was able to squeeze in my Century Ride before heading for surgery.
At 26, Horej is the elder statesman at Steiner Dressage.  He truly enjoys his status and has become quite the character. He loves the attention he gets from all of our friends at the barn.
I want to thank Jessie Steiner; Barn Manager Marcie Farmer; our vets Tiffany Marr Field, Kristen Darragh and Jennifer Feiner; Betsy Steiner and all of the grooms at Steiner Dressage for the wonderful care they have given Horej. I would also like to thank all of my wonderful barn friends who supported my goal.
I dedicated my Century Ride to show jumper Kevin Babington, a longtime friend who suffered a life changing accident in August 2019.
Roslyn and Horej rode Intro Test A to complete their Century Ride on January 12, 2020.