Team # 379 -- Ann Alden and Sum Punk (AZ)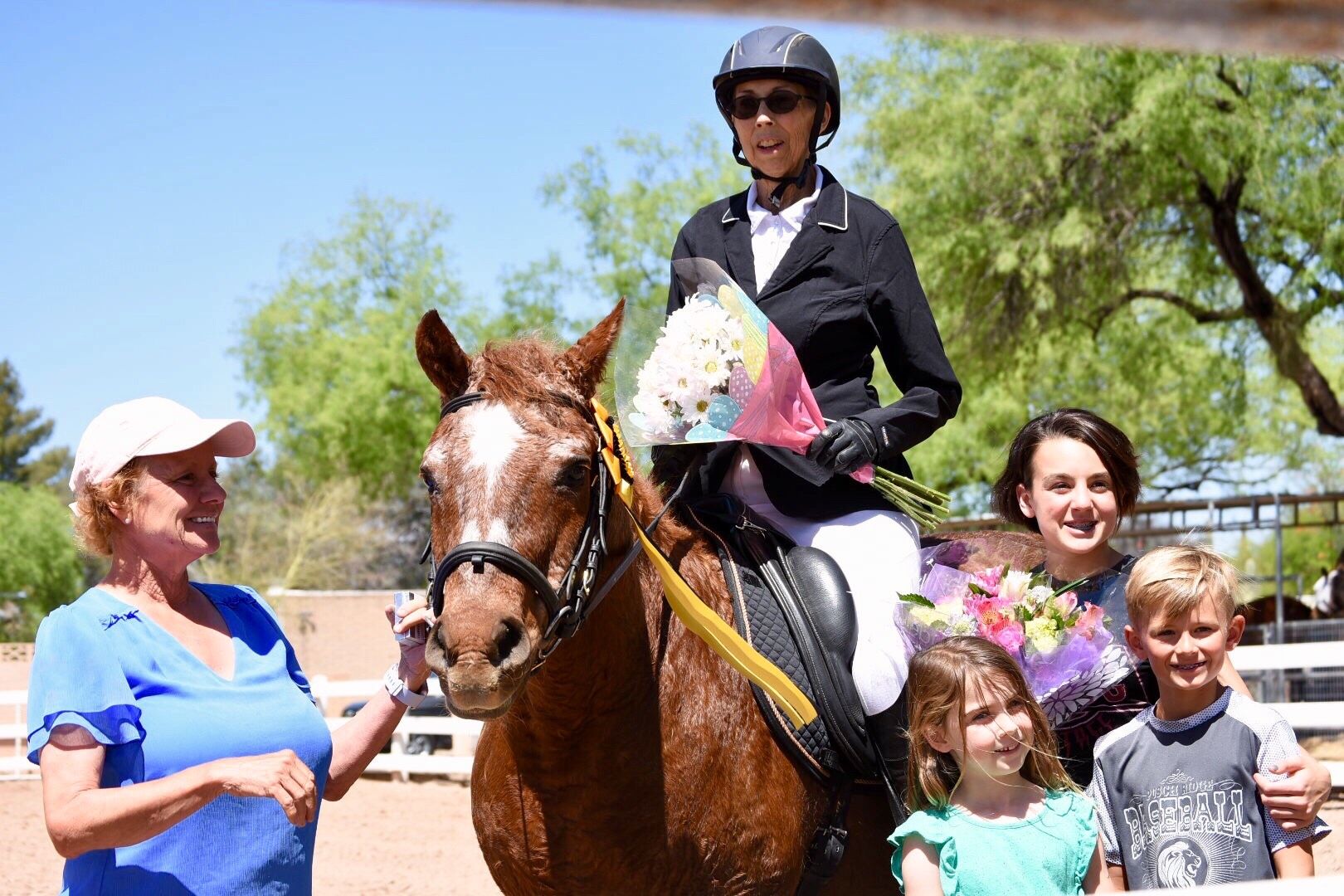 My journey to a Century Ride began, like many people, as a horse crazy little girl. My parents weren't horse people and thought I was going through a phase. They couldn't have been more wrong. I grew up in St. Louis and initially learned how to ride Saddle Seat. When I graduated from high school, I took a 10-year hiatus to go to college, get married, and have two daughters.  When I was 28, I bought a 2-year-old Arabian gelding named Bex Pasaadi.  He would go on to do 2nd Level dressage, Training Level eventing, endurance races, and jumping. I would eventually compete through 4th Level dressage on Swiss Legacy, an Anglo-Arabian I bred, raised, and trained myself. 
In 1976, I bought and began managing a boarding stable of 50 horses.  Over the years, I helped found Diamondback Pony Club, organized dressage shows, taught 'up/down' lessons, and started volunteering at Therapeutic Riding of Tucson (TROT). I was invited to help Barbara Rector in the Equine Facilitated Psychotherapy program at Sierra Tucson in 1990.  In 1992 I earned my Master's in Special Education and Rehabilitation and opened the Riding & Rehabilitation Center in Tucson, AZ.  Since then, I've been a therapeutic riding instructor for people with physical and mental disabilities and for veterans with PTSD and TBIs. 
I moved to Sonoita, AZ, in 2011 and opened Borderlands Center for Equine Assisted Services.  Bazy Tankersley, founder of Al-Marah Arabians, gave Sum Punk to me when she stopped riding at the age of 90.  He was 22 at the time and had been an endurance horse for several years before becoming a lesson horse.  Punk was one of the first Arabian/Bashkir Curly crosses that she bred.  He developed into one of the most dependable and insightful therapy horses in the Adventures in Awareness workshops that Barbara and I taught at Borderlands.  He became my personal trail horse and was one of the four horses involved in the pioneering HeartMath Research into the effects of equine experiential learning on humans and horses alike. 
In March 2014 I was diagnosed with a rare form of cancer.  I endured chemo and radiation, going into remission until a recurrence exactly two years later. I completed a second course of chemo and was clear until Autumn of 2017, at which point I began Opdivo infusions every three weeks.  I was much improved for about a year but in November of 2018 the cancer reared its ugly head again. Since then, I've had radiation on a tumor in my esophagus and tried two different forms of chemo, but the side effects were horrible and immediate and the cancer progressed. Twice I hoped to get into clinical trials but was excluded for various reasons. I am currently taking Keytruda, another form of immunotherapy, and am waiting to hear if I qualify for a clinical trial.   
Throughout my journey with cancer, horses have remained a forceful presence in my life.  I continued to trail ride Sum Punk and my 15-year-old Arabian mare, Aul Kimaya until February 2019 when I became too weak from the radiation I had received. I told my daughters, one of whom is a dressage trainer, that I wanted to complete a Century Ride with Punk and they sprang into action, organizing an affair just for me.  Dorie Vlatten-Schmitz, a lifelong friend and 'S' dressage judge, drove to Tucson just for the ride. On April 20, 2019, I performed Introductory Test B, earning a 76.562%, my highest score ever!  I'd always been told he was very well trained. When we turned down centerline and he saw the crowd, he puffed up and said, "I got this."  He clearly knew what he was doing. 
I haven't been able to ride much since doing the Century Ride, but I try to get to the barn occasionally just to soak up the sights, sounds, and smells. I have been able to get on Maya and do my "exercises" on her: around the world, helicopter, and laying over her hindquarters. The Century Ride and the support of the dressage family will always be one of my most cherished memories and accomplishments.