Team #415 Anne Fribourg and Mister Winnin' Lynx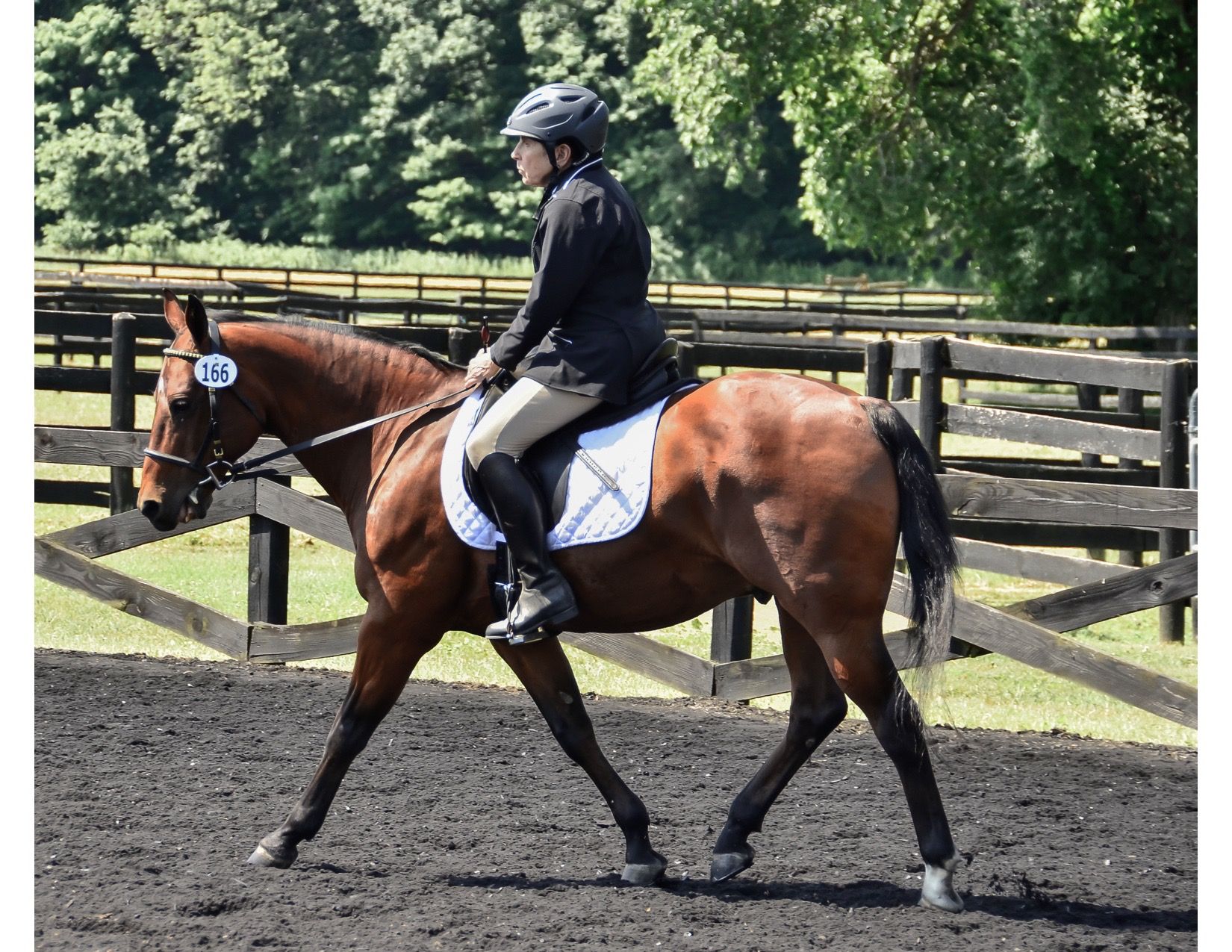 OUR STORY
     My love affair with horses started when I was five. I took riding lessons as part of summer day camp program and felt an instant bond.  I pleaded for a horse of my own, but living in suburban Westchester, I had to settle for weekly riding lessons at a local equestrian center.
     As a teenager, I became interested in boys and stopped riding.  But my love of, and for, horses has stayed alive within me.  When my husband  and I bought a country home in the Berkshires in 1992, I was able to return to that early love.
    I started riding again at a therapeutic riding center in North Egremont, MA.  The head instructor there has an in depth understanding of the biomechanics of both the human and the equine body.  Her students ride bareback so they can feel the horse moving underneath them.  This approach has helped me to develop a more balanced seat and to move in rhythm with my horse.
     However, these lessons did not quench my thirst for riding.  I ached to get back in a saddle. So, while still working with my bareback/centered riding instructor, I began taking lessons at a conventional equestrian center in nearby Salisbury, CT.  It was there that I met the love of my life-Mr. Winnin' Lynx, aka MAX.
     When I first met Max, he was 18 years old—a bay quarter horse gelding, with a white blaze on his forehead, dark, soulful eyes and an impressive pedigree.  Although he is a 'little guy,' measuring 14.2 hands, he has a big heart and a big soul. 
     At the age of 68 I finally realized my childhood dream.  I have a horse of my own!   Max, like me, me, is a senior¾but a fit and active one.  He has retired from a stellar career as an International Reining Champion and together we are trying to master the rudiments of entry level dressage.   Friends say, "You have been riding forever so why are you still taking lessons?"   But dressage is like dancing or figure skating.  There is always more to learn and I am so happy to be learning alongside of Max.
      Last November, the barn where Max lived for more than eight years closed.  We found a new home at Weatogue Stable in Salisbury, CT¾a dressage barn run by Bobbi Carleton, who is a bronze and silver medal winner and an 'r' level dressage judge.
     Since moving to Weatogue, I have come to understand and appreciate the level of skill and discipline dressage requires.  I am finding out how to move my body correctly, so Max understands what I am asking him to do.  I am learning to communicate through subtle, barely noticeable shifts in weight, balance and pressure.  This is rigorous work.  Max is also learning to move his body in new ways.  He is a western Quarter Horse, trained to go long and low, with loose reins and minimal contact.  Now he is learning to move on the bit with contact, to step under and bend at the poll.     
     For both Max and I, muscles that have been dormant are waking up and becoming engaged.   They are sore and they protest, but they remind me that, although we are no longer young, we are alive and are on this journey together.