Team #441: Anne Sushko and Montana Jubilee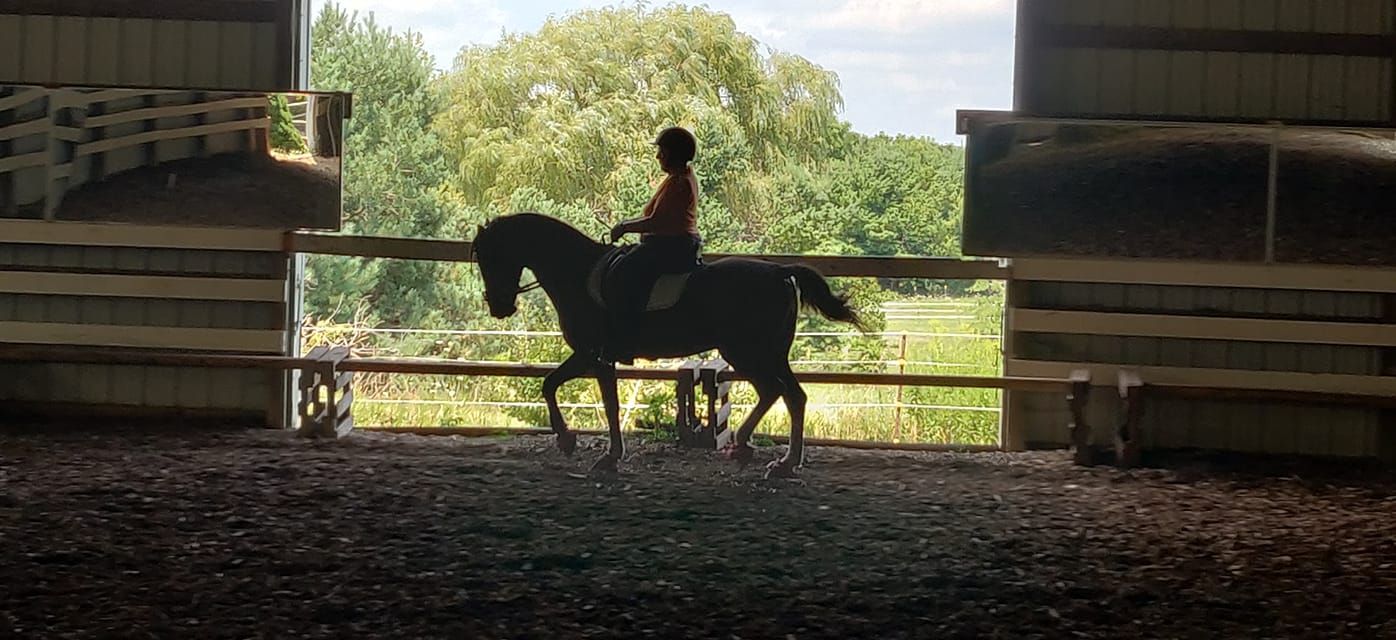 Team #441 – Anne Sushko and Montana Jubilee
Ages 70 and 30
Combine age: 100
Anne is the first Century Club rider from Iowa!
A Century Club ride was actually my introduction to The Dressage Foundation.  A number of years ago my husband and I were helping our daughter, Heather Petersen, with a RMDS show in Parker, Colorado.  A very excited group went by the office on the way to one of the rings – loaded down with flowers and a very large cake.  I asked Heather what was going on and she replied that one of the competitors was doing her Century Ride.  Greg turned to me and said, "I suppose you will want to do one of those some day!"  He was right! It has been on my list ever since! 

Last year at Pony Cup I was talking about goals with Deb and Doug M'Gonigle and Jenny Carol.  I mentioned my goal of some day completing a Century Club ride but that it would be a while since my horse is younger. Deb immediately said, "Montana will be 30 in 2020!"    How fitting it would be to do a ride with Montana!  The M'Gonigles and Montana were competitors at one of my first show as a USEF Technical Delegate – they have become treasured friends – their place is only a 3 hour drive – covid cancelled most of my TD and secretary gigs – I had hip replacement surgery and was back riding – I turned 70! Plenty of time to get acquainted with a Morgan stallion!  Here was my chance to make a goal become reality!
The horse I was privileged to ride for my Century Ride is Montana Jubilee, a 30-year-old Morgan stallion owned by Deb and Doug M'Gonigle.  Montana Jubilee was purchased by the M'Gonigles as a 10-year-old unbroken Morgan breeding stallion in June 2000.  He attended his first dressage show 45 days into his training with them.  Since then he was won hundreds of awards for USDF All Breeds, AMHA Open Competition, and Morgan Dressage Association.  He was a multi-titled World Champion and Reserve World Champion at the 2018 and 2019 Morgan Grand Nationals.  He was retired from FEI competition at 25 and has become a treasured schoolmaster.  He competed at age 28 at the National Dressage Pony Cup and scored the highest score of the show with a 78.
The dream became a reality Saturday, August 8, 2020.   Although Deb and Doug were the only ones physically in attendance, I knew I was surrounded by the love and support of many. 
Special thanks to:
Heather Petersen – There could be no better daughter in the world!  I would not trade you for anyone.
Michael Petersen –For being the best son-in-law ever, and giving a reason to go to Mario's!
Sarah and Elizabeth Petersen – For bringing me joy even though we are apart!
Anne Cizadlo – for hours of philosophical discussions over glasses of wine, for pushing me, and for scoring my test! 
Stephanie Field Staner – for listening, supporting, encouraging, providing a sanctuary!
Deb and Doug M'Gonigle – for sharing the love of the sport and Montana!
Carol, Deb and Kelly – for being my riding partners-in-crime
The Dressage Foundation – for making so many dreams come true for so many people! 
Greg – for all the years of love and for the many hours of watching a sport you sometimes described as "watching mud dry."  Miss you!
Ride on!!! Follow those dreams!!!  Support TDF!!!!  Yahoo – and on to the next goal!!!
Anne and Montana Jubilee rode Training Level Test 1 to complete their Century Club ride on August 8, 2020.