#412 Barbara Brinig and Jim's Hustler (AZ, MT)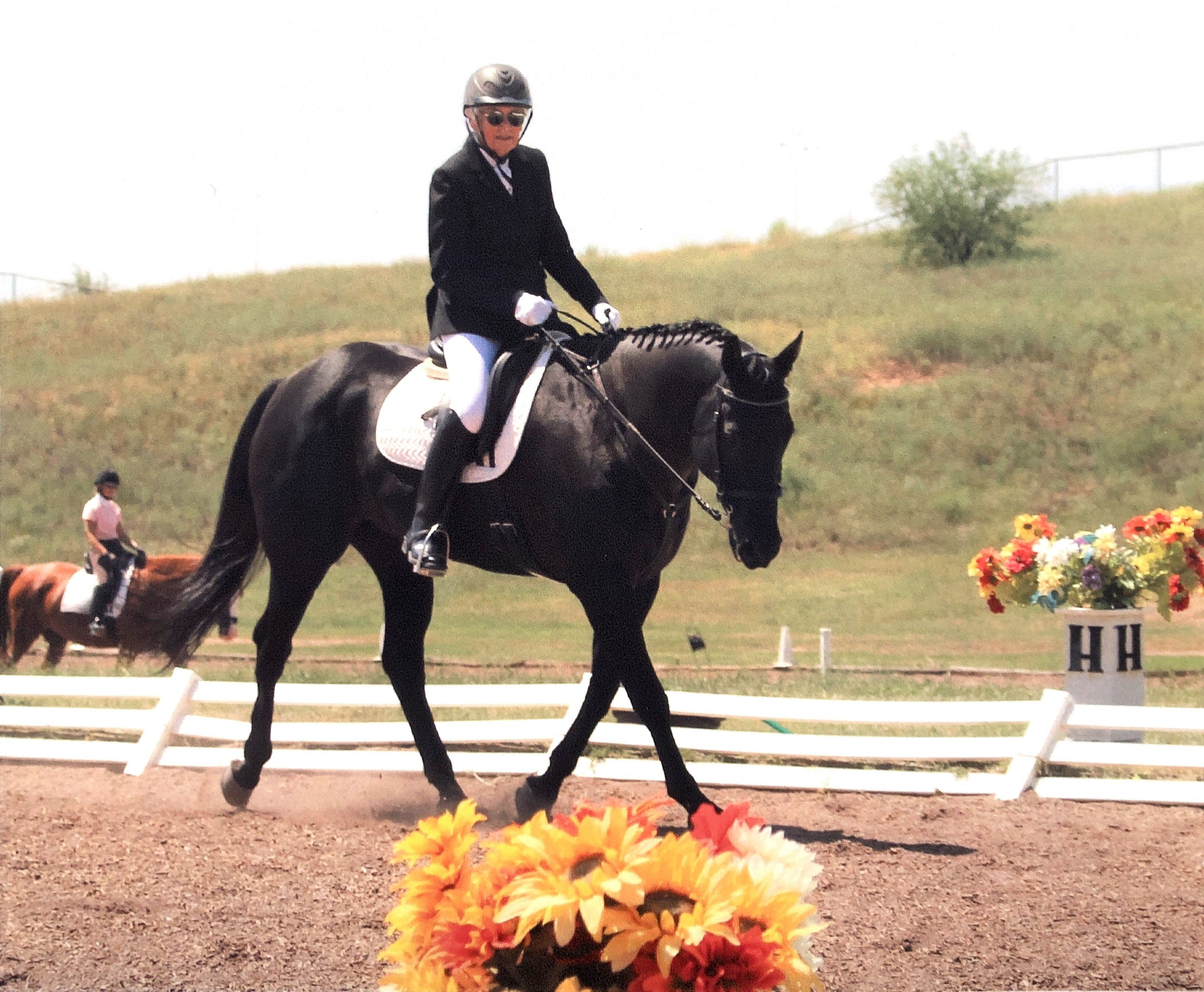 I wanted a horse from the time I was in the womb. A bachelor farmer in the area, whose avocation was horses, told my father that ten was a good age because I would be able to take care of the horse myself. On my tenth birthday, King came down the lane to our house. He was the perfect horse for a ten-year-old. My friends and I rode every day. On weekends we might be gone until after dark. We rode the back roads. We rode the pipeline that provided water to New York City from Ashokan Dam. We never felt the need to tell anyone where we were going.  It was an idyllic life for a little girl who had always loved horses and wanted to be with horses.
Once boarding school, college, and marriage intervened there was a hiatus. When our two daughters were old enough, we all began lessons. From there I was introduced to NATRC (Competitive Trail Riding). We began together and learned together. After the girls moved on, I stayed involved for about 25 years both riding and managing rides. Of course, distance riders are often compelled to take on the big ones. I have my Tevis buckle (100 miles in 24 hours across the Sierra Nevada's) and I completed the 5 day, 265-mile Outlaw Trail on my horse, Diego. I had a penchant for seeing country and horseback is the perfect way.
Along the way I was introduced to Natural Horsemanship. I have been a Parelli student for 35 years and my horses and I are still learning together. "Trust and Respect" and "Never get mean or mad."
The years have passed. The distance riding is over. We moved from Phoenix to the very outback of southeast Arizona. A friend introduced me to Colleen Clement, a dressage instructor not too far way (in terms of country living). And that has brought me to the Century Club. I never was interested in showing or arena riding but I have enjoyed few things more than the pursuit of dressage. Colleen is a classical dressage instructor. She is knowledgeable, patient and now a good friend. She managed to coax Charles DeKunffy, a former teacher of hers, to come here for several clinics. I never thought I would be able to ride with one of the great classical instructors. Being a natural horsemanship advocate, classical dressage fell right into my line of thinking. I love the subtly of dressage, the unspoken connection between horse, and rider and the discipline. My Jimmie is not the ideal dressage horse but he is patient with me and he tries very hard. We keep moving forward. Two years ago, Scarlett Fahrenson of St George Dressage in Sonoita suggested I join the Century Club. "What is that?", I said.  I had to wait two years but now I know.
Thank you Scarlett, thank you, Colleen, thank you Jimmie and thank you Century Club. I am proud to be a member.