Team #471 Barbara West and Cannonball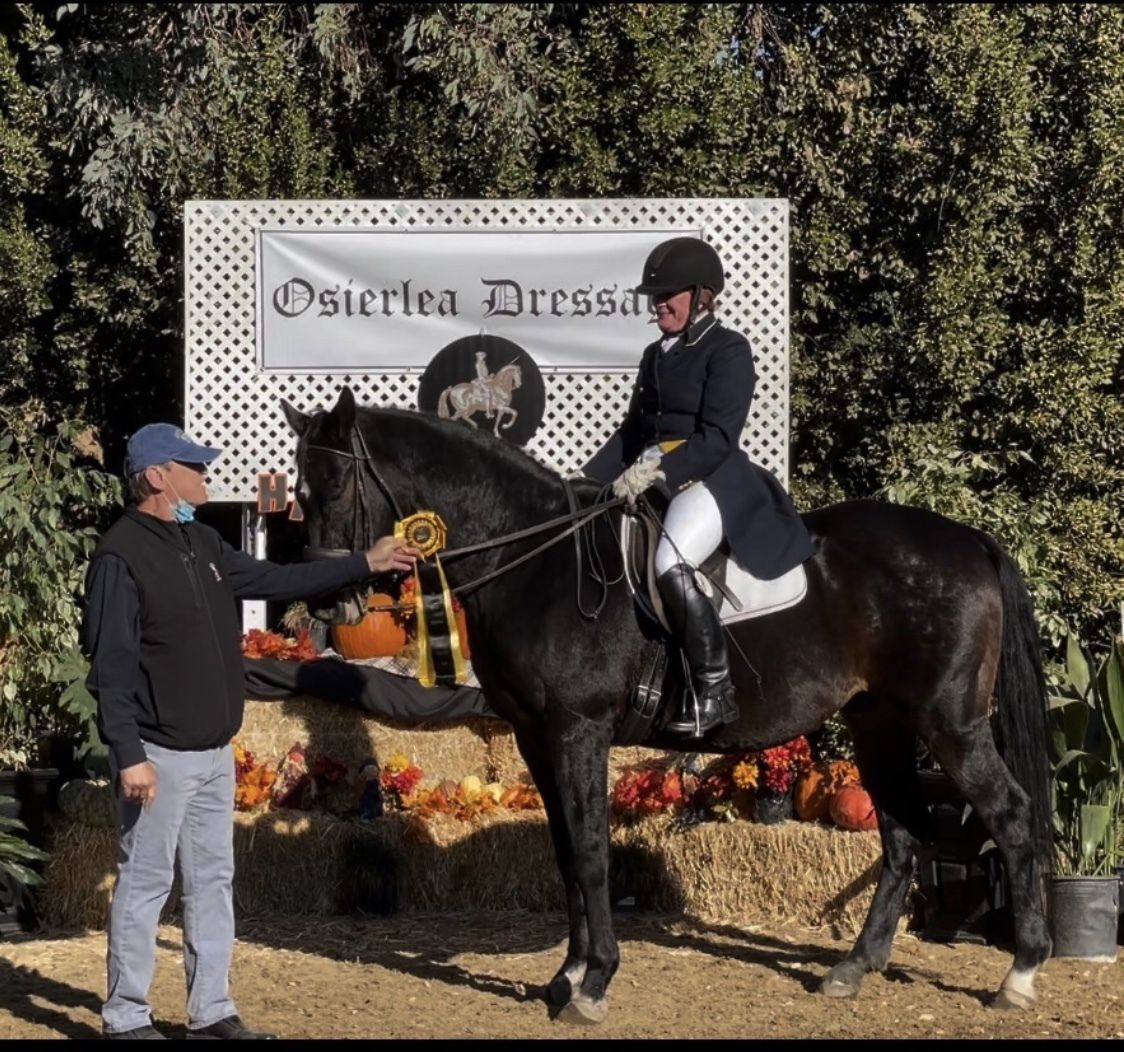 Team #471 Barbara West and Cannonball
Ages 74 and 26
Combined age: 100
Barbara West is an adult amateur rider whose occupation is an orthodontist. 
Barbara's love of horses began at age 5 back in Wexford, Pennsylvania, when her mother read her Black Beauty.  Finally, at age 13, she got her first horse and 5 lessons, then the horse came home with her.  Mostly she did backyard riding, lots of bareback out in the fields, eventually doing small local shows.  Thanks to her friend, William Henry Wolfendale III, she also did some foxhunting with Harts Run Hunt with her second horse, a retired racehorse named Niehaus. 
Barbara kept riding through her college and dental school years, but then had a 5-year hiatus when she went to Boston to study orthodontics.  She also got married and had her son.  At age 30, she walked into a barn after 5 years, and the smell of the barn told her that she had come home again.  
About that time, approximately 1978, she had a chance to watch an international event at Ledyard Farms in Massachusetts, just as American eventing was coming to the fore.  She was so amazed that people could ride like that, and she became addicted to eventing.  Barbara was so fortunate to ride under the tutelage of Karen Stives and Mike Plumb for 10 years.  With several horses and finally with a wonderful English Thoroughbred, French Blue, she worked her way up to the Intermediate level with some success.
After some issues with her back, she had to stop eventing, but continued to work on her dressage and show jumping.  She had some successes in amateur-owner jumping classes with her Dutch Warmblood stallion, Zabor.  David Boley was so helpful with this training.  After two pulled groin muscles, she settled on perfecting her dressage skills.  She was able to bring her French Blue to Intermediaire level in dressage, but then he was getting too old to learn the one-tempis. 
Barbara moved to California in 2005 to be near her son and granddaughter.  Right before she moved to California, she found another wonderful horse, Cannonball, a Danish Warmblood.  At age 10, Cannonball was showing 3rd Level and schooling some Grand Prix movements.  With the help of instructor Judy Westlake, Barbara was able to finally get to the Grand Prix level in dressage.  The pair got the USDF gold medal about 10 years ago.  Now they ride about five times a week with light training to keep Cannonball (age 26) fit and sound.  He is still a joy to ride.
Along the way, Barbara bred 30 horses (jumpers and dressage horses) and was fortunate enough to take the horse reproduction course at the University of Colorado. 
She is so grateful to her horses, instructors, coaches, and friends who have made her journey with horses possible and so much fun.
Horses taught her so much about life, loving, challenges, her strengths and weaknesses, people, and society.  Great highs, great lows, and the wonder of these great animals.
Barbara and Cannonball completed a Grand Prix test on October 31, 2020.
Century Ride…an update.
We were scheduled to do our Century ride at Osierlea Farm (in San Juan Bautista, California) in August 2020. As fate would have it, the fires in California and resultant smoke caused the cancellation of the August show. In addition to that, Cannonball had to be evacuated four different times as the fires drew closer and closer. At the third place he stayed, Cannonball somehow got injured with a large cut on his hip and a large hematoma on his right stifle. I must say that everyone at all four places he stayed (all volunteers) were just so wonderful! Finally, the fires subsided in part to a very localized downpour of rain and many, many firefighters!
So, Cannonball healed. Then we practiced and practiced and finally did our Century ride at Osierlea Farm on Halloween, October 31, 2020. We did our ride at the Grand Prix! It was also the night of the "Blue Moon". So once in a Blue Moon do you get to do a Century Ride at the Grand Prix level!
And most of all, I'm thanking Cannonball. He's been such a good boy and such a joy to ride all these years. And hopefully, many more to come.
Barbara and Cannonball rode Grand Prix to complete their Century Club ride on October 31, 2020.