Team #339: Berit Turner and Hilaire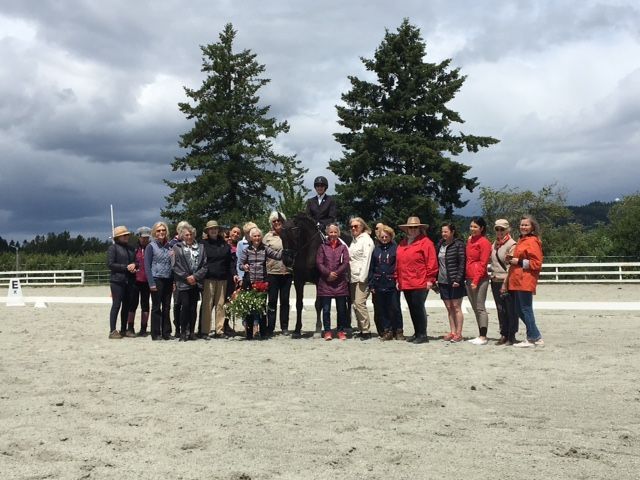 On June 10th, 2018, Hilaire (a 20-year old Canadian Horse) and I (an 82-year old amateur) performed our Century Ride at the Victoria-Saanich Cadora Show at the Saanich Fairgrounds on Vancouver Island before judge Deborah Fox. This was the culmination of our fifteen-year relationship. We both had fun.
I have always loved learning, be it in my academic life or in my leisure pursuits. Riding became a passion that grew out of my non-riding experiences at my family's stud farm in Finland. Since then I have ridden in several countries as my husband's and my academic careers took us first to Switzerland (where I sustained a broken back from jumping), the USA where I experienced dude ranches and wilderness riding, and finally to Canada where I spent many years as a Pony Club mother and discovered dressage and Cadora. Cadora stands for the Canadian Dressage Owners and Riders Association.
My inspiration for dressage has been helped by such luminaries as Colonel Christian Carde and Stephen Clarke, and closer to home, by Dawn Ruthven (Victoria-Saanich Cadora's first Century Club Member), then for some time by Lisette de Rooy, and for the last ten years or so, by Roanne Tyson as my coach who has taught me so much and provided immeasurable support and encouragement towards my goal. I thank them all for sharing their expertise on my dressage journey of learning.
I also want to express my gratitude to all my friends and stablemates for their assistance as I planned and prepared to ride toward becoming a Century Club member. Last but not least, I am very lucky to have had such a loyal and willing equine friend as Hilaire.
After the ride was complete, Hilaire and I were surrounded by our coach Roanne, the judge Deborah Fox, and our friends and supporters on achieving the 100-year goal, reminding all of us that dressage is a life-long learning journey.
I want to thank The Dressage Foundation for providing us with this opportunity and for sending us a beautiful gold and black rosette presented to us by Heather Cormie, President of Victoria-Saanich Cadora. She also presented a floral hanging basket as a token of the club's appreciation of our achievement and for my many years of volunteering in various capacities for Victoria-Saanich Cadora and Cadora Inc.
My dressage journey has been great. I'm still learning.