Team #381 Bert Bllikslager and Diza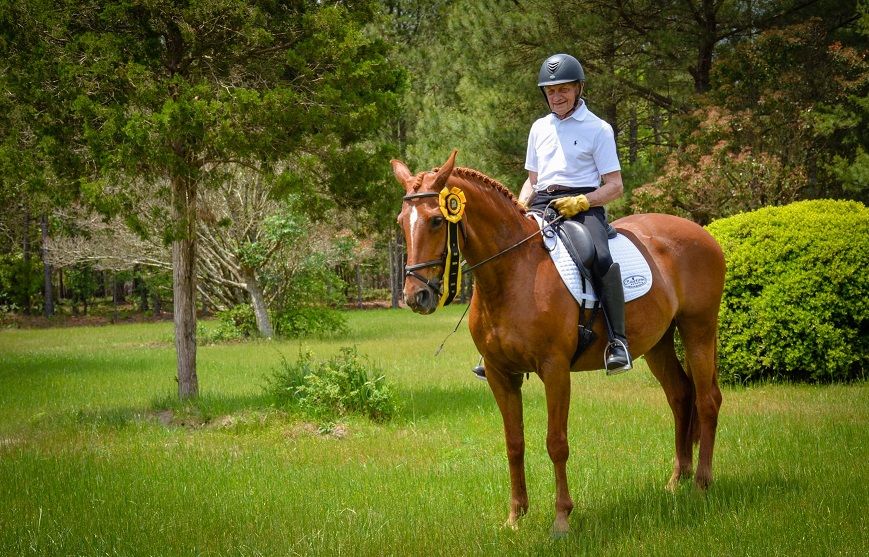 Bert, age 87    Diza, age 15
Having emigrated from the Netherlands to South Africa in 1951, I eventually met my wife Susan in 1961 at a riding school/stables on the outskirts of Johannesburg. Sue was a total horse addict and taught me everything I now know of horses.
We emigrated to England shortly after we got married. After a while we settled in Kent and started a horse riding stable. She soon became known as a riding teacher while I commuted to London on a daily basis to earn our living.
We both became very interested in eventing and dressage, and entered weekend shows all over the south of England. In addition, we brought up our 3 children who all inevitably got involved in our horse operation. Then, because of a downturn in the British economy caused by the oil crisis in the 1970s, we decided to emigrate to the USA where we bought a farm south of Charlottesville in the state of Virginia in 1981.
In typical American style, our horse business flourished. For our own use we started breeding horses beginning with a Dutch Warmblood. After making several mistakes, we bred my Dutch mare, Arabella, with an Oldenburg stallion, Donnerluck, which in due course produced my mare DIZA. She is now 15 years old (April 4, 2019) and has developed into the most delightful person with a most pleasant and willing temperament.
Thank you to The Dressage Foundation for the Century Club program.  This gave me another goal to work for in this late stage of my life and I am delighted to be a member.