Team #374: Betsy Wilder Cady and Galadriel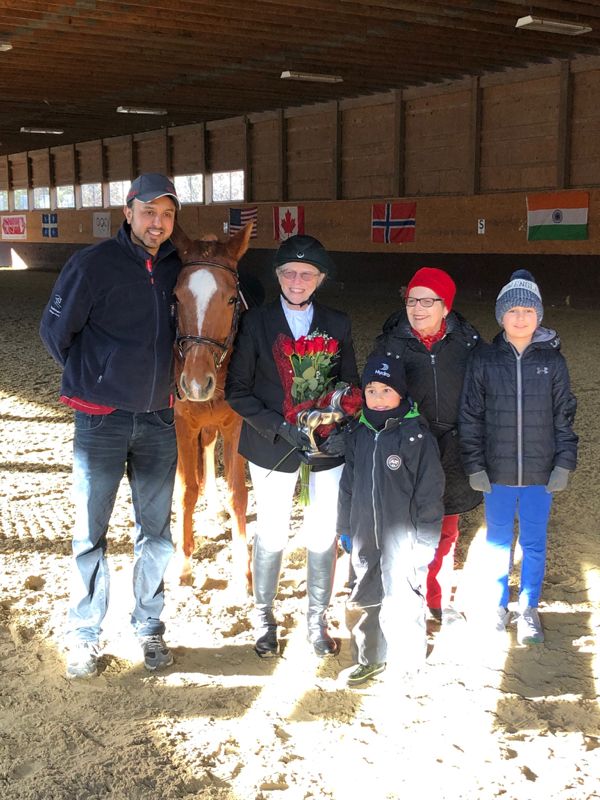 I was always horse-crazy. It was my lucky day when our neighbor in Weston, Massachusetts, suggested that I join her daughter riding their two western ponies. She was the Lone Ranger, and she got the only saddle they had. I, Tonto, rode bareback, an advantage I failed to fully appreciate at the time. When, as a teenager, I was eager to hunt, Sanvader came into my life. Sanvader was a reliable and seasoned foxhunter. He carried me safely for several years with the Millwood Hunt in Framingham, Massachusetts. My favorite class at the Millwood Hunt Horse Show was the Hunt Teams.

When I went to college, Sanvader was sold. Of course, my college choice depended on the quality of the riding program. Sweet Briar College, a small women's liberal arts college in Virginia on 3,500 acres was my choice, and the riding met my highest expectations. Harriet Rogers had designed a teaching method based on the principles of forward riding as espoused by Captain V. S. Littauer. Clayton E. "June" Bailey taught upper level riders how to school young horses and to reschool some spoiled ones. There were clinics with Captain Littauer, our own Sweet Briar Hunt with our rag-tag group of hounds, cast-offs from the Bedford Hunt, and the occasional show. I rode every day! Along with my equestrian education I managed to earn a B.A. in psychology.

A post-college five-month trip to Europe with my father infected me with the travel bug. Then a Masters Degree in Social Work, marriage and three children left little time for horses. But one day the children had grown up and left home. I moved to Westport, Massachusetts, where the temptation overtook me to hack through that beautiful countryside. I was back in the saddle, but I had become a "senior citizen."

A few more years and more life changes found me back in Boston again and wondering where I could ride. A call to my Sweet Briar classmate and fellow rider, Jane Sheehan, suggested that it might be hard to do the kind of riding I so enjoyed in Westport in the Boston area, but she suggested that I come to Aspire Farm in Walpole and watch her lesson with Dave Thind. Jane had become a dressage rider and I knew very little about dressage. It amazed me when the pretty chestnut mare she was riding responded so well and I couldn't see her rider do a thing. Perhaps it would be interesting to learn this new game. So, I started to take regular lessons. Between Galadriel (Gala) and Dave, I became intrigued. Dave blends the teaching of the Feldenkreis method of body awareness into his lessons, and Gala responds immediately to correct riding. I learned to ride forward with seat and quiet leg aids and to control the energy with a steady yet sensitive hand. It has been three years of twice weekly rides, mostly on Gala, who Dave bred and trained.

When Dave suggested I do a Century Club ride, I was not too sure about it, but all my barn friends encouraged me to try. I had been up to galloping around the indoor ring under Dave's watchful eye, so I thought, "Why not?" We chose an Intro Test on the home grounds for safety, as Gala has not been to many shows. Dave invited a retired dressage judge to officiate and the date was set for December 27 when all my family could be there. SmartPak lent me show clothes so that I could look official and at 2:00 p.m. I rode Gala down the centerline. My final score was 73% and the judge said that I was an over-achiever! She gave me a "9" for my final halt. Honestly, I just thought "halt" and Gala did it! So this is dressage!!

Thank you, Dave and Gala (carrots for you!) I can't stop smiling because this is such a blast!