Team #366: Beverly Van Nieuwal and Ascot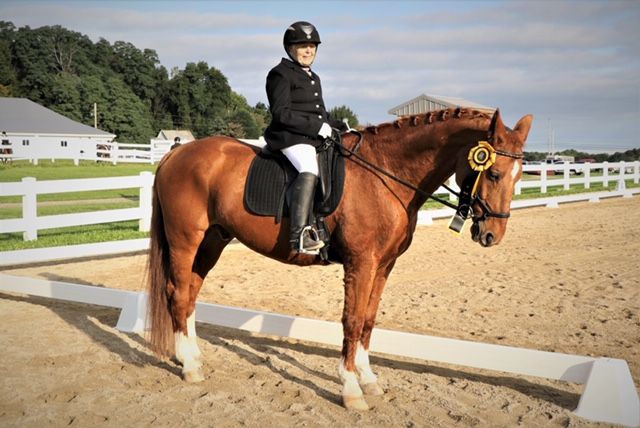 On September 29th, 2018, I rode my second Century Ride. This was particularly special for me because I accomplished it with my own horse! Ascot, better known as "Scotty," was a dream made possible by my inheritance when my parents both passed away within a month of each other. My father and grandfather were horsemen, raising and racing Standardbreds while I was growing up. My grandfather bought me my first pony when I was in the fourth grade.
My interest in dressage started about thirty some years ago when my family moved to Ohio. At my first dressage show, I met so many friendly riders and saw lovely horses – I was hooked! That experience led to joining Classical Attraction Dressage Society, and I still belong to this day.
My daughters and I have owned several breeds of horses that we have shown over the years, but my dream was to have a warmblood. My friend and trainer, Mary Anne Milleman, went with me hunting for just that horse! We found him when a friend was selling her beautiful chestnut Hanoverian gelding named Ascot, who she called Scotty. When I heard his name, I was sold. Scotty was the nickname my dad always called my mom. Scotty was truly a gift from my parents.
Scotty and I have been a team for thirteen years. He has taught me so much. Without help from my village (trainers, clinicians, very patient instructors), we would have had a hard time accomplishing my goal. So, thank you to all of my "horsey helpers" along the way. I love all of you!

Pictured in the photo with Beverly and Scotty are Judge Alison Schmidbauer (presenting the ribbon) and Cathy Suffecol, President of Classical Attraction Dressage Society.