Team #362: Bobbie Werner-Hansen and Leo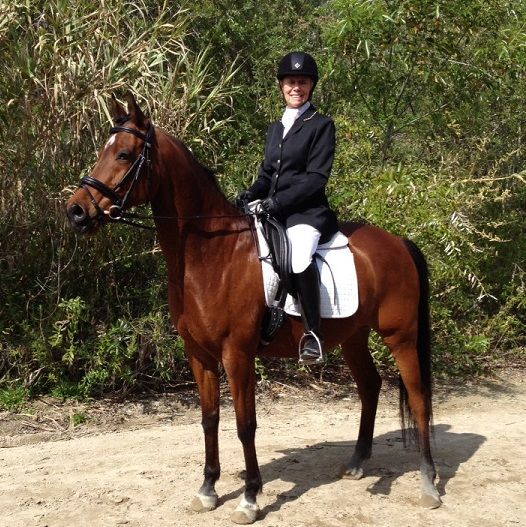 I bought Leonardeux (Leo) when he was 7 years old and I started having a dressage trainer work with him and give me lessons.
Leo was having some issues of stumbling and going down on his knees, even falling once with the trainer. Veterinarians didn't find anything wrong and suggested EPM, but that tested clear. The veterinarian told me to get rid of Leo as he was not rideable. I didn't believe it as it seemed like a pinched nerve, so I had saddle fit expert evaluate his saddle. It was determined that the saddle was hitting the nerve at the withers, so after getting a custom saddle, the problem was solved.  My beloved Leo was safe and fun to ride and continue dressage training.
Leo and I have been on many outings like trailering to parks to ride, overnight camping trips, riding the hills in San Juan Capistrano, California, as well as trailering to Ramona, California, for a week at a time and riding the many trails with friends in that horse community.
We had a year off training due to family issues, but we're now back with our trainer and looking forward to the next dressage show at our boarding facility in San Juan Capistrano in March of 2019.
Leo and I joined the Century Club on August 17 during the Capistrano Summer Series Show.