Team #426 -- CAPT Lawrence Fox, MD, Ph.D. and SGT Peppermint (MD)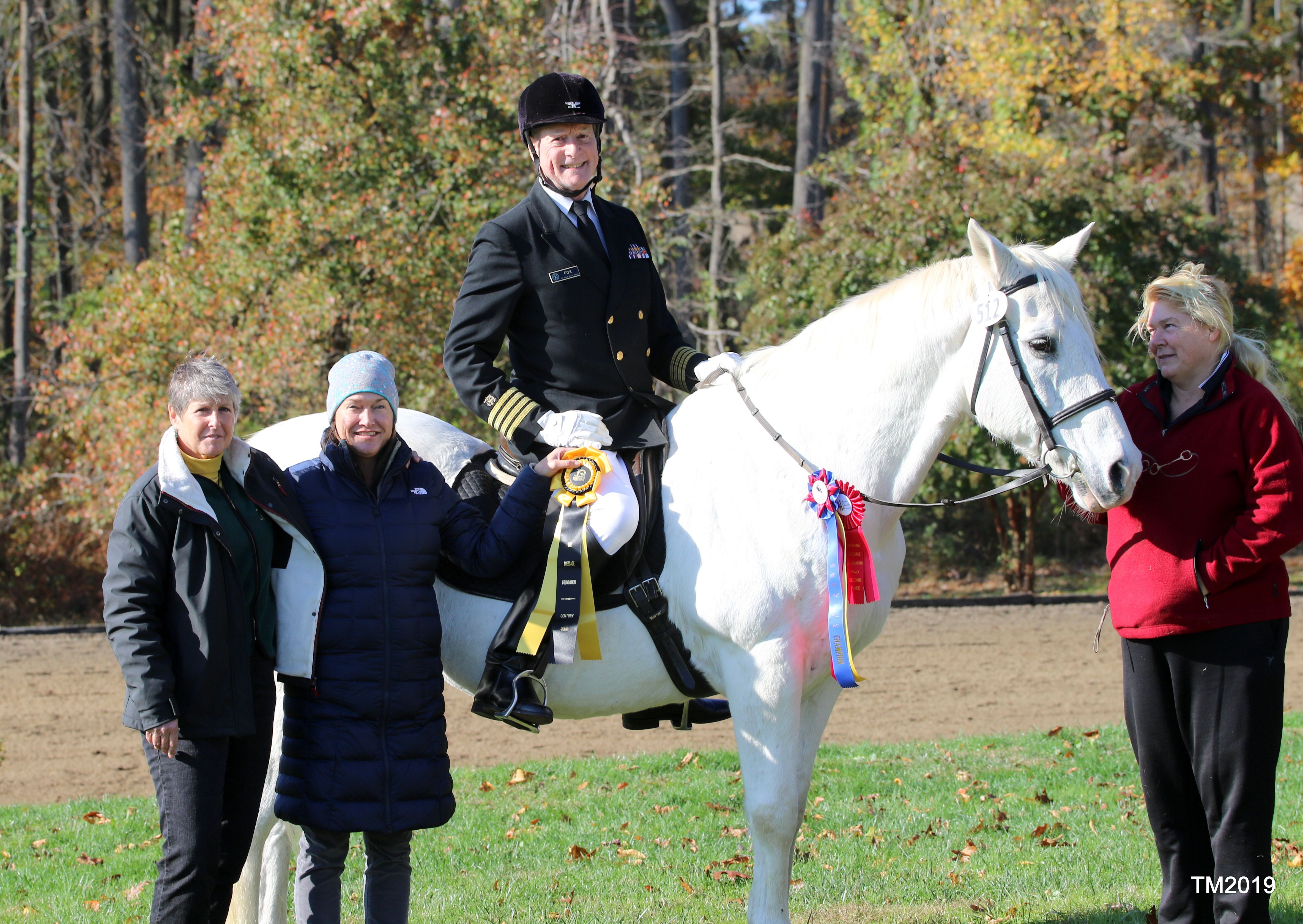 CAPT Fox 70     SGT Peppermint 30
Being able to ride a judged dressage event in uniform for our Century Ride required a perfect alignment of stars. I doubt there are many others who were still serving in active duty at age 70. I am a medical officer in the US Public Health Service, a physician and scientist, whose career at the National Institutes of Health has been devoted to developing the therapies that have transformed HIV-disease from the rapidly fatal infection it was when I began nearly 30 years ago, to the chronic disease it is now, controlled with one pill a day. I will be retiring from the PHS Commissioned Corps at the end of this year, to continue as a civilian contractor, so the window to do the ride in uniform was small.
I began taking formal riding lessons just before turning 60, satisfying a craving I had felt since childhood. I had to first have both hips resurfaced, having worn away the cartilage with decades of distance running. A year after I began taking lessons, I met my Quarter horse, Peppermint. He was considered a great trail horse, but unsuitable for work in the arena: no brakes. His spirit captured my heart and I persuaded my instructor, Mia Francis, to allow us to try. She adapted her commands to the class to accommodate us: "Everyone halt. Larry and Peppermint go in small circles." We persevered and made progress, and a year later I bought him, not being able to watch other riders use him, after I had brought him into the ring. He was struck with colic not long after and I brought him to Marion duPont Scott Equine Medical Center in Leesburg for emergency surgery. Following surgery we were guided to Claire Lacey's stables to recover. That was when I began to study dressage and to learn a host of other things, including equine anatomy, rider anatomy, horse behavior and thought, nutrition, all the building blocks essential to horsemanship.
Peppermint is a very willing partner, who only wanted clear communication of what was expected of him. Claire guided me in learning how to do this with posture and seat, reducing reliance on reins and leg, unlearning many bad habits. Due to old injuries and problems with his feet that were treated by removing his shoes, Pep's progress was gradual as he healed physically and emotionally, and trust between us grew. We learned how to have a conversation, without either of us raising our voices. I learned to watch the non-verbal conversations our horses had in the paddock. Then one day I realized they were talking about me. Quite a revelation. We had setbacks: he cast in his stall and again colicked, again needed surgery. We worked our way back again. Then, two years ago it was my turn. I had a heart attack and coronary artery bypass surgery, involving all 3 vessels and requiring 4 grafts. I was back in the saddle 8 weeks after hospital discharge. Peppermint helped me heal from the months of PTSD episodes that followed the bypass surgery. My son Daniel helped me put my body back together. He is a personal trainer, and champion powerlifter and bodybuilder. I lift with him and his wife, Krystal 1 ½ to 2 hours a day 3 to 6 days a week. My daughter Amy and I ride once or twice a week and help care for the horses at the stables, including our 3: Peppermint, Andy and Ozzie. I am grateful for the bond between us forged by a shared passion for horses. Claire Lacey has done wonders for us all, human and equine, and after this, my first judged dressage event, I am sure there will be more levels of progress to be achieved. To Heather Fay, who brought me and Peppermint together, I celebrate Tenacity!