Team #435 Carol McGilvra and Top Boss Sweetie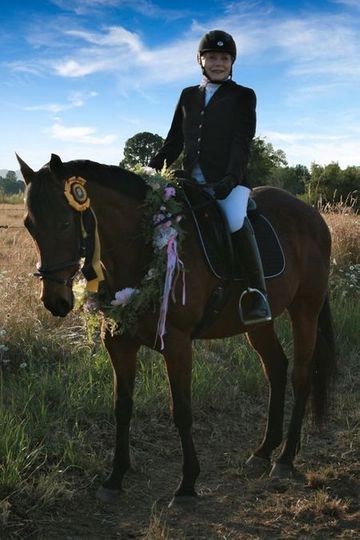 Carol McGilvra and Top Boss Sweetie
Ages: 76 and 31
Combined Age: 107
By Jennie Lovell
Carol McGilvra vividly remembers the first time she saw her mare Hannah ‒ "I was smitten by her gentle nature and very kind eyes." This first impression has endured, and the two have built a partnership culminating in their induction into The Dressage Foundation's Century Club, a recognition of dressage riders and horses with a combined age of at least 100 years. Despite formidable obstacles, 76-year-old Carol and 31-year-old Hannah recently qualified for membership in this remarkable club by competing in the Thoroughbred Exhibitors Association's June 2020 open online show.
Carol began riding as a teenager with a friend whose father owned cattle feedlots near the Los Angeles River. The girls would climb onto the dusty stock horses from the tops of their pens and ride them bareback along the river's man-made concrete banks. Carol remembers being awed by the horses' size and power. Her love of music competed for her time, however, and eventually, she had to choose to concentrate solely on her training as a classical singer. 
Carol rekindled her affair with horses when her daughter Stephanie fell in love with them, leading to years of successful competition at Quarter Horse breed shows. Although her daughter's showing was the main priority, Carol competed as well. Their trainer, Clay McLeod, now an AQHA judge, still remembers Carol as someone who loved horses and who performed admirably in Showmanship, Western Pleasure and Pleasure Driving. When Carol's daughter aged out of youth competition and left horses for other pursuits, Carol's involvement waned as well.
Ten years later, in 2006, Carol found herself drawn to horses once again. She began riding with dressage trainer Sara Meeuwsen and soon purchased Hannah, AQHA "Top Boss Sweetie." Hannah was the first horse that Carol bought purely for herself and that she could bond with as the horse's sole guardian. The choice of breed was in keeping with the stock horses and Quarter Horses Carol had ridden throughout her life, but the dressage was brand new. Carol found that her study of classical singing yielded unexpected benefits in the dressage arena.
Carol notes many connections between the two arts, making dressage the perfect discipline for her. "...Music and dressage [are both] based on mathematics, time/meter, performance execution and training/study... Classical singing is a constant striving for perfection and detail. Dressage strives for perfection of horse and rider. As a singer and rider, one knows the impossibility of the absolute but that is the goal."
Although Carol's busy schedule prevented her from showing as often as she would have liked, Hannah always stayed in training with Sara Meeuwsen. Sara says, "We were lucky in that Hannah loves to work. She is a typical mare, even in her old age she does not like to waste time!" For senior horses, Sara emphasizes quality over quantity. "Fatigue can come more quickly for the older guys. I always did good honest work to Hannah's ability then it was time for a walk break." Carol credits Hannah's longevity to this style of work.
Likewise, caring for and riding Hannah has helped keep Carol fit. To senior riders, Sara says, "You are never too old, so never give up! For Carol, even when life was busy and she couldn't ride as much as she wanted, she would always get back on and do what she could... "Even on tough days remember that sometimes just getting on the horse is a victory for the body and soul!  Work with what you have and build from there."
Carol and Hannah's hard work and resolve were tested on the way to their Century Ride. Carol's plan to complete the ride in 2019 was interrupted by injury; recurring abscesses were traced to bone chips in one of Hannah's hooves. Her otherwise excellent health granted Hannah a good prognosis for recovery, despite her advanced age. Surgery was performed to remove the chips and a meticulous rehabilitation plan was followed.  Hannah healed and returned to giving her all in both work and play.
A Century Ride seemed possible once again and then COVID-19 arrived. Horse show after horse show were canceled out of public safety concerns. Fortunately, horse clubs have been resourceful in creating new opportunities for riders to compete via online shows where tests are ridden remotely and submitted on video. For the first time ever, The Dressage Foundation is allowing these "virtual" rides to qualify for Century Club membership.  
Carol and Hannah completed their Intro A test on June 29th, securing their membership in the Century Club. The test was Hannah's last competition, but not her last ride. Carol says, "There is an acquired confidence and stability in sharing long term with your horse partner. We communicate well. We will continue to ride in the barn arena and... in the backfield enjoying the outdoors together. But no pressure, no hauling, no competing, [just] the joy of shared togetherness...I plan on enjoying her as long as I can."