#382 Carol Pizor and Finest Five (OH)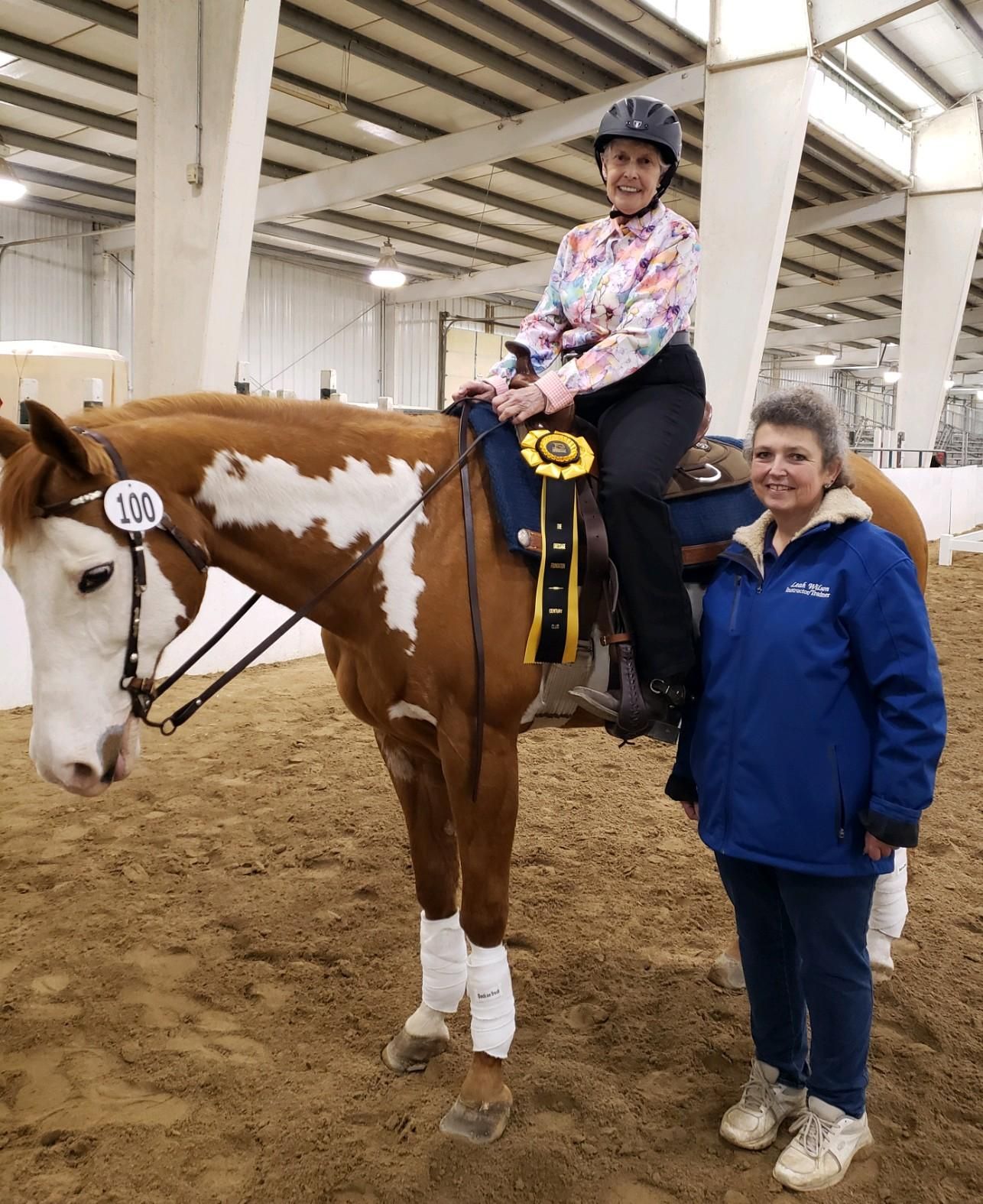 Growing up in western Pennsylvania, I was a "horse crazy" girl. However, my only chances to ride were the pony rides at the amusement park and a few trail rides while in high school. I know that my parents, who were not horse people, hoped that I would grow out of wanting to ride. When I was nine I convinced my dad to take me to a local stable for a horseback ride for my birthday. I wanted to ride the horse that looked like Roy Rogers' Trigger. We left the barn, went down the lane a short way and he turned and ran back to the barn. My poor dad!
When I was in my 40s, a friend and I took riding lessons. I had never ridden in an English saddle and had no idea how you could stay on one. We learned, but I was sure I could never canter and stay on (I did), would never jump (I did), and certainly would never, ever wear those tight white breeches that dressage riders wore (I did).
I continued to take lessons, riding many horses through the years. I was a school librarian and could not see how I could afford a horse of my own. My current and long-time trainer, Leah Wilson, came into my life and introduced me to dressage. Horses came and went. I mostly showed training and first level because I was always changing horses
Finest Five (owned by Cassidy Shepard) came to Leah's farm as a well-trained and widely shown Western pleasure horse. I was not a Western rider so we introduced her to the dressage ring. Five looked at us as if we were crazy. She was sure that horses should not move that way, should not do loops and circles, and that stretchy circle thing?  In 2006, Five made her debut at a dressage show in Delaware, Ohio.
After retiring, I was able to purchase my own horse, Romeo, and show him in dressage. He has had several medical problems and so I am currently showing a Fjord pony in Western dressage. Five has made the move back to Western as well and has shown Western dressage in Ohio as well as at the WDAA world show in Oklahoma.

My Century Ride on Finest Five is very special because I was the first to ride her as a dressage horse. I guess I still that "horse crazy" girl. Thanks to all of the horses I've ridden and especially to Five and also to Leah Wilson for the journey. My Century Ride was at the Buckeye Jackpot show in Sunbury, Ohio. Duane Stutzman, show manager, made the day special by allowing my ride during a break in the show and giving me the number 100 for my bridle number. It's not often that you have an audience cheering for you at a dressage show and we won the class!