Team #386 -- Carol Woellert and Rum For The Queen (OH)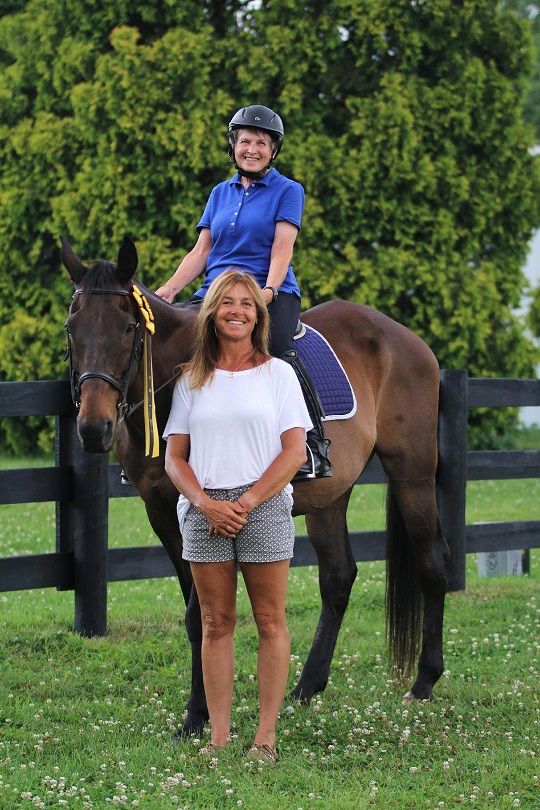 Unlike many, I developed my horseback riding interest a little later in life.  I was already in my 30s and married with three children when my youngest son wanted to take lessons with his older siblings.  I decided to join them so we could all learn and have fun together. We took lessons as a family for over a decade, often competing in local barn shows which included jumping and equitation skills as well as enjoying recreational trail rides in the country.  A highlight of our time together was a week-long riding trip to Scotland.  We rode through country-side villages, on the moors and beaches and through ancient castles.

After my children were grown and my husband retired from a family business, we realized a dream of ours and moved from suburban Cleveland to a farm in rural Ohio.  At that point in our lives, my husband decided to join me in my interest in riding and we purchased 2 horses: Rum For The Queen (Winston), a five-year-old off-the-track Thoroughbred and Mac, a three-year-old Quarter Horse/Dutch Warmblood mix.  As new horse owners, we enjoyed learning different training techniques, trail riding, competing in hunter paces, participating in barn shows, and developing a lifetime relationship with our horses.

After my husband passed away in 2004, I continued to ride and train both horses at Sweetwater Equestrian Center in Ravenna, Ohio. Winston and I have now been a team for over twenty-three years.  Over that time, we have mastered many skills, participated in countless fun events and developed several life-long friendships.  Our Century Club Ride, held on June 8, 2019, was Winston's and my first ever dressage test.  I truly enjoyed this event and appreciated the opportunity to become part of this distinguished group of riders.  I would like to express my sincere gratitude to my friends and stablemates for their encouragement and celebration of this event; and a special thanks to my trainer, Kristi Woods-Foltz, for her guidance and friendship as I prepared for this extraordinary ride.  I plan to ride and enjoy the camaraderie of horsemanship through my senior years.