Team #451 Catherine Cacioppo and Tanzmeister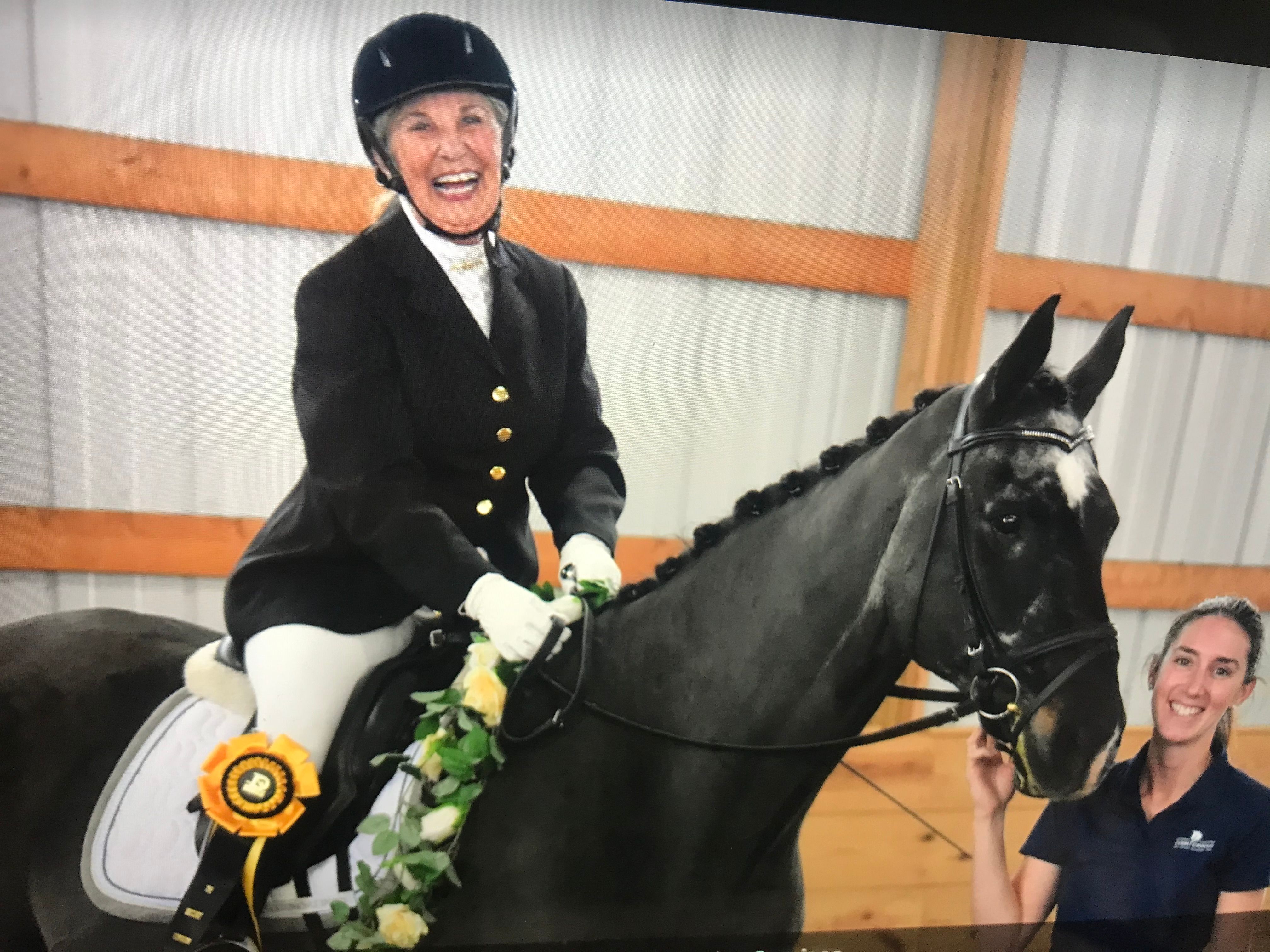 Team #451 Catherine Cacioppo and Tanzmeister
Ages 80 and 28
Combined age: 108
Horses, Dogs, and Saint Francis

Since my childhood I have been drawn to animals, especially horses and dogs; however, I was not provided the opportunity in my youth to learn and experience how to ride a horse, let alone become familiar with the horse world.

Fast forward!

Around the age of 50, with a broken heart and my life in shambles, I met Judith Connelly in Bastrop, Texas, and took my first serious riding lesson at her Arabian farm. On Friday afternoons after a stressful work week, and emotionally drained from grief and loss, Judith directed me to let go of all my troubles and let them flow into the horse.

Frequently after a horse lesson with Judith, I would feel my spirit lift and float back into the real world more relaxed and refreshed.

Since then I have found a way to be with horses. I have owned two magnificent Arabian horses, found trainers, and lessoned in Texas, California, and now Nebraska.

I worked at RED Arena Equine Therapy in Dripping Springs, Texas. My assignment was to run the barn – "Boss Mare"! I groomed, tacked, trained, and rode our therapy horses. Every volunteer started with the Boss Mare. This was the BEST JOB EVER!

I transition from Texas and moved to California to be close to my daughter. I took lessons at Huntington Beach Equestrian Park, riding a German Warmblood. This past January I moved to Nebraska, and I am settling in nicely at Coda Cavallo, training with Jane Fucinaro. This barn, Coda Cavallo, is my vision of heaven. Throughout my journey with horses, there have been dogs, too many to mention, except for my faithful companion Ramona of 13 years. One of my favorite people is St. Francis who has accompanied me on this journey and continues to hold me upright in the saddle
Tanzmeister's Bio
Hi, my name is Meister. I am a 28-year-old American bred Hanoverian from North Carolina. I spent the first 10 years of my life in North Carolina with my breeder and a professional trainer. In 2002, I was purchased by an adult amateur from the Columbus, Ohio area; who worked with Roberta Williams. In 2006, I was in luck to be purchased by my present owner, Sandy Snyder, another adult amateur, who at that time lived in Cleveland, Ohio. We have had a wonderful adventure together, moving from Cleveland to Denver, CO, Sacramento, CA, and then headed east to Omaha, Nebraska where we now reside.
My role with my present owner was to be a confidence builder and teacher. When Sandy purchased me, I was a solid third level dressage horse and trained in the higher movements of piaffe, passage, as well as canter pirouettes. I am a schoolmaster as my name indicates, "Meister" translates as "Master" in German. I recently indicated to an animal communicator; "I enjoy showing off to the younger horses how to be a proper schoolmaster."
At the wonderful age of 28, I still enjoy helping my owner improve in her riding lessons. One of my favorite activities is to go with Sandy and my barn friends on a long trail ride.   
Cathy and Meister rode Intro Level Test A to complete their Century Club ride on September 19, 2020.