Team #512 Catherine Schneider and Northanger Abbey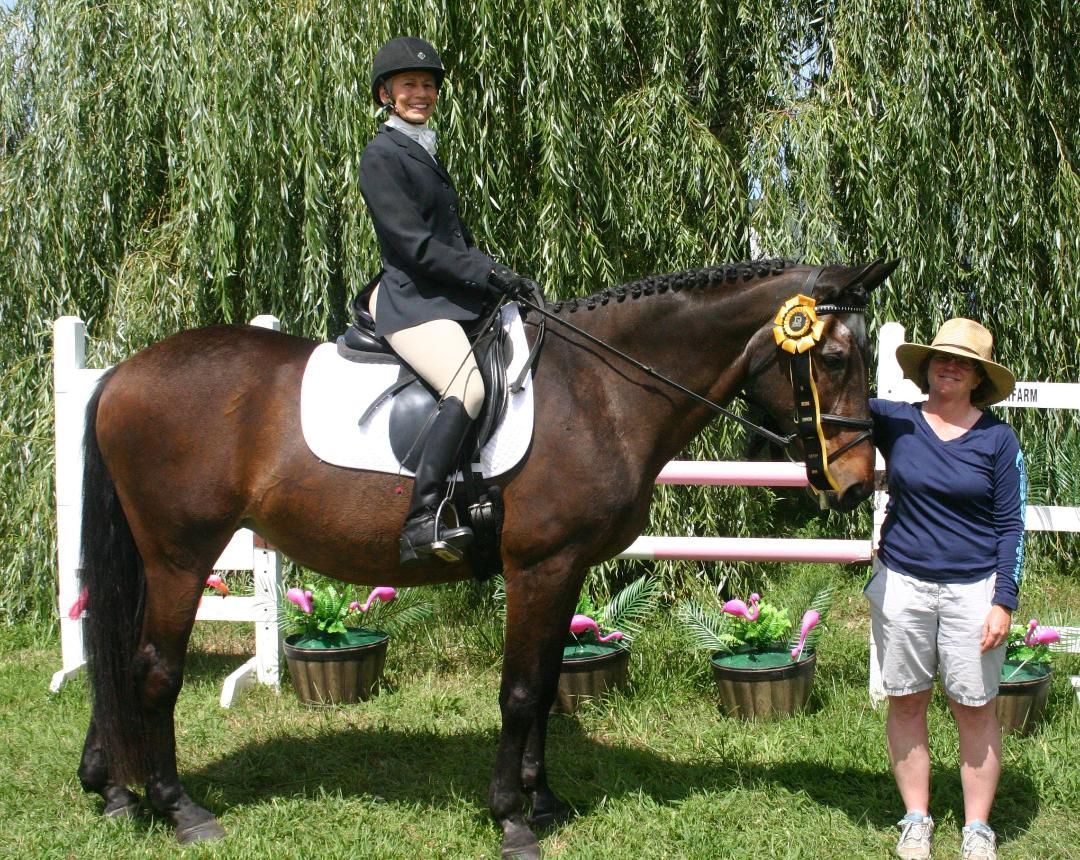 Team #512: Catherine Schneider and Northanger Abbey
Ages: 70 & 30
Combined Age: 100
Northanger Abbey (Nellie) is a Cleveland Bay/Thoroughbred cross.  The Cleveland Bay is a rare breed, patronized by Queen Elizabeth II and most recently in the news in articles about the late Prince Philip, who drove a team of Bays when he took up competitive driving.  A barn manager once referred to Nellie as "the Dame Maggie Smith of the barn," which we attribute to knowing that she has relatives in service to the Royal Family.
She and I have been a pair for 12 years, although we go back 20 years.  Her owner, Jen Clapp, an amateur event rider, boarded her at a small community barn where I was taking lessons after a 25-year hiatus from riding.   As Nellie was finishing "maternity leave" in 2001, I offered to help ride her back into competition condition.  We capped off that 6-month effort by entering the elementary division of a local schooling event, 2'-2'3" being the limit of my comfort zone for jumping.  She went back to eventing and then fox hunting with Jen, and I was fortunate enough to have friends with multiple horses who invited me to join them for hacks and an occasional hunter pace.   A few years later, Jen was spending most of her time bringing along Nellie's son and looking for someone to keep Nellie in shape.  A mutual friend of ours whose own horse was on extended stall rest took her on and, when her own horse was back in work, asked me if I would like to take over.  I had recently retired, so the match was made.
Our partnership has been guided by the principle that older horses, like people, need to keep moving to keep healthy.  My first move was to put myself back in a lesson program so I could ride her correctly.  Showing was almost an afterthought; our trainer kept suggesting shows though, so we found our way to a few dressage shows, combined tests, and schooling events.  She was such a pro that we rarely came home without a nice ribbon. Our big adventure came in 2015, when we spent two months in Aiken, SC:  Jen needed a companion for the young horse she was taking south for training; Nellie went along to keep Aoife company, and I went to take care of Nellie.  The highlight was a chance to ride in the venerable Hitchcock Woods Horse Show, where she proved her versatility by winning ribbons in the Open Pleasure Division.  When we returned to Massachusetts, we moved from commercial boarding to Jen's barn on her own property so Nellie could continue her companion duties.  As it became clear that her jumping days were winding down, we limited her outings to an occasional Pony Club rating, where she was considered the perfect horse for a young rider.  Now that she is 30, our exercise routine consists of leisurely hacks in a nearby conservation area with miles of trails.  During the winters, though, we move to a facility with an indoor arena so we have continued to "practice" dressage tests to make ring work more interesting. 
Our Century Club ride was a capstone.  I suspect she knew something was up when Jen braided her mane, and she came off the trailer like the veteran that she is.  Her walk is now more of a stroll, but she can trot along smartly on a good day; that day she was feeling good, and we finished second with a 69.37%.  Old friends were there to cheer for her, and she happily accepted treats afterwards.  
Catherine and Nellie completed Intro Level, Test A, on August 15, 2021, to join the Century Club.