Team #342: Cicily Harman and Shania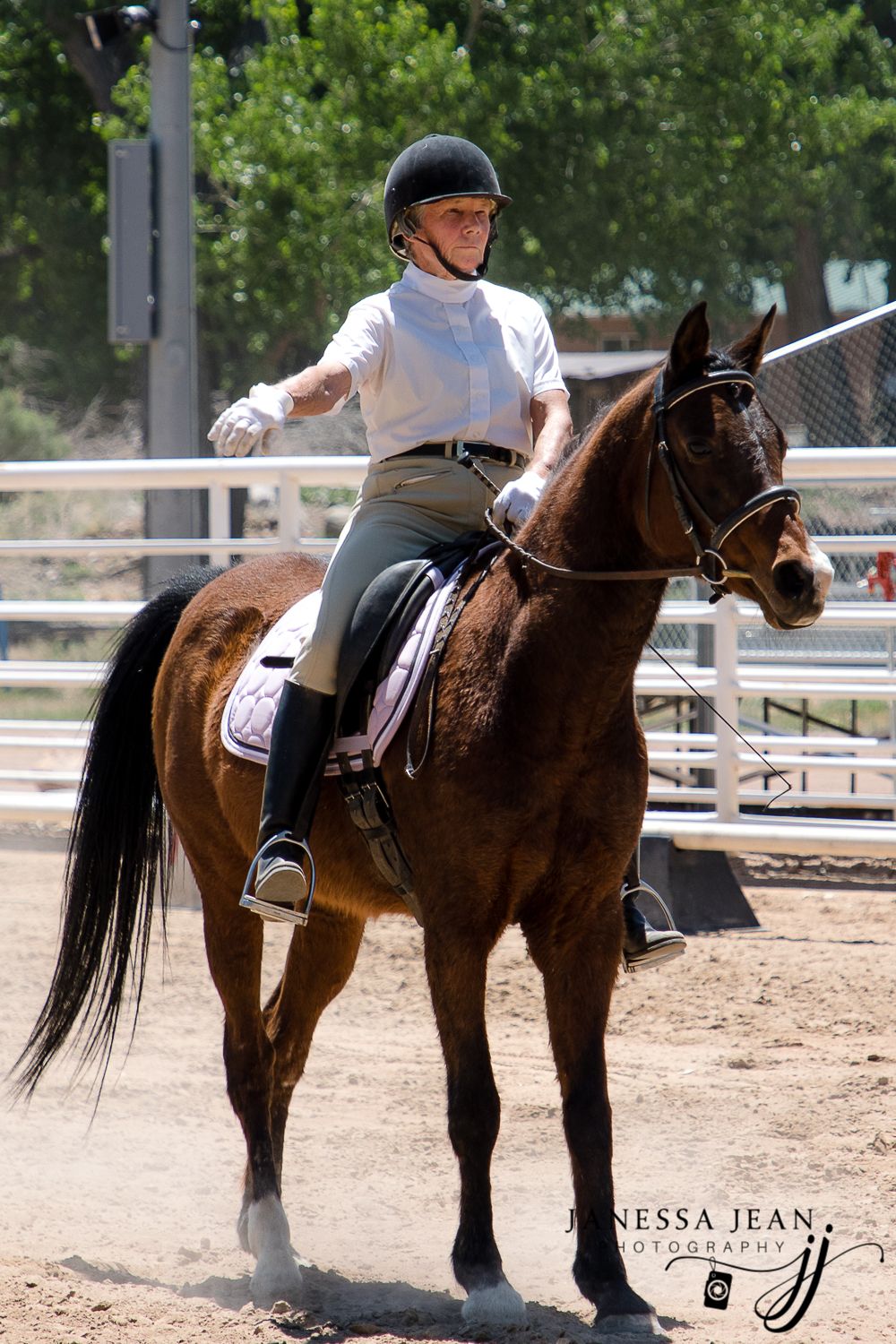 Looking back at my 78 years, I have enjoyed a lifetime with horses: When I was eleven, my pony Ike and I would ride with the other neighborhood kids. I then moved on to my boss's beautiful Saddlebred during college at King Tullis Stable in Dayton, OH. I became a riding instructor at Camp Hilltop and Hillmanor during summers in upstate New York. In my first years employed as an elementary art teacher, I whipped in with the Miami Valley Hunt. Following that, Judy Herbruck and I won a pair pace over four miles with jumps at Camargo Hunt in Cincinnati.
My horses, Parson and Dr. Bob, moved with me to Boulder, CO in 1965. While attending the University of Northern Colorado for my Masters in Art Education, I managed the Foothills Ranch; 27 horses and 500 acres. I joined the Coxtail Riding Club with Col. Robbie L. Robertson at the Broadmoor Stables while teaching art in Colorado Springs. Robbie's riders won many of the hunter-jumper championships in Colorado. He schooled me over fences as high as 5'6", and I sometimes found myself jumping off for time at 4'6" in open jumper. We had great mountain trails, and Col. Robertson took us to shows and foxhunting at Arapahoe Hunt in Littleton, CO.
I met my husband, Neil, who was the industrial arts teacher at the junior high school where I taught art. Our daughter, Leah, was my riding companion into high school. We moved south to Florence to an 8.5 acre horse property and rode dressage with the Penrose English Riding Club. I had several horses, rode a lot of mountain trails and had a few different dressage instructors.
Shania came to me as a 14 hand, 7-year-old unbroken Arabian. Since she had herd-bound issues, she had to come along ponied on all our mountain rides.  Because of a hip replacement, I sent her to a trainer, Janice Bate, for riding. Janice called me in a week and said, "Come get her, all she needed was riding! I wish they were all like her." I began riding her on trails, in dressage shows and clinics, and even performing quadrilles.
In my 70s, I started riding with Nancy Hazelwood, owner of the Dressage Academy in Penrose. She teaches the art of classical riding in lightness with the proper biomechanics of the horse. We changed Shania's high headset and conformation, and I finally felt what a horse in self-carriage felt like. Shania is a perfect old-lady horse that has stayed sound and never had shoes. Last year, she was diagnosed with Cushing's Syndrome, but she is doing fine.
For my Century Ride, I rode Shania in Training Level Test 3 at the Arkansas Valley Dressage Association Show on June 9th. It was close to 100 degrees with strong winds. She surprised me with spooking and not going forward, but I got her around. It was great fun with old and new riding friends in attendance to enjoy sandwiches and cake together. Thank you to The Dressage Foundation and AVDA for this opportunity!