Team #411 -- Claudette Lawton and UVM Finnegan (VT)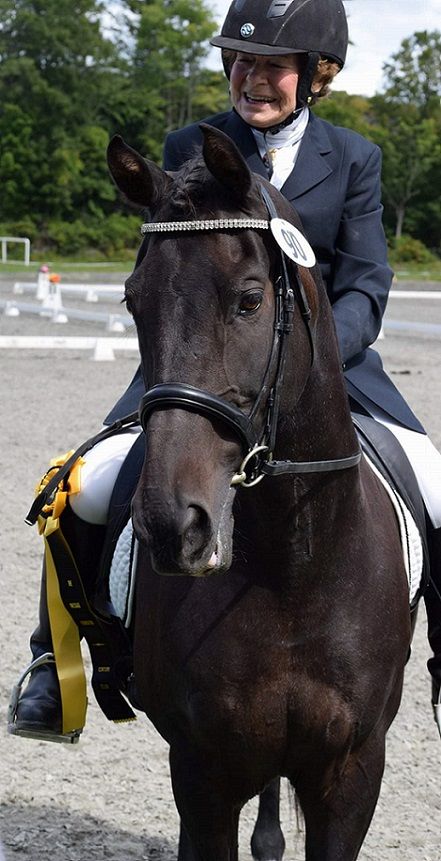 Claudette Lawton Age 80     UVM Finnigan Age 22
Thank you to The Dressage Foundation for creating the Century Club. This has encouraged me and many others to stay in the saddle and 'enjoy.'
A big part of my story about the Century Ride is all of the support from many people. My husband, Ben Lawton, has understood and encouraged my horse devotion. Pam Lafave, Stonegate Stable owner and trainer, has always been there from the day we first found UVM Finnigan. Joanne Burke and Jeannine Myers have always encouraged me to continue riding and brought my attention to the Century Ride through their Vermont friend who completed the ride earlier.
Horses were always a part of my dreams but distant until midlife when my four children were on their own. After moving to Vermont, we always had pasture ponies. Medical events helped me to decide to go on to search for a special horse companion. There were a couple of missteps that joined the pasture ponies.  Then came UVM Finnigan. The Morgan horse breed was founded in Vermont and is the Vermont State animal. A special breeding farm that is now owned by the University of Vermont is nearby. This breeding farm is over a hundred years old and has been home to many famous Morgans. Finnigan left the farm as a young stallion and was later for sale as a beginner driving and dressage horse.  With his previous owner he has completed several competitions of driving. My decision to take the step was reinforced by Pam LaFave. I took Finnigan home when he was eight years old and started to train with Pam on a regular basis. I stabled him at Stonegate six months out of each year. There was a lot of learning to do, and Finnigan led the way. He is a strong, balanced, and gifted horse. As we progressed, I became more and more intrigued and excited.  It finally all came together this year and the ages added up. Central Vermont Dressage Association has schooling and test events at Green Mountain Horse Association in South Woodstock. This was an ideal event with housing in the old residence hall of the once Woodstock Country School. The weather was perfect, and Finnigan did a special performance. He was a winner and did a Morgan alert to the ribbon. 
Friends and family came to support the event. CVDA even presented a cake and cider for everyone.  
Many thanks to all who helped us along this journey. This was such a special day in my life and the personal reward is immense. The Century Ride award is proudly displayed in our home.