D. Diane Laws and Second Glance Team #389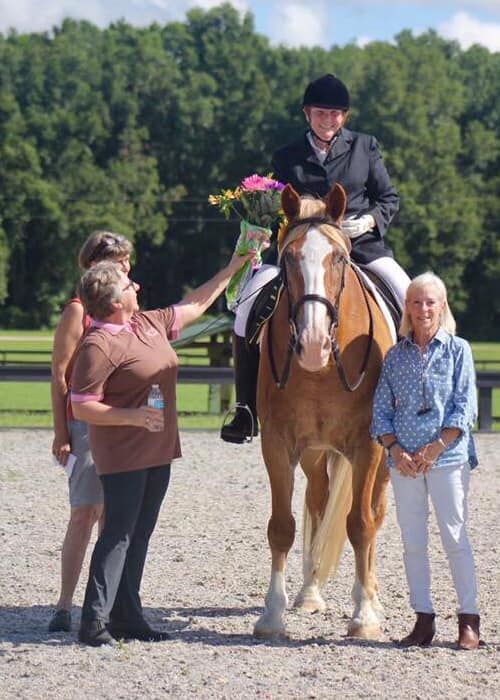 Diane Laws 80     Second Glance 20
Diane Laws: Irrational Exuberance Personified
Written by Ms. Dale Wade, Newsletter Editor for STRIDE Dressage of Ocala, Florida
Have you ever met someone who just makes you want to smile? If you haven't, then you haven't met Diane Laws.  Her enthusiasm is contagious, her "positivity" is unparalleled, and her humor- well, it borders somewhere between wicked and naughty. Top that off with the fact that she has led an incredibly interesting life with an amazing cast of characters, and you've found the person you'll want to sit next to at the next STRIDE meeting.
Take Diane's horse. He has absorbed her energy and seems to resonate with everyone he meets, attracting rubs, compliments, and admiring eyes everywhere he goes. His name is "Second Glance," although Diane says he thinks his name is, "Oh, Good Boy!" She's convinced him he is a rock star!
Diane and Second Glance recently completed their Century ride, no little feat, since fewer than 20 riders per year in the United States realize this goal.  Add to this the fact that Diane was certified cancer free just a few months ago and it becomes even more evident that Diane doesn't take time to entertain a negative thought.
Second Glance, a draft horse cross, was acquired by Diane as a three-year-old through an ad that appeared in The Chronicle of the Horse. Diane watched a video of him sailing over fences; he had been started under saddle and destined for a career in two-phase events. It was true love and Diane sent for him, confident that he was just as he was represented in the video. Her instincts were correct!
Diane has been easing her way toward Florida for a number of years. Originally from California, Diane had horses, but she was unfamiliar with dressage.  Her first exposure to the sport was at a rent by the hour stable where she saw a Japanese man riding a small Arabian.  She was mystified by what she saw, and when she inquired as to what the man was doing, she was told that he was doing dressage, and that he had ridden Japanese Emperor Hirohito's legendary white stallion, Shirayuki.
That image lit a spark in Diane's imagination, so when she moved to Colorado, she sought out someone to instruct her in the art of dressage. She located a Russian instructor who had been captured by the Germans in World War II and who later emigrated to the United States.  Diane recalls that he shouted a lot and made his own booze, which he imbibed in during her lesson. The bright side was that the more he drank, the more impassioned he became with instructing and the lessons would stretch out indefinitely.
During this time in Colorado, Diane ran an ad seeking others with an interest in dressage. She got around 15 or so respondents.  They met at a hotel and brainstormed ways to ignite an interest in dressage and cultivate the sport.  Dressage was virtually unheard of in the US. Since few people knew of the sport, opportunities for instruction were sparse, especially in the far- flung regions of the western US.  As a matter of fact, Diane recalls a woman contacting her and asking if Diane knew of an instructor within fifty miles of the woman's home.  Diane laughs, "I told her she would be lucky to find someone within 500 miles of her home!"
The above gathering organized by Diane proved to be the pre-meeting impetus for what would become the United States Dressage Federation! Diane was the USDF's historian for the first eight years of the groups' existence! And that remote western area where dressage was virtually unknown? In its infancy, Diane had all the jobs for the group- find the judge, fetch the judge, arrange for the judge's stay, rent the arena, set up the arena- you name it! Now that group boasts about 500 riders!
During those early days, Diane and her group began actively seeking the most well-known names in dressage and contracting them for lesson and clinics.  Among them, Hermann Friedlaender and her favorite, Charles de Kunffy. Of de Kunffy, she recalls, "He was a showman and very entertaining! A horse could come into the arena, a wild critter, snorting and huffing, and in two seconds deKunffy would have him going nicely on the bit!"
Diane eventually made her way to Ohio and then to Florida. As far as ongoing dressage instruction, she studied with Sally Moerhing, a kind and methodical event rider from England.
It's also noteworthy that Diane illustrated The Horse Master's Notebook, written by Mary Rose, a Fellow of the British Horse Society. The book is still in use by the BHS and is periodically reprinted.
These days, Diane is moving on to Western Dressage. She's become fascinated by Clinton Anderson and his ability to watch and read the body language of the horse in order to think like a horse. "Watch his YouTube videos, especially on desensitization," says Diane. "They're worth their weight in gold if they can teach you a better way."
That's Diane- always on the look- out for a better way and determined to make it happen.