Team #328: Darlene Vaughan and Leonard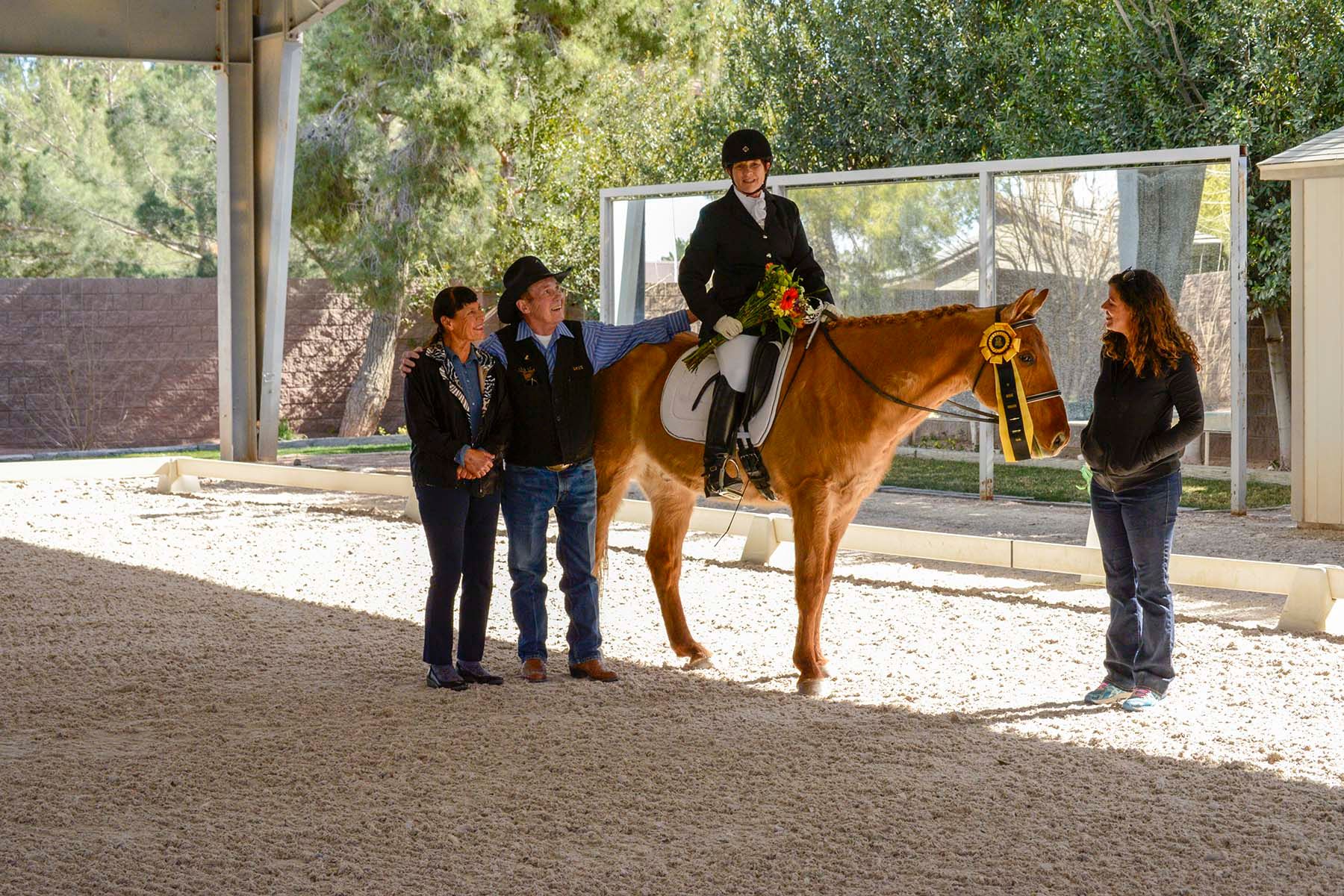 This is the second go-round for Leonard (show name Clyde Junior) as a Century Club mount. In 2003 he was ridden by Cynthia Schell. Still sound and sassy at 29, he will now take one of his owners around the ring. Dave and Darlene Vaughan bought Leonard as a five-year-old AQHA gelding from Shannon Ryan. He had been shown in a variety of classes in the American Buckskin Registry Association, finishing there with hundreds of points and two world championships. He was to be Dave's ranch horse in Wyoming. As happens often, wife Darlene was without a horse to use for her dressage shows and sort of took over with Leonard. He was shown through Second Level, having some nice wins over the years. Cynthia Schell, "Cinch," needed a mount for her final years as a rider. Leonard was the perfect horse and did her proud. Of course Leonard took a few stints as a school horse for the younger set as Darlene rode her big Trakehner, Indigo Glen and then a marvelous Andalusian, Montigo, through some of the upper level movements. Darlene, an adult amateur member of USEF, has had some wonderful instruction, both in this country and at Epona in Spain. She has also served her fellow riders as president of her local dressage chapter, helping to run and organize many schooling and USEF recognized shows. 
Fast forward to 2018, after many horses, many shows, many experiences…Leonard is still with us and (knock on wood) doing well. We are so happy to complete a circle with him and hopefully encourage others to do the same. Many thanks to The Dressage Foundation for giving us this opportunity and to all of our dressage friends, both two legged and those with four hooves, for encouraging not only us, but all   folks who take on this journey of dressage.