Team #422 David Smith and Quito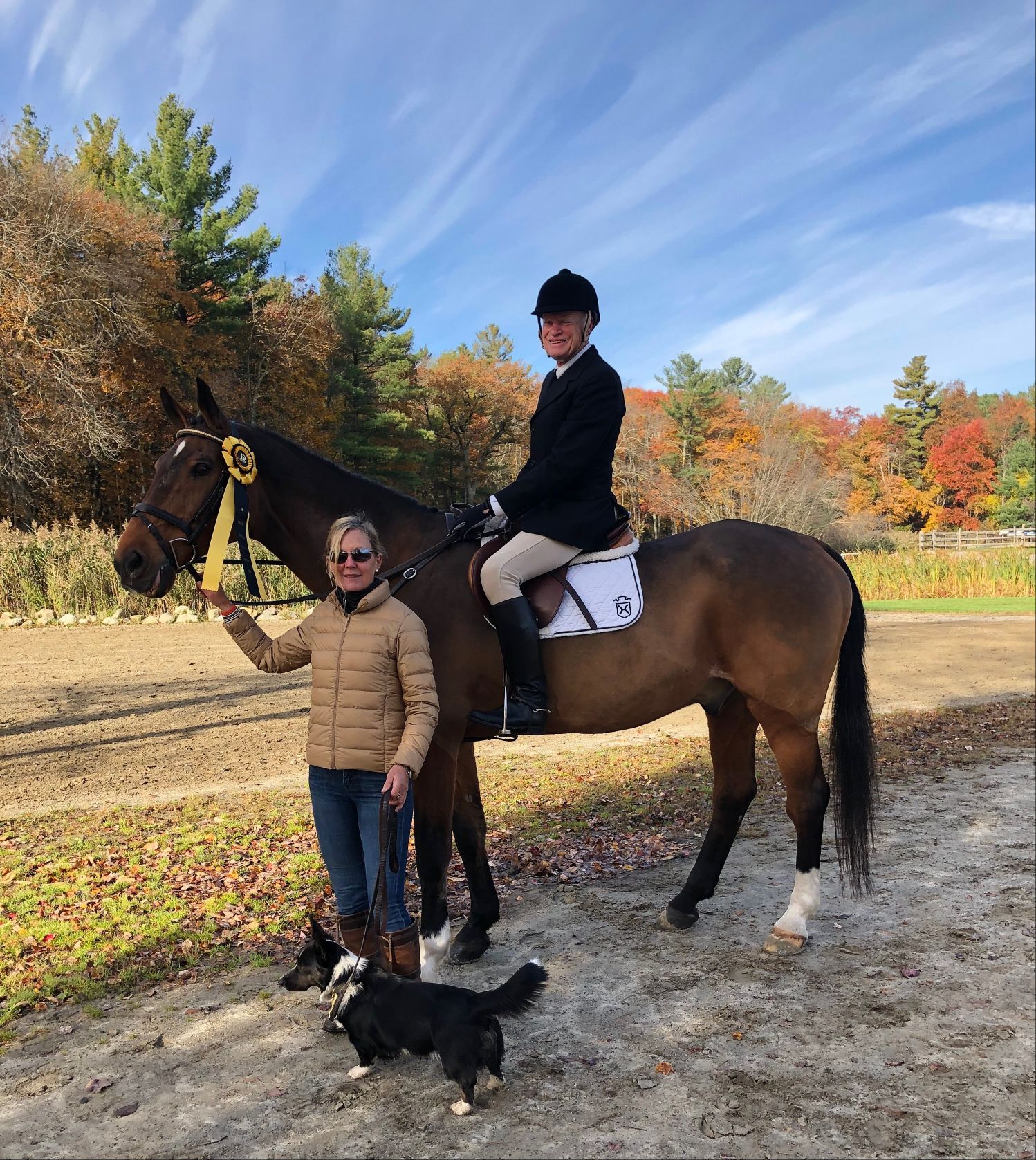 David Smith 76     Quito 24
What a long strange trip it's been!   I first got acquainted with horses at age 40 when my wife introduced me to her childhood passion of riding ponies all day at her family's summer camp.  We bought our first horse from Deirdre Pirie who was competing four-in-hands mostly in Europe at world-class driving events.  I found the hard way that my riding skills were not up to this horse.  So I switched to carriage driving and advanced through pairs to a tandem, which was the biggest challenge and most fun I've ever had.  Eventually, I returned to riding with Apache, our third one of Deirdre's retired carriage driving horses who taught me how much fun riding could be.  He lived to the ripe old age of 28.
We really liked the multi-disciplinary capabilities of these carriage driving horses who seemed readily able to pull a carriage through the marathon course, compete in low-level eventing horse trials, ride a respectable dressage test, and be great pleasure riding companions.  So nine years ago, I started looking for another retired carriage driving horse because we had such good experiences with them.  Along came Quito.  He was bred and trained by Riny Rutjens in Holland.  Riny drove Quito and his half-brother to win the Gold Medal in the 2003 FEI World Pairs Carriage Driving Championship in France.  We were spectators at the Four-in-Hand Carriage Driving Championship at the 2006 WEG in Aachen, Germany, where Quito was a leader in the team driven by Thomas Eriksen that finished just out of the medals in fourth place.  A few years later, Quito was being driven as both a leader and a wheeler in Gary Stover's four-in-hand in Southern Pines, NC, when Gary decided to retire from driving in 2010. 
I had the good fortune to be in the right place at the right time to be able to buy Quito and bring him with me to Ledyard Farm in Wenham, Massachusetts, in 2010.  There, we started training with Ferial Johnson who worked tirelessly with me and Quito to help us develop a successful relationship.  Ferial liked Quito's jumping capability which came from his breeding line to a world-class Dutch jumper named Nimmerdor.  Quito also possessed the "elevation" unique to Warmbloods that enabled him to earn good dressage scores.  That's how he earned a Blue Ribbon in his first Eventing Horse Trials, at the beginner novice level and he went on to win several more.
Several years ago, I became acquainted with a wonderful dressage instructor, Sue Downer, who is based in Florida but regularly teaches at Ledyard Farm.  I took many lessons with Sue and found her approach worked wonders with my ability to ride Quito.  I have come to greatly respect the benefits that dressage training offers to any mode of riding and, in my case, simply every-day pleasure riding.  I have ridden many dressage tests in competitions at Groton House Farm in Hamilton, MA, and elsewhere and always feel confident that I can do well because of my dressage lessons and training.
Such was the case at Course Brook Farm in Sherborn, MA, on October 20th where I qualified for the Century Club with a score of 68% on my USDF Introductory Level Test C.  Everyone at Course Brook Farm from Show Manager Linda Smith to Ring Stewards was welcoming, excited and helpful about seeing me achieve this milestone. 
I feel especially indebted to Ferial Johnson for all of her wise counsel and impeccable horsemanship in guiding me and Quito through some struggles in our effort to develop a safe and enjoyable working relationship.  I am looking forward to many more years of dressage work and pleasurable riding with Quito!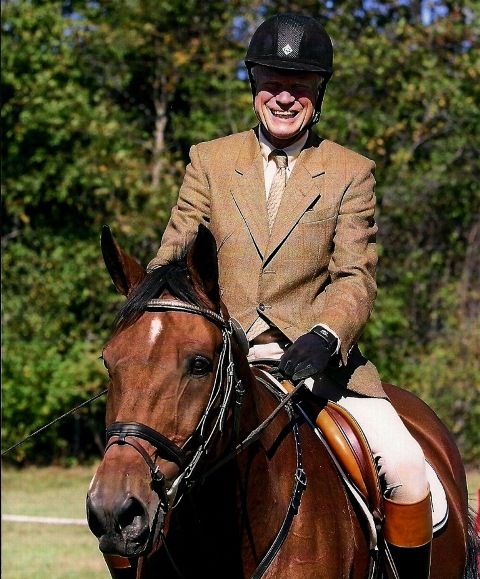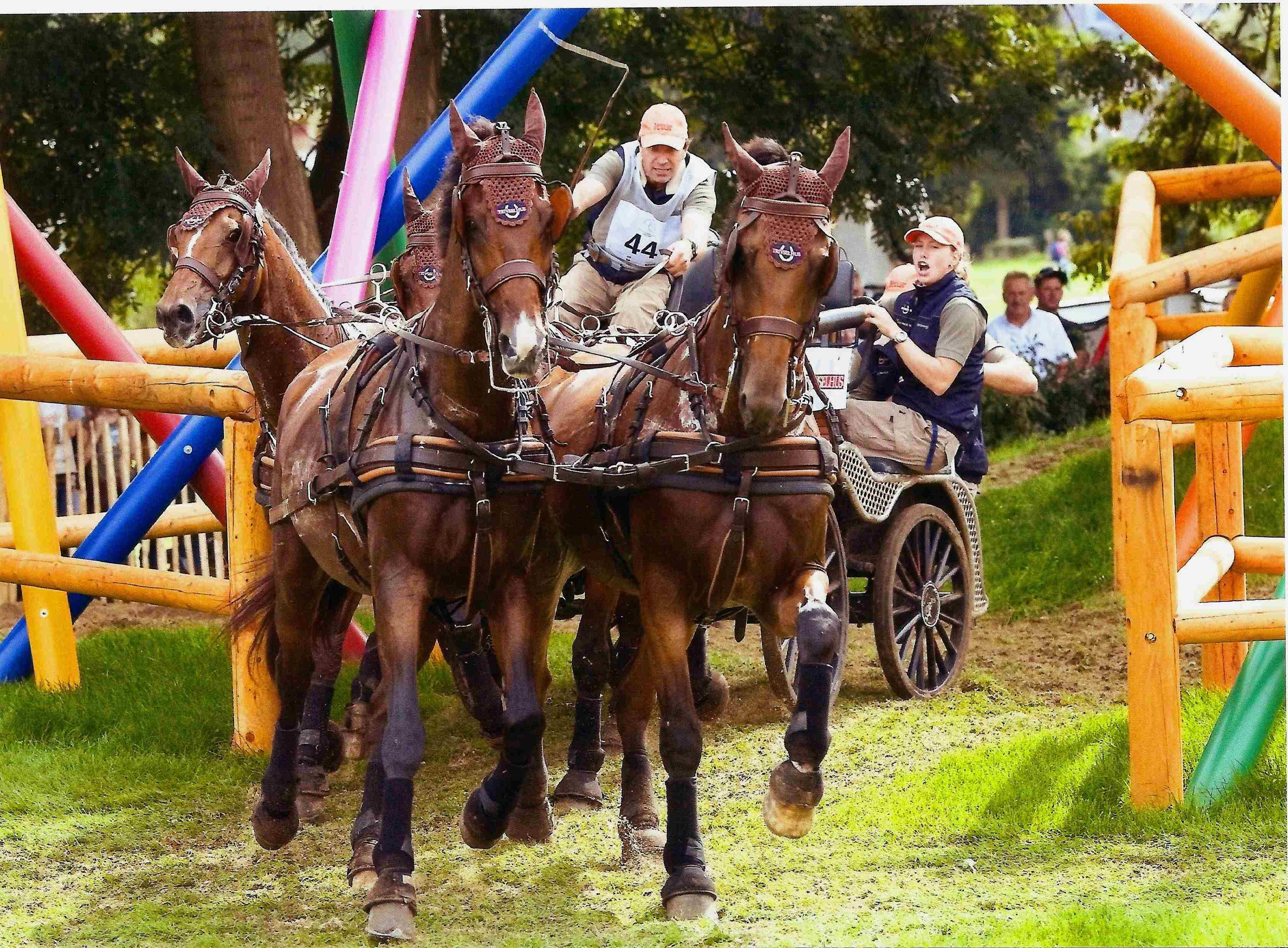 Quito (right front, near-side leader) in the marathon phase of the 2006 WEG Four-in-Hand Driving competition at Aachen.