Team #383 -- Donna Pereyma and N Z Goldboom (TN)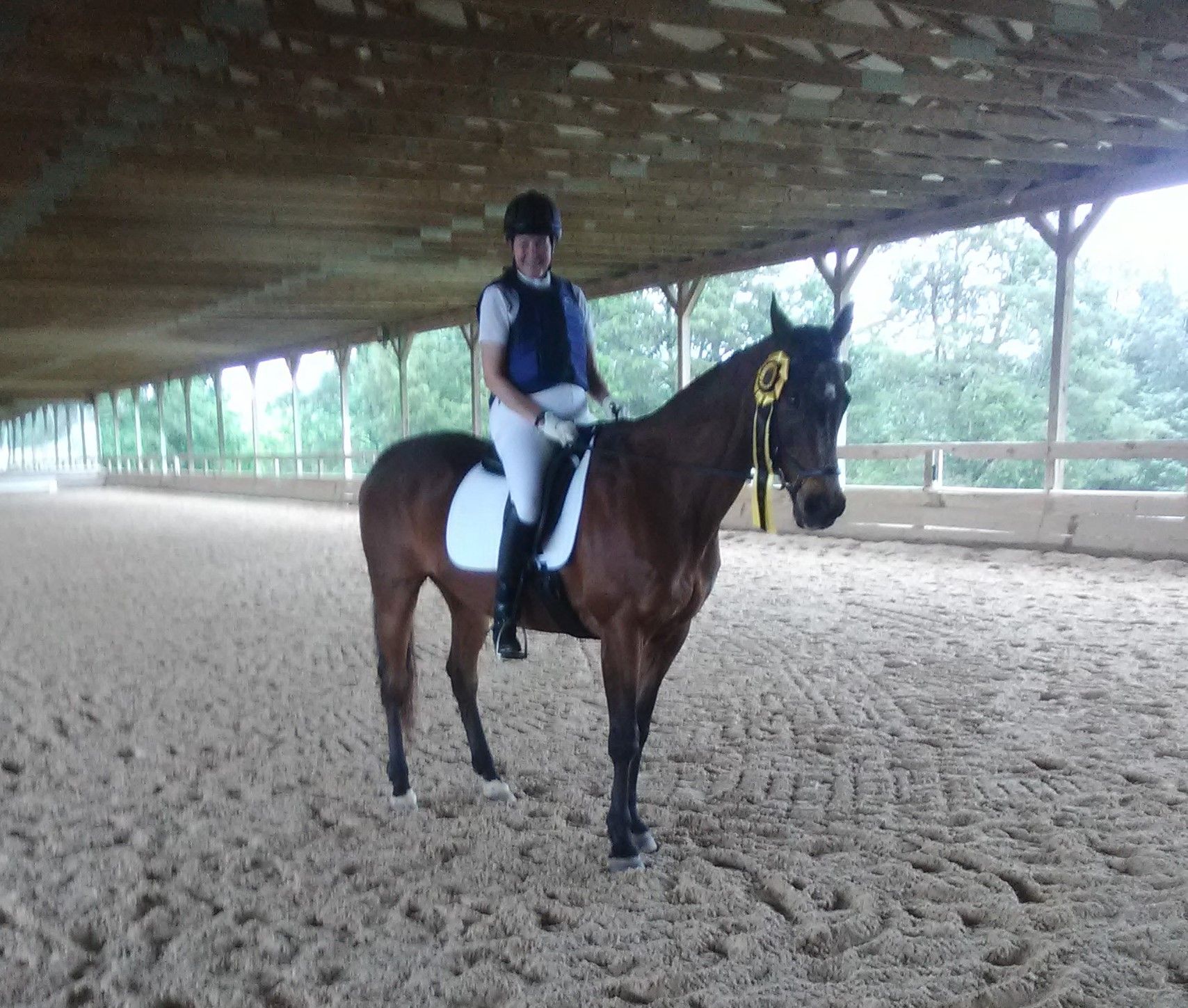 In my mid 50s I decided to try to learn how to ride a horse.  At that time, I was living in Streamwood, Illinois, and all the barns around me were hunter/jumper barns, so that's what I did.  I don't remember if I even knew what dressage was at that time.  The barn I went to was 3 miles from my home, so perfect!  I did the hunter/jumper program for about 5 years but when I got laid off in late 2004, my riding pretty much came to a screeching halt money-wise.  I did end on a good note winning the Adult Mini Medal finals in the fall of 2004.

I dabbled around from one barn to the next trying to find a niche, moved from Streamwood to Crystal Lake with my sister and mother in order for us to take care of mom who was now age 87 and showing signs of dementia.  While living in Crystal Lake, I found a barn in Woodstock and started leasing a tall drink of water black horse named Alex who I was told at that time was 18.  He was a dressage horse, but unfortunately, I did not know dressage at that time.  Alex and I hung out for about a year just hacking a few times a week when, sadly, he died.  I would guess it was because of old age, as then I learned he was more like 28 years old and not 18 as I was originally told.

At that point they offered me another horse to lease, N Z Goldboom (Boomer), a 15-year-old Irish Sporthorse.  No papers, no tattoos, no nothing, but the story was a young girl's family living in Japan back in about 1999 or 2000 went to New Zealand to look at a horse for the daughter.  They apparently didn't like the one they originally went to see but came across Boomer, liked him, bought him, took him back to Japan and eventually to the U.S.  He ended up at Woodstock Farm when, unfortunately, the young girl could no longer ride due to illness.

I leased Boomer for about 4 years from 2008 to 2012 when I decided to buy him.  Previous to that it had never occurred to me to buy any horse, plus I was already 68 years old.  What on earth was I thinking!  In 2010 I started learning about dressage, as was Boomer, as he was a jumper.

After my sister and I took care of our mother for 12 years, she passed away at the age of 99 ½ in September of 2016.  At that point we realized we could no longer afford the huge beautiful 3500+ sq ft house and $10,000 per year property tax bill in Illinois, so we decided to move to Tennessee.  My sister knew a young longtime family friend there.  After much traveling back and forth and giving away of a lot of our stuff, Betty, Boomer, and I made the 600+ mile trip to Tennessee and settled in Maryville.

To my surprise it is a different equestrian world out here and I had quite a bit of adjusting to do.  Being from Illinois, I was accustomed to riding indoors in the winter and outdoors in the summer.  But the Tennessee version of "indoors" is simply a covered riding arena, and that was even hard to come by.  Night riding is still extremely difficult for me as when the arena lights are on, the surrounding area around the arena is pitch black and scary to both Boomer and me.  For the first year or so my riding program in Tennessee had to go through some adjustments.  Because I was still working, my riding schedule was generally in the afternoons and evenings, but holy cow, why is it still 80+ degrees at 8:00 at night?!

I worked until last August when I finally "got retired."  I use that term because I would never have quit what I was doing, working from home doing transcribing for attorneys back in Illinois.  My sister and I worked for the law firm she originally started working for back in 1978 and we loved it.  Betty retired in 2003, but in 2005 when we moved in together with mom, they asked her if she wanted to work part-time from home doing transcription.  A couple months later, they took me on and Betty and I did that together for the next 13 years, including after moving to Tennessee.  We had to take a moving break in June of 2017 and they were gracious enough to grant us the time to move and get settled in Tennessee where we continued working for them through August of 2018.  Although I am enjoying retirement, as I said, neither one of us would have "quit."

I think Boomer and I have come to a comfortable arrangement.  I go to the barn every day and I ride almost every day.  He is now under medical management for Cushing's and arthritis but overall is doing very well considering his age of 25 this year.  My plan is to continue him in a light work schedule to try to keep us both in somewhat good shape.

I heard about the Century Club back in Illinois about 5 years ago, so I feel very fortunate we both were able to make it to the combined 100 mark.  Now we both can take it easy and just enjoy hacking around and enjoy semi-retirement for both of us.

Donna and Boomer rode for the Century Club on May 4, 2019, at Penrose Farm.  They are the first team from Tennessee!