Team #418 Donna Young and Toby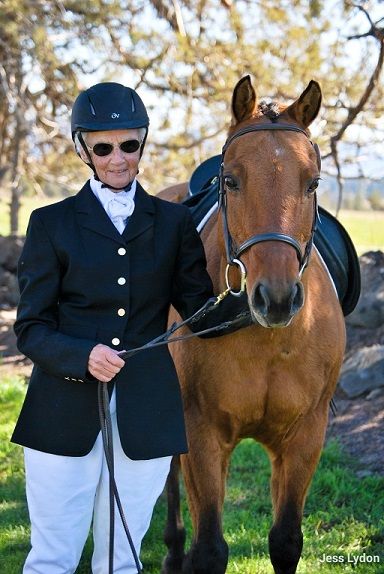 Donna Young  -  Age 82     Toby  -  Age 25
I spent most of my adult pre-retirement years teaching and working for AT&T Network Operations.  After retirement I wanted to engage in something to help others. When a neighbor told me about Healing Reins Therapeutic Riding Center I asked to job shadow for a few hours and wound up signing on as a volunteer.  I've found my time there has added value to my life. It's very rewarding to see children and adults who have physical, mental or behavioral challenges improve their strength and skills or simply have a good time.
I didn't know anything about horses when I started at Healing Reins except that I liked them. I took advantage of all the training they provide and when I was offered a chance to take riding lessons I jumped at it. I had my first riding lesson at the age of 78. I'm still very much an amateur but I love it and it seems I learn something new each time I get on a horse.
Toby is a 25-year-old Quarter Horse with a wonderful attitude.  His quiet nature makes him ideal for children or adults who have special needs or who may feel a bit anxious.  Working at Healing Reins is Toby's second career. Back in the day he was a rodeo pony; ripping and roaring around, hauling to different venues, and putting on quite the show. However, that was more than 10 years ago because 11 years ago Toby came to Healing Reins Therapeutic Riding Center to be a therapy horse. At 25 years old, he may not be ripping and roaring anymore but you can still see the spark in his eyes that he's still got it. He has been Mr. Dependable for 11 years and doesn't seem interested in retiring just yet.
A special message from Elese Viloria and the Healing Reins Family:
When I took over teaching Donna's riding lessons, I knew that she was dedicated to learning all that she could. She had been working so hard in her lessons that as staff, we asked her if she would be willing to help us school some of our horses. The way Donna rides our horses is purely for their benefit. She rides them softly and encourages them to stretch and engage. She was hesitant, but we all had faith in her that she would continue to do what she always has done, which was give her best.  When I approached Donna about doing the Century ride, I had already asked her other riding mates if they would be okay with changing the lessons a bit to support her. They all were so encouraging and enthusiastic that one of our own would be able to achieve such a milestone, they wanted to support her any way they could.  We thought completing a Century ride would be an outstanding way to recognize Donna and all her hard work she puts in with our horses.
To all of us at Healing Reins, Donna is someone we all aspire to be like. She has been a side walker, a leader, a volunteer captain, a new volunteer trainer, a horse buddy and a horse schooler. She is supportive to all of our riders, our staff and our horses. She's involved in everything that our riding center has to offer. When she's not working in the arena you'll see her sweeping the stalls and the aisle or hauling the manure cart out to the back of the property. She's also an important part of our fundraising team. In addition to her solid work ethic, she is a favorite volunteer among many participants at Healing Reins Therapeutic Riding Center.  As some of our volunteers would say and all who know Donna, "She's the kind of treasure that every barn would love to have."
We are so proud of you Donna, and so amazed by the hard work you do for Healing Reins. You're a fantastic rider, and an inspiration to us all.
Photos by Jess Lydon