Team #367: Dorothy Iorio and Mozart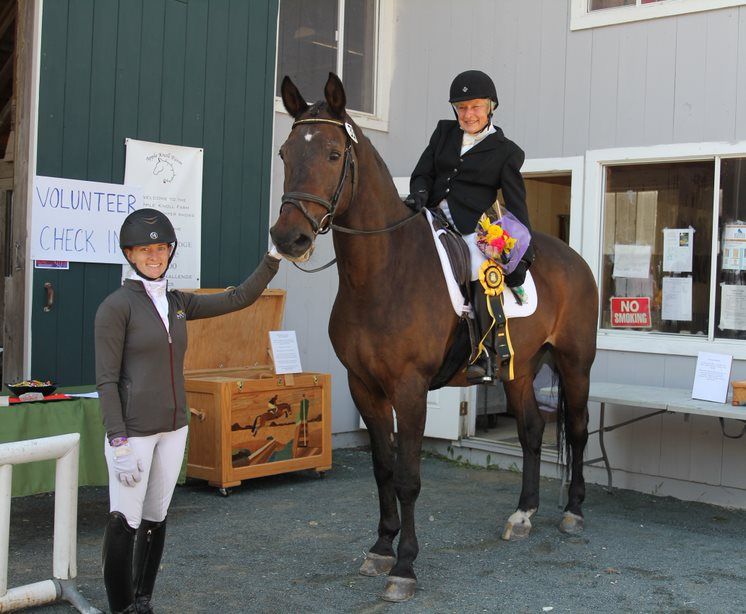 My interest in horses came from my dad.  Although my parents bought my first horse when I was about 13 years old, most of our horses came from the Shrewsbury horse auction.  Those horses certainly taught me how to stay on, which has often come in handy.  Except for a little showing, I trail rode with my dad up and down a very large hill, ironically called Dead Horse Hill.

I rode little during college, graduate school, two years in the Peace Corps and a full-time job.  After marrying and having five children, we lived in the city of Quincy, Massachusetts, which provided little opportunity to ride.

After we purchased a fixer-upper in Hingham, Massachusetts, with nine acres and an old barn, we were able to keep a horse and a few ponies.  We fox hunted and the girls joined Pony Club, which lead us into eventing.  My daughters went on to become upper-level event riders and competed in the Rolex Three-Day Event in Lexington, Kentucky, while I became interested in dressage.

With the help of a few wonderful horses (sometimes not so wonderful), Angelo, Nemo and Flying Finnikapan, as well as very patient dressage instructors, I earned my USDF Bronze Medal.

Already in my 70s, I decided that my next goal would be the Century Ride.  Unfortunately, Finnikapan (Fanny) was injured before we reached 100 years.

A kind friend, Brian Russell, offered me his 25-year-old horse, Mozart, for the ride.  I was only able to sit on him a few times before the ride.  Except for almost bucking me off in the warm up (not his fault as another horse spooked and reared behind him), we completed the ride at the September 30th Charles River Dressage Association Schooling Show.  

I am now back where I started, trail riding up and down hills and even doing some Training Level dressage with my current horse, Bella.