Team #493 Eileen Leek and Silent Cynic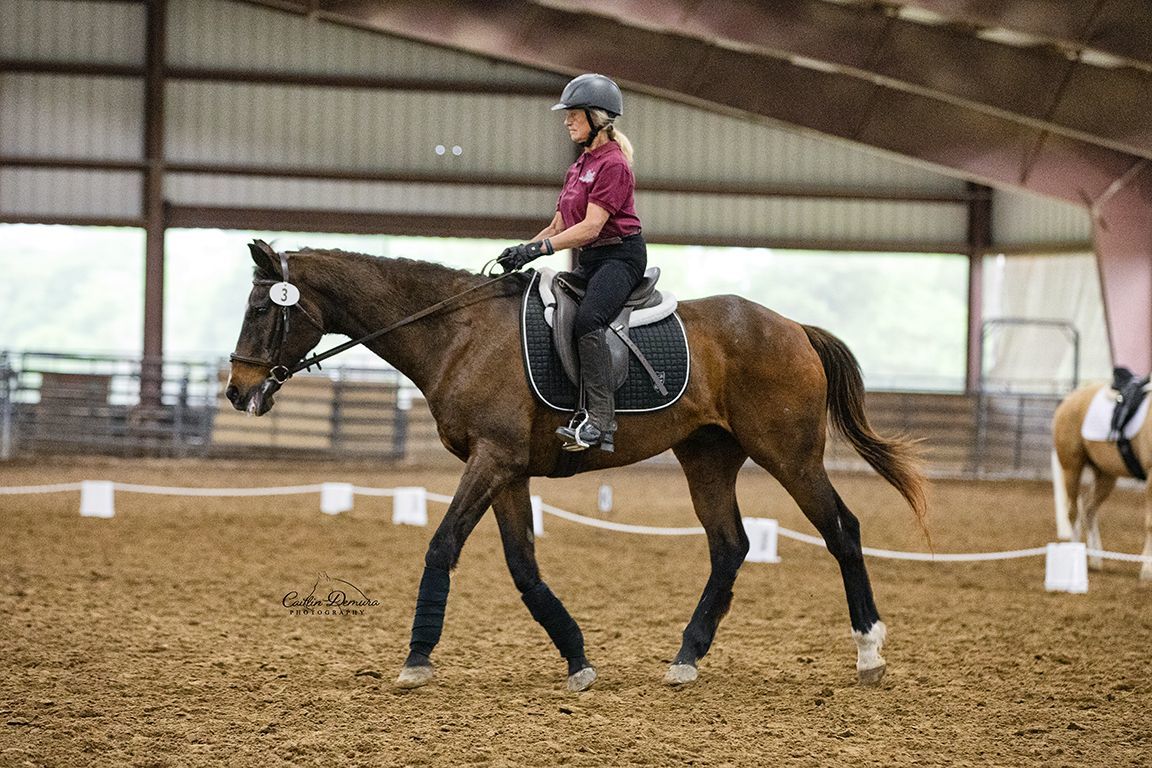 Team #493: Eileen Leek and Silent Cynic
Ages: 67 & 33
Combined Age: 100
Eileen Leek was born in Yorkshire, England, on August 7, 1953. Her love for horses began with a Shetland pony named Sugar. It progressed to riding various English breeds all over the Yorkshire countryside and around the family farm. After getting married, she moved to the United States and settled in Texas. She rode at a hunter barn for a while outside of Houston, followed by an interest in dressage, and then eventing. Her first horse purchase in the United States was an off-the-track Thoroughbred. She then began working at an equestrian therapy center, part-time, where she was introduced to carriage driving and was hooked. Apart from teaching driving to challenged drivers and able-bodied drivers, she competes with a single and pair of horses in pleasure shows and combined driving. She rides her own horses and gets to ride Silent Cynic, aka "Magic."
Silent Cynic, an off-the-track Thoroughbred, was purchased for Jillian Wilkison (daughter of Eileen Leek) in August of 1993, when she was starting to do eventing, United States Pony Club activities, and generally learn more about horses. He did everything from helping back at the racetrack to hunters/jumpers, dressage, eventing, and anything else asked of him, including therapeutic riding for individuals with special needs. Never did they think that Magic would make this age and still be able to do small competitions. He currently resides with Jillian, where he is the barn king.
Eileen said, "It was quite something when Jillian asked if I would ride Magic at the dressage show on May 1st, 2021, as through all the years, I had never shown him. I had ridden him many times at home for exercise and schooling. He was purchased for my daughter, Jillian, when he was 5 years old, and she was 12. He had just recently come off the track and was a handful, but nothing she could not handle. He is still very talented and full of life at the ripe age of 33. Fun day and a great ride."
Eileen and Magic completed Training Level Test 1, with a score of 77.6925, on May 1, 2021, to join the Century Club.