Team #481 Elizabeth Lewis and Donnerhill P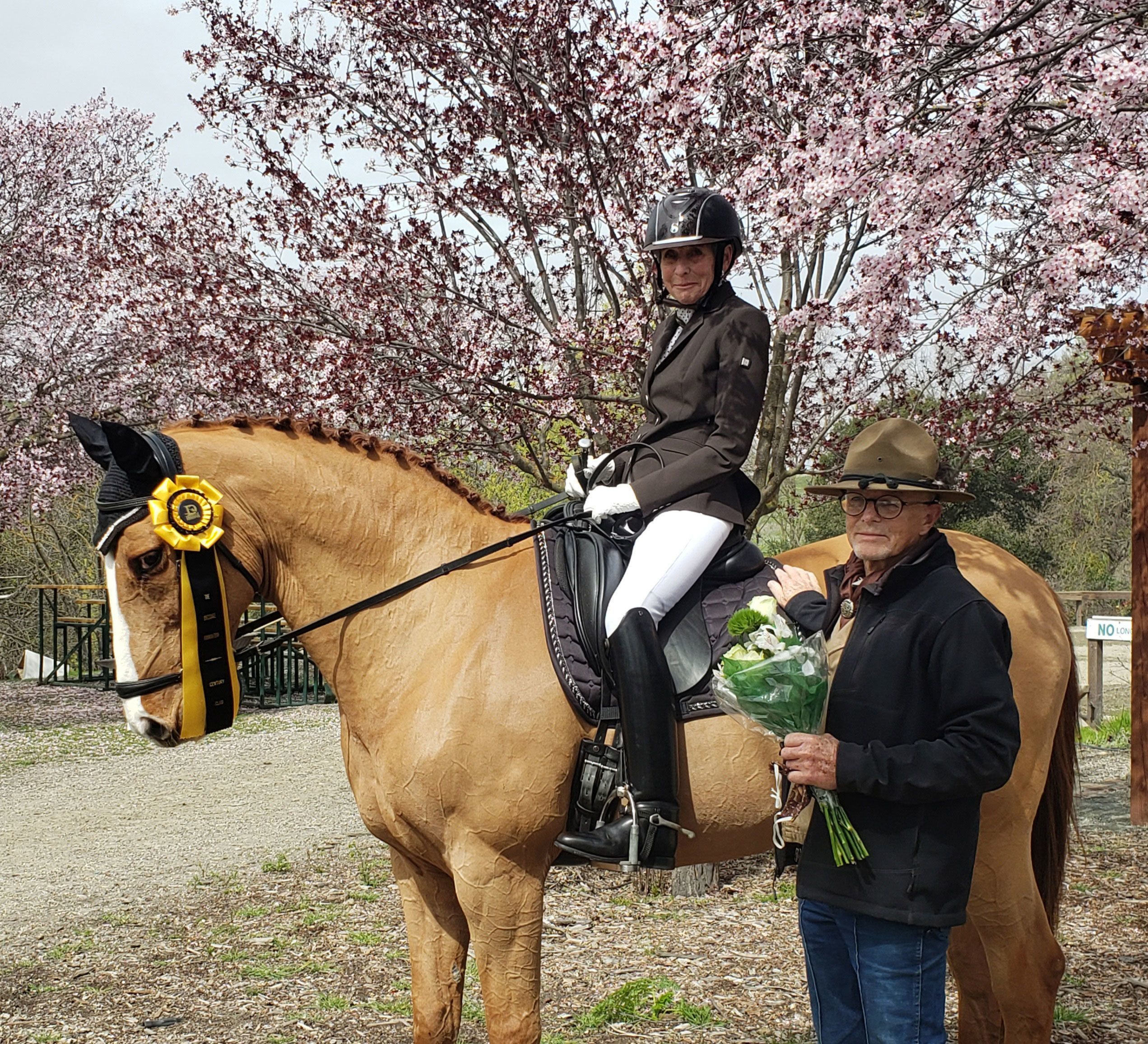 Team #481: Elizabeth Lewis and Donnerhill P
Ages: 77 & 25
Combined Age: 102
I didn't have horses growing up.  Family folklore has it that the third word that I uttered after "Ma" and "Dada" was "Horsie."   Sadly, allergies kept me horse-less, but I was still obsessed, reading everything I could get my hands on.  College, graduate school, marriage, and career dimmed the dream although I still sometimes thought about it. 
My husband and I moved from Berkeley, CA, to the Seattle, WA, area in 1978, got jobs, and settled in a horsey area east of Lake Washington.  Driving past some lovely barns every day, the dream came back with a vengeance, and I thought "why not?"  So, at the age of 35, I started taking lessons. 
Armed with a wealth of book knowledge but no practical experience, after six months of lessons I decided I needed my own horse.  Looking in the local classifieds, I made the well-known beginner's mistake and bought a pretty one - a five-year-old, very green, Appaloosa mare.  It turned out that she was not particularly kind, so I got dumped a lot and learned to stay on by hook or by crook.  We started eventing.  Knowing nothing about the sport, I tagged along with the teenagers who loved the jumping and hated dressage. But the dressage fascinated me. The Appy mare was not amused.  
In 1982 I returned to the Bay Area without the husband, and with the Appy mare who was in foal.  I shortly married my second husband who initially found horses "uninteresting." It was then that I bought my first "real" dressage horse, a 3-year-old Thoroughbred bred for sport.  I started Sharkey myself, and he was a wonderful partner until he suffered an injury at seven which ended his dressage career.  Around this time, the husband started getting interested.
Several more horses followed, and I found myself becoming more engaged with the horse world and less engaged in the job world.  A mystery lameness of one of our horses ("Wyvern") had me looking for treatment options, and I discovered Electro-Acuscope therapy which seemed to help.  Long story short, I got certified to use the equipment, began building a therapy business, quit the job (with the support of my now very horsey spouse), and finally had a horse-related career. 
We purchased a run-down ranch in Martinez, CA, in 1999, named it Wyvern Farm after the horse above, and it has been a labor of love for 22 years.  As good horses sometimes do, Donnerhill P ("Donner") came to me when I wasn't even looking.  He was 14, rehabbing from an injury, feisty, and a chestnut.  He had a local reputation of being a bolter – the "turbo-boost" – and I loved him.  We competed from Third Level through Prix St. Georges. 
Donner and I received our silver medal and had lots of fun doing it.  Since that time, he's helped others get medals as well and generously offered to come out of retirement for our Century Club ride.  And, yes, he can still take off like a rocket.  Thanks, Donner, for everything.
Elizabeth and Donnerhill P rode First Level, Test 1, on March 14, 2021, to join the Century Club.