Team #448 Elizabeth Mulholland and Aspen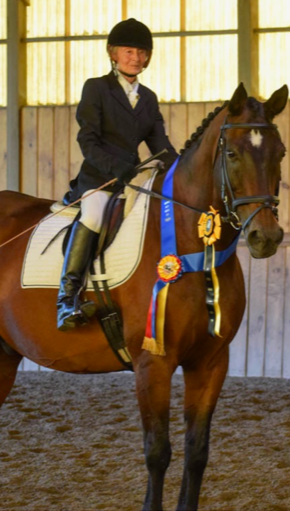 Team #448 – Elizabeth Mulholland and Aspen
Ages: 74 and 28
Combined Age: 102
Horses have always been a wonder to me.  Even as a child, I was mesmerized by their beauty and movements. At 4 years old my parents took me to a movie theater in Boston to see "Ali Baba and the 40 Thieves." I can still recall running down the movie aisle shouting out, "cheval, cheval," the French word for "horse." My mom was Parisian and we often spoke French at home.
Overly protective, my parents feared that horses would be too dangerous for their only child; thus, unable to convince them to enroll me in lessons, I continued to dream of riding someday on my very own horse.
I attended Boston State College and graduated with a degree in Elementary Education, becoming a first-grade teacher for 35 years. Young children are both a job and a challenge to instruct. It was amazing to see their development from September to June; teaching was so rewarding.
My dream of riding finally came true when my husband, John, surprised me on my birthday with tickets from the Cambridge Adult Education Classes in Horsemanship for 6 lessons at Revere-Saugus Riding Academy. It was my best present ever! I learned so much from the talented instructors and well-schooled horses that I eventually purchased my first equine, a 15-year-old Arabian/Saddlebred gelding named "Gemini." Since that is my horoscope sign, I knew this chestnut horse was meant for me. He was my first joy and lived to be 30 years old.
I have been blessed with kind and generous friends who shared their mounts for the enjoyment of riding and competitions in dressage and eventing.  Sheryl Levenson owned a big Appaloosa cross called "Cyrano," gentle and willing to do whatever was asked of him. We entered a novice event at Lockwood Estates in Boxford, MA, and Cyrano took us to first place with a large bowl trophy. It was quite a day. Cyrano was indeed special.
Aspen, a lovely Canadian bay mare, was owed by Judy Silva. This mare was very forward and fast, and it took me some time to adjust to her length of stride and speed. Aspen was kind and affectionate and we did some dressage and two-phases together.
My second horse, Guardian, was a bay Hanoverian gelding owned and trained by Jerry Lemerise, a young, experienced rider. Jerry purchased him as a 5-year-old, but unfortunately only had a year with Guardian when he was diagnosed with cancer. Unable to ride, Jerry helped me to understand and adapt to Guardian's big personality. Although very demanding and opinionated, in our eyes he was beautiful, talented, and powerful. Guardian and I bonded deeply, and we competed in local dressage shows and did a little eventing. We were together for about 24 years, and I truly loved this unique horse.
Now I have the privilege of riding this Hanoverian/Thoroughbred bay gelding also named Aspen. Marilyn Heath, an excellent trainer and accomplished judge, purchased Aspen as a youngster. She and her daughter, Carolyn, trained him to Fourth Level.
Aspen came to Bradford Equestrian Center (owned by Keith and Lynda Angstadt) where Sandi Hyde first leased and then purchased him. I went to meet Aspen and immediately knew that he was one-of-a-kind. Sandi and I are thrilled and happy to have him in our lives.
It was an honor to partner with Aspen in my first Century Club ride on August 9, 2020. We just love this horse!
Elizabeth and Aspen rode Introductory Level Test B  to complete their Century Club ride on August 9, 2020.