Team #354: Florence Bittner and Rhoyal Rhodes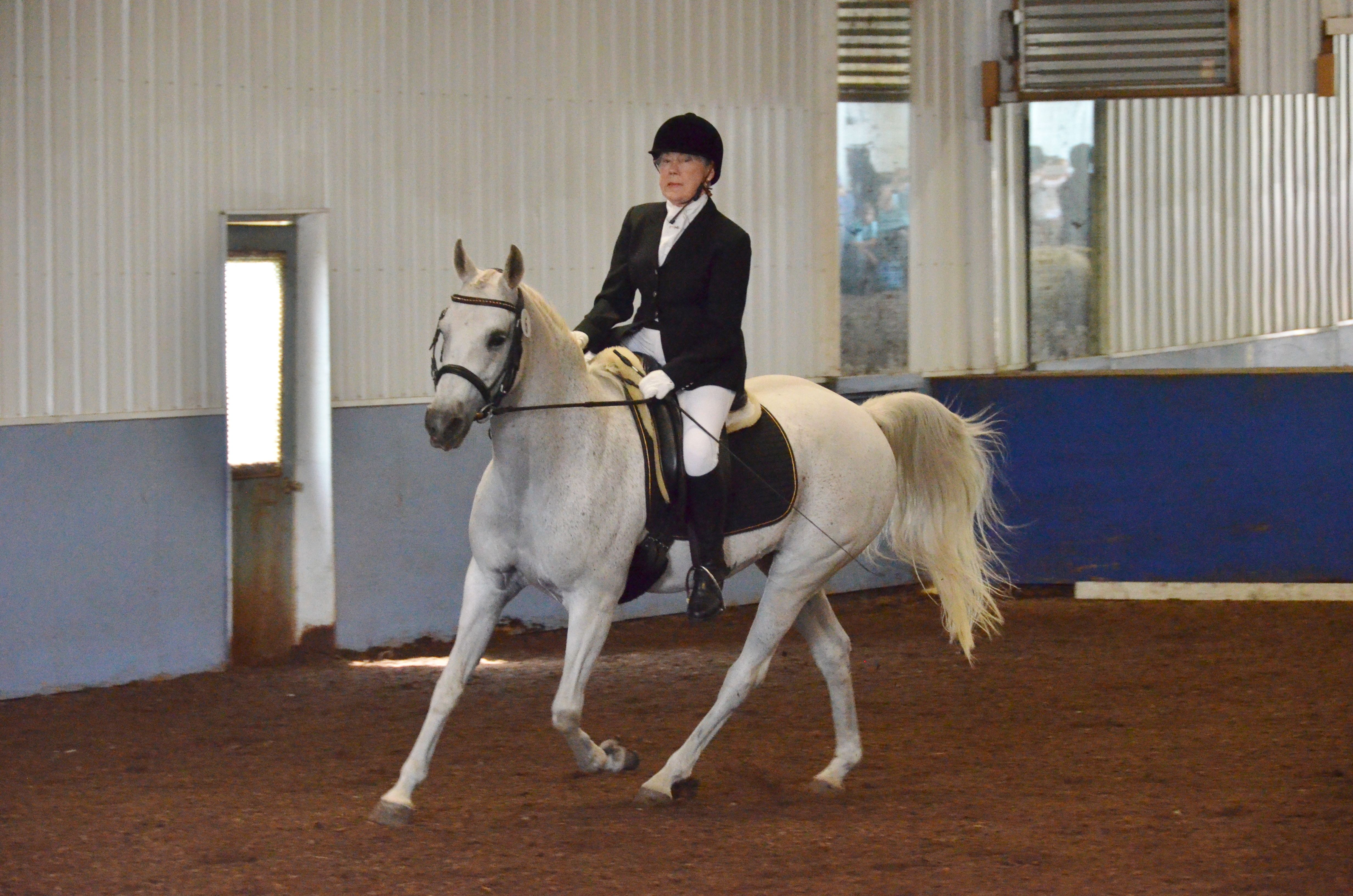 I came into dressage and riding later in life than most. I was in my 40s when I was blessed to find Kathy Mueller at Equitation Station and begin this wonderful riding adventure. The relationships I have made here have evolved into what I think of as my "farm family." Everyone has been welcoming and supportive. I started lessons on other peoples' horses, then bought my own lovely Nikki, and currently am sharing my journey with Nikki's filly, Rhode. 
I was lucky enough to be at the barn when Rhode was born twenty years ago with Kathy at my side, and we have been on a learning path ever since! We have had a few ups and downs, and the downs mostly end with me on my face in the dirt, but thankfully Kathy has been right there with me. She has been my constant coach, trainer, supporter, inspiration and friend. Being able to perform this ride here with her and the rest of my farm family has made the entire experience that much more special.  
When I was considering this Century Ride, I decided I wanted to do a musical freestyle because I really like to ride to music. Also, earlier in our career, I rode a musical freestyle with Nikki at a show at Canterbury Downs, our local racetrack, and thought it would be fun to try again. Thankfully Lynn Warfel of PBS and KSJN graciously choreographed a routine to Scott Joplin's "The Entertainer" for us, with a sassy little "Old Grey Mare" thrown in. She did a great job of matching the music to Rhode's gaits. What a great asset to have on my side.  
When people as why I like to ride, I tell them it's my physical, mental and spiritual therapy. Over the years, I have found that to ride and progress in dressage requires a lot of determination and "stick-to-it-ness." It also requires me to stay as fit as possible and keep up my strengthening exercises. Beyond the physical benefits, my connection with Rhode gives me a bond that I value and depend on. I have found that both my equine (and human) extended families at Equitation Station enrich my life.  
I hope to be able to ride for a long time yet; I think I would be lost without it. I feel so lucky and grateful to have found Kathy Mueller and all my friends at Equitation Station. I want to thank them for helping me achieve this goal. I could not have done it without them. Looking back on that first phone call to Kathy, my guess is that when she said yes, she never thought she would be teaching me now that I am eighty...and on my way to my second Century Ride!