Team #449 Fred Burdette and Pesoa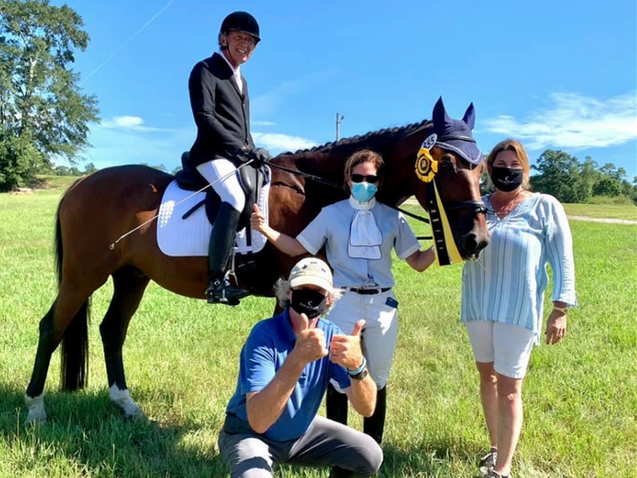 Fred Burdette and Pesoa
Ages: 76 1/2 and 23 1/2
Combined age: 100
Fred Burdette and Pesoa were going for it. Fred had one qualifying ride for Regional Championships at Third Level, and he needed one more. It happened to be his Century Club Ride, and not only did they qualify for the Regionals, but the next day they scored 68.5 %, a high mark in their career.
Fred started riding at the late age of 55 and jumped into the deep end of the pool -- fox hunting. He was smitten, but quickly realized he needed to develop his riding skills to stay safe. When Dutch trainers Marjolein and Werner Geven immigrated to the USA, making Poplar Place Farm their base of training, a new era began for Fred. He quickly began eventing on his hunt horse, and on weekends off, would travel to events, or head off to hunt with the Midland Fox Hounds.
Pesoa is a 1997 gelding by Flemmingh, out of Landy, by Glendale. When the Gevens flew to Georgia in 2000, they imported Pesoa with them.  Two years prior, Pesoa had been bought by the Gevens as an unbroken 2-year-old in the field. Fred's wife, Cardy, asked about purchasing Pesoa immediately upon seeing him. The Gevens were reluctant, as he was young and would grow large, but in the end, the partnership was made and Pesoa took Cardy to back-to-back Regional Championship wins at PSG and I-1. Around six years ago, at Marjolein's suggestion, Fred took over the reins of Pesoa and started HIS dressage journey. Since then, he has earned his bronze USDF medal, and is working toward his silver USDF medal. Only in 2017 did Fred retire from a busy 30-year Cardiovascular and Thoracic practice, allowing him more time to focus on dressage, eventing and fox hunting. He exclaims the mental and physical benefits of dressage as very rewarding. He says that "repeated failures" have not discouraged him. He inspires all who know him!
It has been a wonderful partnership for Pesoa, Fred, his wife, and trainers to be involved. A huge THANK YOU to Marjolein and Werner Geven; this journey would not have been possible without you!
Fred and Pesoa rode Third Level Test 3 to complete their Century Club ride on September 6, 2020.